Hollywood's War Films of WWII At the Time of the Conflict: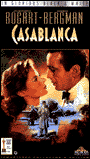 After the bombing of Pearl Harbor by the Japanese in late 1941, the mood of Hollywood changed dramatically. Once the war began, the US film industry bolstered American support by churning out many war-themed movies. Most of the films were propaganda depicting the U.S. entry into the war as a noble cause, but some displayed the human side as well. The all-time film classic of pre-World War II intrigue, patriotism and romance,
Casablanca (1942) was released just weeks after the liberation of the city itself. The popular film emphasized the atmospheric intrigue and tension surrounding Humphrey Bogart's decision to assist the war effort and get involved by securing transit visas - and give up the one-time love of his life, the often tragic consequences for lovers caught up in wartime experiences. Director Vincente Minnelli's The Clock (1945) another war-time film with a romantic sub-plot, was about a NYC office worker Judy Garland (Minnelli's wife) who fell in love with Robert Walker, a soldier on two-day leave.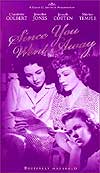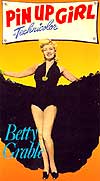 Other films that portrayed the WWII homefront included The Human Comedy (1943) with Mickey Rooney as a telegram delivery boy in a small town, and John Cromwell's and producer David O. Selznick's black and white Since You Went Away (1944), with Claudette Colbert as the mother of two daughters while her husband was away at war: Jennifer Jones (in a doomed romance with departing serviceman Robert Walker) and teenaged Shirley Temple. Wyler's
The Best Years of Our Lives (1946) depicted the difficulties of demobilization and the problems of three veterans (Dana Andrews, Fredric March, and Harold Russell) adjusting and returning to American civilian life. Fred Zinnemann's gritty The Men (1950), Marlon Brando's first film, examined the problems of WWII veteran paraplegics.
One of the most rousing, propagandist musicals was
Yankee Doodle Dandy (1942), with Best Actor-winning James Cagney as vaudevillian George M. Cohan - the film included such patriotic hits as "You're a Grand Old Flag," "Over There," and the title song itself. Flag-waving Hollywood films in the mid-1940s that boosted morale also included other technicolor musicals, most notably Rita Hayworth in Cover Girl (1944), Betty Grable in Pin-Up Girl (1944) with the leggy star as a USO entertainer, and Gene Kelly as a dancing sailor (on leave), accompanied by Frank Sinatra, in MGM's extravagant Anchors Aweigh (1945) - the first of their three musicals. (This was the film in which Kelly danced with cartoon mouse Jerry (of Tom and Jerry fame).
WWII War Films of the Actual Fighting: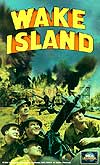 More films have been made about World War II than about any other armed hostility in American history. World War II is easily the most popular war choice for Hollywood film-makers, due in large part to its clear-cut political struggle against the Nazi regime.
During the early to mid-war years, as the United States struggled and suffered setbacks, many films provided a genuine depiction of the fighting and the human effects of WWII. Most of Hollywood's films were concerned with combat in the Pacific Theatre of the war. Director John Farrow's flag-waving Wake Island (1942), one of the most realistic and factually-based films made about the war, told of gallant US Marines (including Brian Donlevy, William Bendix and Robert Preston) fighting against the Japanese with uneven odds to hold onto a tiny base on the remote S. Pacific island shortly after the attack on Pearl Harbor. Lewis Seiler's exciting, flag-waving, documentary-style adventure film Guadalcanal Diary (1943), with stars Anthony Quinn, William Bendix and Preston Foster, bolstered homefront morale as it portrayed the courageous and bloody battle of the US Marines for the Solomon Islands during the opening stages of the war in the South Pacific.
Both Paramount's and Mark Sandrich's So Proudly We Hail! (1943), and Richard Thorpe's and MGM's Cry Havoc (1943) attempted to realistically depict the role of women during wartime; the first depicted deglamorized, Red Cross combat nurses in WWII Pacific with Claudette Colbert, Paulette Goddard and Veronica Lake, the second with Margaret Sullavan, Ann Sothern, and Joan Blondell as nurses and other courageous volunteers in the Bataan-Corregidor-Philippines conflicts.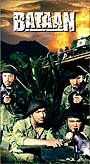 Tay Garnett's documentary-style Bataan (1943), loosely based on John Ford's earlier film The Lost Patrol (1934), chronicled the rugged exploits of a small US Army platoon in the Philippines (led by Robert Taylor) in 1942 left for rear-guard action in the jungle to fight against the Japanese and blow up a strategic bridge. Ray Enright's ultra-patriotic film Gung Ho! (1943) showcased Robert Mitchum and Randolph Scott as members of Carlson's Marine Raider Battalion fighting a death-defying mission in the Pacific island jungles to retake Makin Island in the Pacific in August, 1942. William A. Wellman's poignant but unsentimental The Story of G.I. Joe (1945), released just after the German surrender, was one of the best of all WWII combat films - the story of Company C, 18th Infantry foot-soldiers chronicled by war correspondent Ernie Pyle (portrayed by Burgess Meredith). [Robert Mitchum earned his only Oscar nomination for this film.] Errol Flynn starred in Raoul Walsh's realistic combat film Objective, Burma! (1945), as Major Nelson - a gung-ho paratrooper captain leading a platoon in an attack against a Japanese radar station jungle outpost in Burma. Their return trip to their own lines, a harrowing, arduous 150-mile foot trek through the jungle, portrayed their sacrifice, pain, and heroism.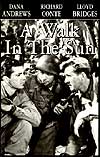 Warner Bros.' action picture Action in the North Atlantic (1943) featured Humphrey Bogart as a commander in the unheralded Merchant Marines, protecting a convoy (carrying valuable cargo to the Soviet allies) against U-boat attacks. Lewis Milestone's modest A Walk in the Sun (1945) followed an American infantry unit (with Dana Andrews as their sergeant) struggling to survive while fighting to take a farmhouse from the Germans in Italy. Zoltan Korda's dramatic action picture Sahara (1943) was centered in the N. African Libyan desert, with Humphrey Bogart as the head of a British-American unit fighting the Germans. Another war film geographically located in N. Africa was John Stahl's The Immortal Sergeant (1943), with Henry Fonda as an inexperienced Canadian Army Corporal forced to take command of the British 8th Army troops in the desert following the battle death of the squad's sergeant (Thomas Mitchell).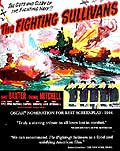 Lloyd Bacon's The Sullivans - re-released as The Fighting Sullivans (1944) told the patriotic true story of five Irish-American brothers who died together in WWII, when their ship was sunk in the South Pacific. [Years later, the film inspired director Steven Spielberg to rework the story into his film Saving Private Ryan (1998).]
The first significant post-WWII film in the US was MGM's Battleground (1949) - it followed a group of raw American recruits of the 101st Airborne Infantry Division fighting in the Battle of the Bulge. [Later, Robert Aldrich's Attack! (1956), also set during the 1944 Battle of the Bulge, featured Jack Palance in a lead role as a desperate fighting man.] Home of the Brave (1949), notable for being Hollywood's earliest protestation against racial bigotry in the military, depicted a black soldier sent on a S. Pacific island mission who faced prejudicial treatment by white comrades.
The screen duo of Alan Ladd and Veronica Lake were paired in their fourth (and final) film together in Saigon (1948), a romantic adventure set mostly in a SE Asian jungle near Saigon. In Jean Negulesco's non-fictional, agonizing Three Came Home (1950), Claudette Colbert starred as American authoress Agnes Newton Keith, penned-up with her young son in a Japanese prisoner of war camp in Borneo (headed by Sessue Hayakawa). Decorated military hero and Medal of Honor winner, Audie Murphy starred in the autobiographical To Hell and Back (1955) about his war-time experiences in the 3rd Infantry Division in S. France and Italy. And Philip Dunne's In Love and War (1958) told the story of three Marine leathernecks (Jeffrey Hunter, Robert Wagner, and Bradford Dillman) from N. California who served in the South Pacific.
Submarine and Naval-Related Pictures: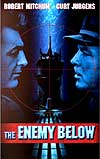 Another propagandistic film, Delmer Daves' quintessential submarine feature film Destination Tokyo (1943), starred Cary Grant as the captain of a submarine crew on a dangerous mission to Tokyo Bay. Archie Mayo's hard-hitting Crash Dive (1943) starred Tyrone Power as an ace PT boat skipper whose assignment to a submarine (commanded by Dana Andrews) led to victories against the Nazis in the North Atlantic, with a romantic adventure subplot (with love interest Anne Baxter). Hitchcock depicted eight survivors from a torpedoed boat adrift in Lifeboat (1944). Director Dick Powell's The Enemy Below (1957) dealt with submarine warfare in the Atlantic between two dueling commanders (Robert Mitchum as the captain of an American destroyer, and Curt Jurgens as the captain of a German U-boat). Another seminal submarine film was Robert Wise's Run Silent, Run Deep (1958) with Burt Lancaster and Clark Gable as two clashing submarine officers. In the same year, Torpedo Run (1958) starred Glenn Ford as an obsessed and merciless WWII submarine commander. John Ford's comedy/drama Mister Roberts (1955) examined the crew of a Navy cargo freighter outside the battle zone in the S. Pacific during WW II.
Aircraft-Related Pictures: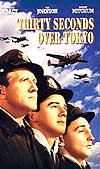 Victor Fleming's morale-boosting A Guy Named Joe (1943) told a fanciful war tale of the death of a WWII pilot (Spencer Tracy) who was sent back to Earth (by a Godly Lionel Barrymore) to become a guardian angel to a group of new pilots being trained for missions. [It was later remade by director Steven Spielberg, as the romantic fantasy Always (1989) with Richard Dreyfuss as a fire-fighting pilot - unrelated to the military context.] Director Howard Hawks' Air Force (1943) from Warner Bros.' studios, and with James Wong Howe's cinematographic genius, was a strong propagandistic film about the crew of a B-17 Flying Fortress plane - with believable aerial battles. Mervyn LeRoy's Thirty Seconds Over Tokyo (1944) with Oscar-winning Special Effects, starred Spencer Tracy as Lieut. Colonel James H. Doolittle, famous for leading the first bombing attack on Tokyo during WWII. Director Henry Hathaway's A Wing and a Prayer (1944) told of brave pilots on an aircraft carrier led by a tough flight officer (Don Ameche). In Sam Wood's Command Decision (1948), Clark Gable portrayed a British air force base commander who agonized over sending dangerous bombing squadrons over Germany. Director Henry King's Twelve O'Clock High (1949) featured Gregory Peck (in one of his finest career roles) as a ruthless flight commander straining to lead an England-based American bomber squadron (the 8th Air Force). The film with an all-male cast portrayed the mental and psychological pressures of warfare.
John Wayne's WWII Films: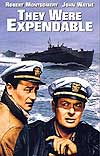 John Wayne starred in the fictionalized The Flying Tigers (1942) as the leader of a squadron of American pilots stationed in early-WWII China that were for-hire to battle the Japanese. In The Fighting Seabees (1944), Wayne also starred as the leader of a crew of civilians in a construction company that eventually formed a tough fighting force in WWII. Back to Bataan (1945) found John Wayne leading US forces in a recreation of the Bataan Death March. Toward the close of the war, John Ford based his realistic, under-rated and bleak film They Were Expendable (1945) upon the true, inspiring story of the Navy's PT boat squadrons and crews based in the Philippines during the early years of the war that faced the advance of Japanese forces, with John Wayne and Robert Montgomery in starring roles.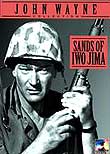 In director Allan Dwan's blatantly-patriotic wartime action drama Sands of Iwo Jima (1949) made after the war by Republic Studios, Wayne again starred as a tough and harsh but compassionate Marine sergeant (acquiring his first Academy Award nomination for the role) who trained rebellious recruit-troops in New Zealand in 1943 that were eventually responsible for the strategic re-taking of Iwo Jima (on top of Mount Suribachi) from the Japanese in February, 1945. And in Operation Pacific (1951), Wayne starred as an American submarine captain of the USS Growler - a story adapted from the life of sub-commander Howard W. Gilmore. In director Nicholas Ray's Flying Leathernecks (1951), Wayne played a disciplined, unpopular and macho-tough Marine squadron commander of the Flying Corps in the South Pacific, leading a group to hold Guadalcanal in WWII. Director Otto Preminger's star-studded epic In Harm's Way (1965), another WWII naval adventure, re-teamed Wayne (as a veteran cruiser commander) with co-star Patricia Neal. It appeared two decades after the war's end to present an overlong story of naval life during wartime and a depiction of the attack on Pearl Harbor.
More WWII-Related Films:
Emeric Pressburger's and Michael Powell's propaganda film ...One of Our Aircraft is Missing (1941, UK) told about a night-time RAF bomber crew shot down and aided by the Dutch in German-occupied territory. We Dive at Dawn (1943) told of the encounter between a British submarine and a German warship in the Baltic Sea, with John Mills starring as the submarine commander. Director Guy Hamilton's compelling British drama The Colditz Story (1955) revealed the determination of Allied POWs in an escape from Colditz - an escape-proof castle/prison within Germany's Third Reich. Raoul Walsh's Battle Cry (1955), adapted from Leon Uris' best-seller, examined a group of WWII Marine recruits (including Aldo Ray, James Whitmore, Tab Hunter and others) led by their major (Van Heflin) in conflict in the South Pacific.
Japan's (director Kon Ichikawa) anti-war film The Burmese Harp (1956) portrayed the horror of war and Japanese post-war sentiment in its story of a Japanese soldier (a lute player) separated from his battalion at the close of the Pacific War in Burma, who is overwhelmed by the sight of dead Japanese soldiers in Burma (at the end of the war). The devastating effects of the Hiroshima bombing (and its radioactive fallout and radiation sickness), based on the prize-winning novel by Masuji Ibuse, were chronicled in director Shohei Imamura's award-winning Black Rain (1989). Director Robert Pirosh's Go For Broke! (1951) was one of the few films to show the heroic courage of Japanese-Americans of the 442nd Regimental Combat Team as they battled against the Nazis.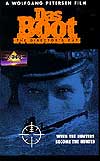 German director Wolfgang Petersen's sympathetic and realistic Das Boot (1981), adapted from the autobiographical book by Lothar-Guenther Buchheim, followed the heroic efforts of a German U-boat captain and its crew during WWII to patrol the Atlantic and Mediterranean within the claustrophic, cramped confines of their undersea vessel (U-96). And the German anti-war battle drama Stalingrad (1993), from director Joseph Vilsmaier, was released to coincide with the 50th anniversary of the crucial defeat of the Nazi forces in Stalingrad/Russia. The German/Polish film, Europa, Europa (1990) (aka Hitlerjunge Salomon), by director Agnieszka Holland, was based on the true story of a young, circumcised German Jew (Solomon Perel) who survived the Holocaust by posing as an ethnic Aryan German and joining the Hitler Youth, but continually feared being discovered by anti-Semitic Nazis.
Clint Eastwood directed two films (released in a 3-month period) based on the pivotal WWII battle over the island of Iwo Jima: his 26th directed film titled Flags of Our Fathers (2006), adapted from the co-authored James Bradley and Ron Powers' non-fictional book Flags of Our Fathers: Heroes of Iwo Jima that detailed the story surrounding the iconic and familiar Pulitzer Prize-winning photograph by Joe Rosenthal on Mount Suribachi called Raising the Flag at Iwo Jima. The film told of the bloody engagement to take control of the Pacific island from the Japanese, with at least 6,000 Americans dying in the month-long conflict. The second film was Letters From Iwo Jima (2006) which examined the same nihilistic battle from the Japanese perspective. This bookend film, with Japanese dialogue (requiring subtitles) starred Ken Watanabe as Japanese commander Lt. Gen. Tadamichi Kuribayashi, who sent letters to his family - the basis for the film.