Comedies Related to the Vietnam War:
In a lighter vein, Barry Levinson's Good Morning, Vietnam (1987) was centered on the irreverent, non-conformist, early morning disc-jockey Adrian Cronauer (Robin Williams) with his fast-talking mouth, heard on Armed Services Radio during the Vietnam conflict. An Airplane!-type satire on the cliches of Vietnam War films (notably Rambo, Apocalypse Now, Platoon, and The Deer Hunter) was found in Jim Abrahams' political spoof sequel Hot Shots! Part Deux (1993), although it was set in Iraq and featured a mustached Mid-East dictator. Robert Zemeckis' Best Picture-winning sly comedy Forrest Gump (1994) followed its dumbed-down title character (Tom Hanks) through 1960s-1970s US history, including a tour to Vietnam and subsequent hero status, his meetings with Presidents, his romance with countercultural Jenny (Robin Wright), and his contact with Bubba (killed in Vietnam) and angry, legless platoon leader Lieutenant Dan (Gary Sinese).
Further Vietnam War-related Films:
John Irvin's realistic and disturbing view of the Vietnam struggle in Hamburger Hill (1987) marked a return to the conventional kind of WWII combat film (transposed to 1969 Vietnam) - it traced the brutal experiences of a group of GI infantrymen of the 101st Airborne Division from their initial training to their pointless deaths during a fierce, 10-day bloody battle for Ap Bia Mountain (Hamburger Hill). Patrick Sheane Duncan's documentary style film 84 Charlie Mopic (1989) provided a devastating, nightmarish tour of the horrors of Vietnam around 1969 in a filming mission by an army motion picture (MOPIC) cameraman on the front lines. Brian De Palma's thought-provoking Casualties of War (1989) told the true story (from a New Yorker article by Daniel Lang) of a decent Army private (Michael J. Fox) who refused to overlook his squadron's moral responsibility for the kidnap, sexual assault/gang rape, and murder of a native Vietnamese female.
Haunted Vietnam Vet Jacob Singer (Tim Robbins) saw visions of demons and monsters as reality slipped away from him in the transcendental Jacob's Ladder (1990). Joel Schumacher's Falling Down (1993) portrayed Michael Douglas as William Foster (with personalized license plate D-FENS) - a rattled, confrontational, unemployed defense worker in the jungles of Los Angeles' Establishment society who snapped during a difficult morning commute, and while trying to order breakfast after 11:30 am in a Whammyburger fast food restaurant; and later, the director's gritty Tigerland (2000) depicted Advanced Infantry Training in 1971 at a boot camp in Louisiana for Vietnam-bound recruits called Fort Polk, infamously known as Tigerland since it simulated a SE Asian jungle - it portrayed the brutalization of the young trainees, including a stubborn, rebellious Texan named Bozz (Colin Farrell).
Randall Wallace's factual tribute film We Were Soldiers (2002), starring Mel Gibson (and the makers of Braveheart), chronicled the US' first major bloody, heroic engagement (part of the Pleiku Campaign) between the First Battalion, Seventh Cavalry and the N. Vietnamese in late 1965. (Gibson also starred in Roland Emmerich's melodramatic The Patriot (2000), a tale of Revolutionary War revenge.) Phillip Noyce's remake of Joseph L. Mankiewicz's earlier 1952 effort was a faithful adaptation of Graham Greene's novel The Quiet American (2002), set in Saigon in the early 50s - it criticized US involvement in Vietnam by depicting a montage of images of the decades-long war at its conclusion.
Heroic War Films:
There has been the tendency to modify the war-historical events in order to fit the story into the Hollywood mold of war films to tell a story of heroic courage, or to praise Americanism under fire, etc., and make a commercially-viable film. Two such examples included Sidney Furie's hostage-rescue action thriller Iron Eagle (1985), and Tony Scott's slick blockbuster about Navy fighter pilots Top Gun (1986), starring Tom Cruise. The three-handkerchief 'soap opera' An Officer and a Gentleman (1982) told a touching story of romance in a military setting.Michael Bay's Pearl Harbor (2001) highlighted a love triangle amidst the backdrop of a realistic, special effects-heavy attack on the Hawaiian Pearl Harbor base.
More realistically, director-writer Samuel Fuller's The Big Red One (1980) captured the terror of ill-advised combat in a semi-autobiographical account of a foot-soldier's squadron in the US Army's First Infantry Division (its insignia was dubbed 'The Big Red One') and its intrepid sergeant (played by Lee Marvin) during WWII. It followed their progress from North Africa through Sicily, Omaha Beach and Belgium to the ultimate horror of the concentration camp at Falkenau, Czechoslovakia. Director Peter Weir's heart-wrenching Australian film Gallipoli (1981) was set during WWI - a rich character study of two idealistic best friends in the Australian army (one of whom was a young Mel Gibson in a star-making role) who would vainly fight the German-allied Turks at Gallipoli in 1915.
The lost battle in Vietnam was refought in various Hollywood films, such as the adventure film Uncommon Valor (1983) which featured Gene Hackman as a retired Marine Colonel and frustrated father who took matters into his own hands to find his MIA son - he brought together the remaining members of his son's Vietnam platoon for an attempted, daring POW rescue - and re-enactment of the war. Actor-producer-director Clint Eastwood's Heartbreak Ridge (1986) depicted an aging, grizzled Marine gunnery sergeant named Tom Highway (Eastwood himself) whose days in the military were numbered, but redeemed with one final chance to train a green, rag-tag platoon with old-fashioned discipline in order to invade and be victorious over the tiny island of Grenada in 1983. And John Milius' Red Dawn (1984) depicted the invasion of the United States by Russian and Cuban paratroopers, and the country's defense provided guerrilla warfare-style by Midwestern, teenaged high school students (Charlie Sheen, Jennifer Grey, Lea Thompson, and Patrick Swayze).
Three War Film Best Picture Nominees in 1998: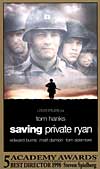 In 1998 alone, there were three highly popular WWII films, all nominated for Best Picture (but Shakespeare in Love (1998) took the top prize). Writer/director Terrence Malick demonstrated his film-making talent (after an absence of 25 years) with an ethereal re-make of the 1964 film of James Jones' novel about the WWII attack on the strategic island of Guadalcanal - The Thin Red Line (1998). [The film was actually a remake of director Andrew Marton's under-rated The Thin Red Line (1964) with Keir Dullea.] And Steven Spielberg won as Best Director for his monumental recreation of the gory D-Day assault that opened Saving Private Ryan (1998) - a realistic drama about eight WWII soldiers sent into enemy territory to rescue the sole surviving son of a family. The third film was Italian film-maker Roberto Benigni's bittersweet Holocaust fable Life is Beautiful (1998), the Best Foreign Language film of the year.
American Civil War Films:
In the late 1980s and early 1990s, two realistic Civil War films were released:
Edward Zwick's true-account Glory (1989), one of the best historical war stories about the first unit of black soldiers (including Best Supporting Actor-winner Denzel Washington and Morgan Freeman) - the 54th Regiment of Massachusetts Volunteer Infantry led by Robert Gould Shaw (Matthew Broderick)
writer-director Ronald F. Maxwell's outstanding epic Gettysburg (1993), based on Michael Shaara's Pulitzer Prize-winning novel The Killer Angels, about the famous Civil War battle of July, 1863; Maxwell's four-hour historical-dramatic sequel (actually prequel) was Gods and Generals (2003), based on Jeff Shaara's novel of the same name, with Jeff Daniels reprising his role as Union Colonel Joshua Lawrence Chamberlain, and the battles that led up to Gettysburg (at Manassas, Antietam, Frederickburg, and Chancellorsville); these two films were part of a promised trilogy
Later in the decade, director Ang Lee's war drama Ride With the Devil (1999) told about two Southern friends fighting guerrilla-style and side-by-side on the Kansas-Missouri border (with singer Jewel in her acting debut).
Spy/Espionage War-Related Films:
Most of the secret agent James Bond action films, beginning with Dr. No (1962), owe their origins to world-dominating tyrants, the Cold War and the Red Menace. Even after the Cold War ended and the agonizing post-Vietnam War period was over, Hollywood produced a number of high-tech, spectacular action-hero films with war-time suspense and superpower conflicts and thrills. These suspenseful spy and espionage films were filled with situations of military and political strife, CIA intrigue, terrorism, submarines, and nuclear warfare, etc. The following were representative examples of these political thrillers: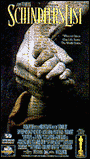 Holocaust Films:
Steven Spielberg's award-winning epic
Schindler's List (1993) presented the devastating story of the Holocaust through the actions of womanizing German industrialist/war profiteer Oscar Schindler (Liam Neeson) who saved a thousand Jewish lives. Spielberg also explored the Holocaust in his documentary project The Last Days (1999) that brought together the stories of five survivors. And exiled Best Director Roman Polanski's The Pianist (2002), with a Best Actor Oscar for lead actor Adrien Brody, was the harrowing story of survival for Jewish musician Wladyslaw Szpilman during the Holocaust.
War - The Ultimate 'Reality TV':
1991's Gulf War military action as Operation Desert Storm was first examined in Courage Under Fire (1996), and then in director David O. Russell's absurdist Three Kings (1999) with George Clooney and Mark Wahlberg. Jean-Jacques Annaud's Enemy at the Gates (2001) went back in history to tell the factual account of the 1942-1943 battle of Stalingrad, a major turning point in WWII. But director John Moore's pro-military action adventure Behind Enemy Lines (2001) with Gene Hackman was set amidst the backdrop of the recent Balkan-Bosnian struggle. John Woo's Windtalkers (2002) dramatized how a battle-weary, WWII Marine (Nicolas Cage) guarded and befriended a Navajo soldier with code-talking secrets.
But as often happens, war (or politically-oriented or anti-war) films with ties to current 'headline' events go into a period of declining popularity, especially when the country is actually fighting a long and drawn-out war. The 'Second' Gulf War (Operation Iraqi Freedom) was soon the source of Hollywood interpretations, but it appeared that American audiences did not want realistic war dramas -- war was the ultimate 'reality TV' -- during actual wartime.
The entire series of Final Destination horror films throughout the decade (2000, 2003, 2006, and 2009) specialized in the various horrible ways in which people die - sometimes freakishly accidental (Rube Goldberg-like) and very complex. The plane crash disaster in the first installment was eerily prescient of the upcoming 9/11/01 tragedy. The continuing haunting anticipation and fear produced by the unpredictable nature of terrorist attacks in future years may have caused fans of the series to find entertainment-value in the theatre, where the terrors could be walked away from.
By mid-decade, the proliferation of low-budget horror films with grisly torture as their main theme, e.g., Hostel (2005), Wolf Creek (2005), The Devil's Rejects (2005), Saw I (2004) and Saw II (2005) were reflective of the wartime era's main concerns (the global war on terror, waterboarding, torture in Iraq's Abu Ghraib prison and Guantanamo, etc.).
The After-Effects of 9/11, the Iraq War, the Afghanistan War, and the Fight Against Extremist Terrorism on Film: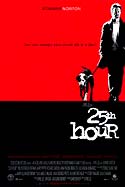 Warner Bros.' terrorist-themed action film Collateral Damage (2002), an Arnold Schwarzenegger vehicle, was about a Los Angeles firefighter seeking revenge for a terrorist bombing (a drug-related, non-Middle Eastern attack). It was originally due to be released on October 5, 2001, but was postponed until early February 2002, due to the terrorist attacks on the twin towers of the World Trade Center on 9/11/01 - and it still did poorly at the box-office.
At the same time, Ridley Scott's intense and suspenseful combat film Black Hawn Down (2001), released only a few months after 9/11, recreated and captured the visceral tension of a bloody, disastrous, and tragic American helicopter mission in the war-torn city of Mogadishu. Somalia in October, 1993. Coming soon after 9/11, it did well at the box-office - with $109 million (domestic).
Spike Lee's 25th Hour (2002) was a post 9/11 examination of racial hatred, fears and prejudice, portrayed in the character of convicted NY drug dealer Monty Brogan (Edward Norton) who was facing seven years in prison. Its most memorable scene was a scathing diatribe of ethnic/socio-economic archetypal slurs delivered before a mirror. The first 9/11 related feature film from Hollywood, on the 5th year anniversary, was Paul Greengrass' and Universal's real-time drama United 93 (2006). Another 9/11 related film was Paramount's and Oliver Stone's World Trade Center (2006) that opened in late summer, and told the story of two Port Authority cops (Nicolas Cage and Michael Pena) who were among the last rescue workers to be pulled from the rubble.
The innovative documentary film Voices of Iraq (2004) was made by distributing 150 inexpensive, lightweight, digital video-cameras to the people throughout Iraq - the film's subjects and participants. Over 400 hours of film footage was edited down to less than 80 minutes, and although presumably unbiased, it presented a fairly positive view of the US.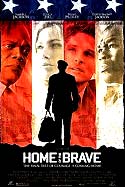 Filmgoers were mostly reluctant to attend films that dealt with the realities of the unpopular war (and mentioned the word "Iraq" or "war" in ad campaigns), and film studios shied away from making war films for much of the decade. However, there were some exceptions. Director Irwin Winkler's R-rated war drama Home of the Brave (2006) told about four American soldiers (Samuel L. Jackson, Jessica Biel, Brian Presley, and 50 Cent) on their last mission in Iraq when they were ambushed. Subsequently, they suffered both physical and emotional trauma upon readjustment to civilian life in Spokane, Washington. It was the first major Hollywood feature film to depict returning soldiers from the war in Iraq. Made on a budget of $12 million, the film was a serious flop, earning only about $500,000 (worldwide), and only $52,000 domestically. It recouped some of its losses from sale of DVDs, at $4.7 million.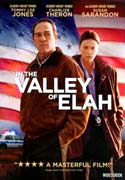 There were lots of other Iraq War-related box-office casualties, especially in 2007: writer/director Paul Haggis' somber, lifeless, and plodding In the Valley of Elah (2007) reflected the confusions and atrocities of war in its story of a retired Vietnam vet (Tommy Lee Jones) searching for his missing, returned Iraqi War soldiering son near his Army base in New Mexico, where the Iraq War was only a backdrop. It made only $7 million at the domestic box-office. Michael Winterbottom's sad A Mighty Heart (2007) told of the kidnapping-disappearance of journalist Daniel Pearl in Pakistan in 2002 and his truth-seeking wife Mariane's (Angelina Jolie) heroic search for him.
South African director Gavin Hood's coldly observant Rendition (2007), a dramatic thriller and human rights drama about the war on terror, starred Reese Witherspoon as a determined, pregnant American wife whose Egyptian-born, chemical engineer/husband - falsely-accused of being a terrorist suspect - was detained and tortured in a secret detention facility in Northern Africa. It showed the dubious tactic of keeping terrorist-suspect prisoners in detention facilities outside the US where they could be tortured. The film barely made $10 million.
Star-studded flop Lions for Lambs (2007), directed by star Robert Redford, was an impassioned exploration of US wars in the Middle East from three different angles (two soldiers in Afghanistan, a Republican senator (Cruise) and an opposing TV journalist (Streep), and a West Coast history professor (Redford) challenging one of his promising students). The exhaustively-talkative, and opinionated $35 million dollar film chastised the mistaken Bush administration for leading the country into a futile war, but was poorly attended and fell flat. Scriptwriter Matthew Michael Carnahan's first screenplay was for Peter Berg's equally-failed anti-war Middle-Eastern thriller The Kingdom (2007) about a terrorist bombing in Sauda Arabia, an expensive $80 million film that couldn't recoup its costs. However, writer/director Charles Ferguson's low-budget documentary No End in Sight (2007), an informational accounting of the bungling of the Bush administration in the Iraq War, was a well-received factual indictment of failed US foreign policy in regards to Iraq.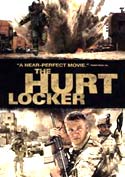 Brian DePalma's fictional anti-war documentary Redacted (2007), with the tagline: "Truth is the first casualty of war," was a fictional story based on real events in Iraq (including the 2006 rape/murder of an Iraqi teen girl by two US soldiers) -- it was a daring recreation of videos/blogs made by soldiers serving in Iraq, to bring the 'redacted' (edited or altered) sensitive and confidential information into the open. And writer and first-time director James Strouse's understated Grace is Gone (2007) told about a grieving Minnesota father (John Cusack) who took a road trip with his two young 12 and 8 year-old daughters to a fictional Florida theme park (Enchanted Gardens) where he struggled in the catharctic ending to tell them that their soldiering mother Grace had been killed in Iraq.
Kimberly Peirce's raw Stop-Loss (2008) explored the human consequences (post-traumatic stress disorders, or soldiers going AWOL) of the questionable military policy dubbed 'stop-loss' which allowed the US government to involuntarily extend a soldier's enlistment contract for duty in Iraq. The realistic terrors of the Iraq War were dealt with in Best Director-winning Kathryn Bigelow's tense bomb-defusing war thriller The Hurt Locker (2009), the Best Picture of its year and winner of five other Oscars. However, it grossed only $17 million (domestic) at the box-office.
The next two successful war films both came on the heels of the real-life elite SEAL Team # 6 operation that successfully killed terrorist Osama Bin Laden in early May of 2011. They included Kathryn Bigelow's follow-up film, the intense thriller Zero Dark Thirty (2012), a Best Picture nominee and a detailed recounting of the lengthy search for Bin Laden. However, it was criticized for its controversial depiction of enhanced interrogation methods used on captured terrorists. Also, director Peter Berg's Lone Survivor (2013), starring Mark Wahlberg in a war film about the conflict in Afghanistan, depicted a failed US Navy mission (dubbed Operation Red Wings) by a four-person SEAL team hunting down a Taliban terrorist.
And then, one of the most successful war films of all time arrived -- Clint Eastwood's biopic American Sniper (2014), about former Navy SEAL and sniper Chris Kyle (Bradley Cooper). It represented a new sub-genre of war films - about Middle-East special-ops elite commandos. It and during a time when the world was struggling to combat the growing forces of ISIS, al-Qaeda and other extremist groups.