---

The End of Celluloid Film - Conversion to Digitization: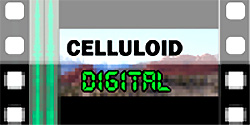 The end of celluloid film was coming - no more celluloid with sprocket holes and gear-driven projectors. The rise of 3-D in the previous decade, propelled by the success of James Cameron's blockbuster Avatar (2009), encouraged the digital conversion of many theatre-houses, because 3-D movies could only be shown on digital screens. A 3D-led growth spurt for digital screens saw theatres choosing to convert their screens - and the rise of digital projection. Then, it took over a decade for changes to be made in the technology and in the film industry for the complete conversion.
The rise of digital cinema projection began in 1999 just when digital optical discs became popular in the home market with the DVD format. Historically, the first major film to be digitally projected was Star Wars: Episode I – The Phantom Menace (1999). And then the next installment of the Star Wars franchise, Star Wars: Episode II - Attack of the Clones (2002), was the first movie shot using digital cameras for the entire production.
In 2013, Paramount Pictures became the first major studio to stop releasing movies on film in the US - its Will Ferrell comedy Anchorman 2: The Legend Continues (2013) was their last film released on 35 mm film. Paramount was the first major studio to stop releasing its major movies on film in the United States. Their first major all-digital release was Martin Scorsese's The Wolf of Wall Street (2013) - the first film to be released entirely through digital distribution.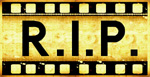 By the end of 2013, 89% of the over 40,000 US theatre screens were digital, up from 75% just one year earlier. This allowed exhibitors more flexibility in showtimes and number of showings per film, depending on demand and space. By the end of 2014, the phase-out from 35 mm to digital was almost complete for the motion picture industry. Statistically by mid-decade, almost all US film-screening theatres were entirely digital with only a few remaining with analog projection. However, not all screens in the US had converted to digital, according to the National Association of Theatre Owners. In response to this problem, Paramount committed itself to exhibitors by helping to replace film projectors with digital systems (at a cost of roughly $100,000 each), or to install satellite systems to receive digitally-beamed movies.
The reasons for the change were financial -- digitization would substantially reduce the cost of delivering movie prints to theaters. It was a boon for the industry, since digitization made it easier and cheaper to produce and ship film prints (by using satellites), and the digital prints were of higher quality (free of lint and scratches, with crisper and brighter images) with superior copyright protection (preventing large-scale piracy of movies). Digitization would also help studios in preserving, storing and keeping digital archives.
Biggest Hits of the Decade vs. The Most Honored Films of the Decade: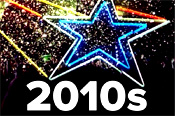 Oscars for Best Picture typically weren't awarded to Hollywood's biggest blockbusters. There has been a major disconnect between the films with the most domestic revenue for the year, and the films honored with Best Picture nominations and Oscars, especially since 2003. [Note: The last year that the highest-grossing (domestic) film also won Best Picture was The Lord of the Rings: The Return of the King (2003). Since 1980, only three other Best Picture winners reached No. 1 at the box office: Titanic (1997), Forrest Gump (1994), and Rain Man (1988).]
There has been a major difference in taste between what the Academy honored as the "Best Picture" and what the moviegoing public voted for as the most popular (by movie-theatre attendance-viewing). An increase in movie-ticket prices and shifting moviegoer demographics meant that the Best Picture winners were now more frequently seen in theatres by niche adult audiences (baby boomers and seniors). And the Oscar winners were often lesser-seen, non-mainstream titles. [See also article on Best Picture Genre Biases.]
Invariably, the box-office revenue of each Best Picture winner in this decade was considerably lower than the revenue of the highest-grossing domestic film of the same year:
It was widely noted that no film in the top 10 of domestic films (in domestic revenue) in 2016 was based on reality. There were no biopics, thrillers, dramas, musicals, westerns, or comedies. All of the top-ranked films were either animated movies or adaptations about comic-book or sci-fi heroes - and the trend seemed to be strengthening.
Significant Developments in the Decade:
Due to intense competition from Netflix, Redbox automated kiosks, and VOD (video on demand) services, Blockbuster video rental stores filed for bankruptcy protection in 2010. In 2011, the company was purchased by satellite provider Dish Network, and most of the stores were closed.
The first crowd-funded Oscar winner was the coming-of-age story, Inocente (2012), which won the Best Documentary (short feature) Oscar on February 24, 2013. The film had raised over $52K on Kickstarter to help fund its making.
Two of the oldest film studios celebrated their 100th year anniversaries (both were founded in 1912): Paramount Pictures (now owned by media conglomerate Viacom, but founded as Famous Players Studios) and also the last major film studio still headquartered in Hollywood, and Universal Pictures (founded by Carl Laemmle originally, and now controlled by General Electric, the parent of NBC), with production studios in Universal City, CA.
The 50th Anniversary of the James Bond Series was celebrated in 2012, with the release of the 23rd Bond film Skyfall (2012).
In 2012, four films crossed the billion-dollar (worldwide) box-office milestone, surpassing the previous year's record of three billion-dollar films, and then in 2015, five films crossed the milestone.
The Chinese film market had become the largest international film market, even though it was tightly-regulated and subject to quotas. A major box-office trend by 2012 was that Hollywood films were beginning to earn more internationally than domestically, with China poised as the fastest-growing worldwide market. China was becoming a significant and lucrative film market - in second place behind the US North American market. Much of the growth in the movie industry was poised to occur internationally (not domestically), mostly in China and other burgeoning markets (such as India). To increase revenue shares even more and make US films more appealing to Chinese audiences, some film studios were adapting or creating Chinese versions of major films - with bonus footage. There was a race by the major film studios to form new partnerships with Chinese companies and to build production studios in the country for better access to their fast-growing film market.
Zombie films continue to intrigue and spark interest among film-makers (and film-goers). World War Z (2013) had the highest all-time box-office gross for a zombie movie, at $202.4 million (domestic), and $540 million (worldwide).
In 2014, a group of female celebrities were victimized by hackers who stole their nude 'selfie' photos and leaked them online. Victimized females included Jennifer Lawrence, Kate Upton, Jenny McCarthy, Ariana Grande, Mary Elizabeth Winstead, Emily Ratajkowski, Rihanna, Kirsten Dunst and Kim Kardashian (who later publically bared all in a photo shoot for Paper magazine).
In late 2014, the FBI confirmed that North Korea was behind cyber-attacks on Sony Pictures. Sony was hit by hackers (dubbing themselves 'Guardians of Peace') on November 24th in response to the planned release of Columbia Pictures' (owned by Sony) satirical comedy on Christmas Day, The Interview (2014), about a plot to assassinate North Korean dictator Kim Jong Un. The Sony Pictures' breach rendered thousands of its computers inoperable (caused the leak of personal employee data and some embarrassing emails by company executives), forced the company to take its computer network offline, disrupted the company's business operations (i.e., by releasing digital copies of yet unreleased films), and ultimately forced a cancellation of the release of The Interview in major US national theatre chains in the wake of threats from North Korea and its supporters. However, over 300 independent cinemas showed the film around Christmas Day, and it was available for rental, with end of year earnings of about $6.1 million. Sony was expected to lose as much as $100 million on the film as a result of the state-sponsored attack. Some critics called the move to censor the film a violation of First Amendment rights and freedom of creative expression - the right of a movie studio to make any movie they wished.
Tax credits and other financial incentives in other locations drove more film-making out of California. A non profit group known as Film-L.A., Inc. released a feature film study (their second annual report), stating that only 22 of 106 films (about 16%) released by the major studios in 2014 were actually filmed in California. Local film production peaked in 1997 when 64% of the top 25 films at the box-office were filmed in California. California's financial incentives typically benefited lower-budget films and TV shows. The most prominent film-making locales used now included New York, Britain, Canada, Georgia, Louisiana, Australia, and a dozen other states and countries.
With the release of Godzilla (2014), the Japanese monster series became the longest, continually-running movie franchise of all time. Japan's Toho Studios have promoted the Gojira franchise for nearly 60 years. The original Gojira (Godzilla) film was released in 1954 by director Ishirô Honda.
To offset the exorbitant cost of making films, independent film-makers turned to online crowd-funding, with sites such as Kickstarter or GoFundMe. The feature-length film Veronica Mars (2014), based upon the original television series beginning in 2004 (and cancelled in 2007) raised $5.7 million on Kickstarter, the largest amount ever raised for a film project at the time (April, 2013) (at 285% of its goal, with 91,585 total backers). The success of the film catapulted a string of new movie projects seeking funding from various crowdfunding platforms. The movie premiered on March 14, 2014, a year and a day after the appeal launch.
Finding Dory (2015) became the highest-grossing (domestic) animated film of all-time, surpassing Shrek 2 (2004), while Disney's Frozen (2013) remained the highest-grossing (worldwide) animated film of all-time.
Director Quentin Tarantino's western The Hateful Eight (2015) (distributed by The Weinstein Company) was reputedly the widest 70mm release the industry has seen in more than 20 years. It was filmed entirely in 70mm (Ultra Panavision 70), a rare widescreen format usually reserved for big-screen epics.
The adult computer-animated comedy Sausage Party (2016) was the first CGI-animated film to be rated R by the MPAA.
There was an embarrassing and historic mix-up over the Best Picture award, originally announced for La La Land (2016), which eventually was rightfully awarded to the African-American coming-of-age drama Moonlight (2016).
Google's short film Pearl (2016), released both as a theatrical and 360-degree virtual reality film, became the first VR film nominated for an Oscar.
Japan's consumer electronics company, Funai Electric Company, announced in mid-2016 that they would permanently curtail the manufacture of VHS equipment (VCR/DVD player combos), including videocassettes.
MTV became the first major awards show to adopt gender-neutral categories. During their annual Movie & TV awards ceremony, Emma Watson accepted MTV's first 'gender-neutral' acting award - Best Actor for her role in Beauty and the Beast (2017).
The action film Wolf Warrior 2 (2017, China) was the first non-Hollywood film to be listed on the Top 100 box office (worldwide) hits of all-time, with a worldwide gross of $870 million. It became the highest-grossing Chinese film ever released, to date.
68 year-old Meryl Streep acquired her 21st Academy Award nomination (a significant record), for her role as Washington Post publisher-heiress Katharine Graham during the Vietnam War-era at the time of the Pentagon Papers scandal, in Steven Spielberg's political thriller The Post (2017).
In 2018, the Marvel Cinematic Universe (a series of superhero films) became the first film franchise to gross more than $16 billion (worldwide revenue) with the release of Avengers: Infinity War (2018).

Film History of the 2010s
Part 1, Part 2, Part 3, Part 4, Part 5
---



---