Films About Hollywood Itself and the Stage: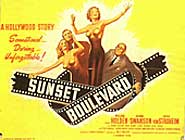 After his successes of the 1940s with a film noir masterpiece (Double Indemnity (1944)) and a bold drama about an alcoholic (The Lost Weekend (1945)), director/writers Billy Wilder and Joseph L. Mankiewicz released the scathing, acidic, subversive Gothic comedy Sunset Boulevard (1950), with an unforgettable come-back performance by once-great, aging silent film star Gloria Swanson, her young, opportunistic hack screen-writer lover (portrayed by William Holden) who narrated the flashbacked film as a dead man, her butler (former director Erich von Stroheim), and director Cecil B. DeMille as himself. It remains the best movie ever made about Hollywood -- years later, it was made into a Broadway musical by Andrew Lloyd-Webber.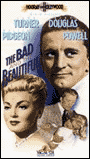 Another 'behind-the-scenes' melodrama about Hollywood was Vincente Minnelli's The Bad and the Beautiful (1952) with Kirk Douglas in a strong performance as a ruthless, maverick Hollywood producer/studio head, who summoned a writer (Dick Powell), a director (Barry Sullivan), and an actress (Lana Turner) - all with careers he launched - to help save his studio. In the same year, the musical Singin' in the Rain (1952) reflected the difficulties experienced by the Hollywood film industry during the transition from silents to sound.
Nicholas Ray directed the brooding, biting film noirish story of a borderline, often-violent, hot-tempered Hollywood screenwriter (Humphrey Bogart) suspected of murder in In a Lonely Place (1950). And George Cukor's widescreen A Star is Born (1954), the second version of this classic film, contrasted the rising Hollywood stardom of a singer/actress (Judy Garland in her own comeback from depression and drug abuse) and the decline of her washed-up alcoholic husband/mentor (James Mason).
Robert Aldrich's The Big Knife (1955), a screen adaptation of Clifford Odets' 1949 stage play, presented a devastating look at Hollywood's ruthless search for fame and power in its tale of actor Charles "Charlie" Castle (Jack Palance), struggling with his personal life and estranged wife Marion (Ida Lupino). He was forced by his domineering, tyrannical, blackmailing studio boss Stanley Hoff (Rod Steiger) (and his slimy assistant Smiley Coy (Wendell Corey)) to renew a 7-year contract. The dark film noir ended with tortured Castle's extra-marital affair, the studio's silencing-murder of starlet Dixie Evans (Shelley Winters), and his own suicide (off-screen).
Although not about Hollywood, writer/director Joseph L. Mankiewicz's literate satire about backstage intrigue, All About Eve (1950), with Marilyn Monroe in a bit role as an aspiring starlet, starred Bette Davis as aging theatre star Margo Channing. The film was noted for its witty, barb-infested script, and famous for Davis saying: "Fasten your seatbelts. It's going to be a bumpy night", and Anne Baxter as the ambitious assistant title character. It was honored with a record 14 nominations (5 of which were acting nominations) and six Academy Awards, including Best Picture. And Tony Curtis starred in two films about performers: magician Houdini (1953) opposite his real-life wife Janet Leigh as wife Bess Houdini, and director Carol Reed's Techni-colored Trapeze (1956) - about two acrobatic rivals (ex-real-life acrobat Burt Lancaster against aerialist Tony Curtis) in a competitive romantic love triangle with Gina Lollobrigida.
Ingrid Bergman gave an Oscar-winning performance (it was her second Oscar) as the lost princess in Anastasia (1956), claiming to be the last survivor of the Russian royal family. The film represented a comeback for Bergman, who had been exiled from Hollywood after a scandalous, overblown affair with Italian film-maker Roberto Rossellini.
United Artists Corporation: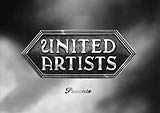 United Artists, originally founded in 1919 by pioneering film-makers (stars and directors including D.W. Griffith, Charlie Chaplin, Mary Pickford, Douglas Fairbanks, Sr.), encountered debts and financial difficulties and was forced to sell off and reorganize in 1951. The production studio was sold to a syndicate headed by two NY entertainment lawyers, and United Artists became solely a financing and distributing facility. At first, the new administration released modestly-budgeted films, but by the mid-1950s rebounded with the independent films of Stanley Kramer and Otto Preminger. It was very successful and competitive with all the major studios because of the release of its influential films in the decade, such as:
Marilyn Monroe: Sex Symbol and Movie Star
Innovations in wide-screen technologies weren't the only weapon that Hollywood studios used against television. Starlet Marilyn Monroe was born in 1926, as Norma Jean Mortenson, and earlier known as Norma Jean Baker - Baker was the last name of her mother's first husband-boyfriend. She posed for pin-up artist/painter and photographer Earl Moran beginning in the late 40s. She appeared in a bit-role (with a sexy walk and the line: "Some men are following me") in UA's Love Happy (1949) - with the Marx Brothers in their last film as a team, and in lots of B-movies in bit roles, usually as a dumb blonde. Ultimately, she would become the century's most enduring pop icon and sex symbol. In 1999, Marilyn was named the Number One Sex Star of the 20th Century by Playboy Magazine and the Sexiest Woman of the Century by People Magazine.
She had her first screen test and signed her first studio contract with Twentieth Century Fox in mid-1946 for one year and appeared in bit roles (including the musical comedy The Shocking Miss Pilgrim (1947), Scudda-Hoo! Scudda-Hay! (1948) and the juvenile delinquent melodrama Dangerous Years (1947)), and then in 1948 for six months with Columbia Pictures - where she experienced her first co-starring role as a showgirl in the low budget musical Ladies of the Chorus (1949). Eventually, Monroe returned to 20th Century Fox, signing a seven-year contract with the studio in 1950. She had two early memorable bit roles as the naive "niece" (mistress) of a corrupt lawyer in John Huston's superb crime-noir drama The Asphalt Jungle (1950) from MGM, and as an ambitious would-be Hollywood actress in Joseph Mankiewicz's acclaimed All About Eve (1950) from Fox. Her first lead role was in the Fox thriller Don't Bother to Knock (1952) as a mentally-unstable babysitter.

1953 was a momentous year for Monroe - she appeared in the December 1953 undated, premiere issue of Playboy as the first centerfold and as the cover girl. [Hugh Hefner purchased the "Red Velvet" nude photos that were taken in late May 1949 by Tom Kelley. Embarrassed by posing nude in 1949 for Playboy and to hide her true identity, she signed her photo release as 'Mona Monroe.' Her mother's maiden name was Monroe.] She was voted the Best New Actress of 1953 by Photoplay Magazine, and also appeared in three feature films:
in Henry Hathaway's Technicolor film-noir thriller Niagara (1953), Marilyn starred as a sexy, murderous honeymooner named Rose Loomis; the film's tagline advertised: "A raging torrent of emotion that even nature can't control!"
in Howard Hawks' musical comedy Gentlemen Prefer Blondes (1953), she appeared (with Jane Russell) as a delightfully-scheming blonde showgirl and gold-digger named Lorelei Lee, and performed the classic "Diamonds Are a Girl's Best Friend"
in Jean Negulesco's comedy How to Marry a Millionaire (1953), she was one of three husband-hunting, gold-digging glamour girls (with Lauren Bacall and Betty Grable) who rented a penthouse to attract wealthy suitors
Director/co-writer Billy Wilder cast the blossoming blonde sex symbol of the 1950s in two excellent comedies: the slightly salacious The Seven Year Itch (1955) as a lust-fantasy object (known as The Girl) for Tom Ewell, and enduringly known for the billowing white skirt scene above a breezy subway grating (publicized as much more risque in press shots), and then as ditzy, busty ukelele-strumming singer Sugar Kane in the hilarious classic, screwball, gender-bending farce Some Like It Hot (1959) - one of the sharpest, best-casted films of all time with Jack Lemmon and Tony Curtis as dress-wearing band members named Daphne and Josephine (and Monroe won a Golden Globe for Best Actress in a Comedy).
[Marilyn, who had previously been married to James Dougherty in 1942 (and divorced in 1946) eloped with baseball player Joe DiMaggio in 1954 in a short-lived union, and then married playwright Arthur Miller in mid-1956 (a four-year marriage that ended with a Mexican divorce in 1961).]
After starting her own motion picture company, Marilyn Monroe Productions, in 1956, she appeared in two of the company's productions as a kind, but no-talent saloon singer floozie in Bus Stop (1956) (with another Golden Globe nomination for Best Actress) and in The Prince and the Showgirl (1957) opposite Sir Laurence Olivier as an icy Eastern European monarch. She also starred in George Cukor's third musical Let's Make Love (1960) (Marilyn's 27th picture) with Yves Montand (with whom she had an affair during filming), and her last completed film was director John Huston's troubled production of The Misfits (1961) opposite aging star Clark Gable. One film was left unfinished, Fox's and director George Cukor's Something's Got To Give (1962), a remake of the Cary Grant film My Favorite Wife (1940) co-starring Dean Martin and Cyd Charisse. [The film has since been reconstructed from existing film footage at 37 minutes. It includes her nighttime skinny-dipping scene in a backyard pool - it would have been the first nude scene in an American film by a major star. It was revamped and recasted with Doris Day and James Garner as Move Over, Darling (1963).] She died at age 36 on August 5, 1962 in her Los Angeles bedroom, presumably from a drug overdose, but circumstances surrounding her death have proved mysterious, with some claiming 'foul-play' due to alleged affairs with the Kennedys.
Combat-War Films and Anti-Communist Films in the 50s:
At the dawn of the decade, several dramatic World War II films made a comeback: Twelve O'Clock High (1949), Battleground (1949) an action film about American infantryman fighting during the Battle of the Bulge, and John Wayne as a tough, stereotypical Marine Sergeant in The Sands of Iwo Jima (1949). The Desert Fox (1951) starred James Mason as German Field Marshal Erwin Rommel ("The Desert Fox"), the famed tank commander in war-torn North Africa who was ultimately defeated by Montgomery.
By the time the Korean War was over by mid-decade and the peaceful Cold War period continued, more combat and war-related films were box-office hits:
Battle Cry (1954) - based on Leon Uris' novel about Marines on their way to war in the Pacific
The High and the Mighty (1954), a gripping, airplane-in-flight-disaster film starring John Wayne (who whistled the theme song) as the copilot and Robert Stack as the Captain; it prophetically invented the disaster film genre and foreshadowed its craze in the 1970s
Herman Wouk's novel was adapted as The Caine Mutiny (1954), with Humphrey Bogart on trial as an incompetent Lt. Comm. Queeg, defended by attorney Jose Ferrer
co-directors John Ford, Mervyn LeRoy and Joshua Logan made the comedy/drama Mister Roberts (1955) about life on-board a World War II cargo ship named The Reluctant; the film was based on the Broadway play of the same name, and starred lots of acting veterans (James Cagney, Henry Fonda, and William Powell in his last film role) and a young up-and-coming Jack Lemmon
To Hell and Back (1955) with decorated World War II GI and war hero Audie Murphy playing himself as an infantryman on the battlefront
James Stewart as a US Air Force pilot in Strategic Air Command (1955)
The Sea Chase (1955), a World War II adventure with John Wayne as the captain of a German freighter
The fear of the Communists continued to appear on-screen, mostly in blatantly anti-Communist, propagandistic films that are mostly fascinating from a social-historical point of view: R. C. Springsteen's The Red Menace (1949), Leo McCarey's My Son John (1952), Jerry Hopper's The Atomic City (1952) - a thriller set in Los Alamos, and Lewis Allen's A Bullet for Joey (1955). At the end of the decade, the story of a young girl in hiding before being discovered with her family and sent to a concentration camp was filmed in The Diary of Anne Frank (1959).
The Musical Genre Reached New Heights in the 50s:
This decade also witnessed the prodigious rise of colorful, escapist, lavish, classic musicals (mostly from MGM and its production genius Arthur Freed, and from directors Stanley Donen and Vincente Minnelli) that benefited from wide-screen exposure, including such films as:
Irving Berlin's smash-hit musical Annie Get Your Gun (1950) with Betty Hutton as the legendary sharp-shooting character Annie Oakley, and numerous Irving Berlin songs: "There's No Business Like Show Business" and "Anything You Can Do, I Can Do Better"
the Jerome Kern/Oscar Hammerstein musical Show Boat (1951), with the story of an inter-racial marriage that causes friction on-board the riverboat, and the singing of "Ol' Man River" by William Warfield
Singin' In The Rain (1952), the classic film noted for Gene Kelly's dance in a downpour, and Donald O'Connor's "Make 'Em Laugh"
Calamity Jane (1953), with Doris Day as the tomboyish title character opposite Howard Keel as Wild Bill Hickok, honored with a Best Song Oscar for "Secret Love"
Kiss Me Kate (1953), a play within a play and musical version of The Taming of the Shrew, with songs including "Too Darn Hot" and "Brush Up Your Shakespeare"
Lili (1953) with its hit song "Hi Lili, Hi Lo"
Brigadoon (1954), a Lerner and Loewe musical starring Gene Kelly, about a Scottish village that appeared only once every 100 years
Seven Brides for Seven Brothers (1954) with its exuberant dancing
Guys and Dolls (1955), the screen adaptation of Frank Loesser's 1950 Broadway hit (based upon Damon Runyon's stories) with Marlon Brando cast in the unlikely lead role as Sky Masterson, and Frank Sinatra as Nathan Detroit
Rodgers and Hammerstein's Oklahoma! (1955) - with Gordon MacRae as Curley and in love with Shirley Jones as Laurey
The King and I (1956) - the filmic version of Rodgers and Hammerstein's 1951Broadway musical hit, with Best Actor-winning Yul Brynner as the bald King of Siam ("Etcetera"), and Deborah Kerr as the Western teacher Anna
High Society (1956) - the musical remake of The Philadelphia Story (1940) that featured Cole Porter songs and Grace Kelly in her final film
Carousel (1956), a delightful Rodgers and Hammerstein musical, with Gordon MacRae as a carnival barker who must come back from Heaven to redeem himself and see his teenaged daughter's graduation - and
South Pacific (1958) - another R & H showcase; this one included the songs "Happy Talk," "I'm Gonna Wash That Man Right Out of My Hair," and "Some Enchanted Evening"
Damn Yankees (1958) (originally titled What Lola Wants in the UK), based on the story of Faust, and starring male heart-throb Tab Hunter as a baseball fan who made a deal with the Devil
Porgy and Bess (1959) - directed by Otto Preminger, with George Gershwin music, and African-American stars including Sammy Davis, Jr. as Sportin' Life, and Sidney Poitier and Dorothy Dandridge in the title roles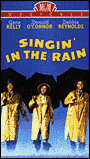 Gene Kelly, in a continuing collaboration/partnership with choreographer-turned director Stanley Donen made probably his greatest musical ever (and possibly the most popular Hollywood musical of all time) - the exuberant Singin' in the Rain (1952). It was a pleasurable parody of Hollywood's shaky transition from the silent era to the talkies, and most famous for Kelly's stomping and singing through a downpour and spinning around a lamppost, and Donald O'Connor's slapstick somesault-against-a-wall acrobatics. Other Stanley Donen-Gene Kelly team creations were On the Town (1949) (Kelly's co-directorial debut film) and It's Always Fair Weather (1955).
Some of director Vincente Minnelli's best musicals were made in the 50s:
An American in Paris (1951), the award-winning musical with a climactic "jazz ballet" finale brilliantly choreographed by Gene Kelly
Brigadoon (1954)
Gigi (1958) - a Best Picture and Best Director victor starred Leslie Caron, Louis Jourdan, and Maurice Chevalier ("Thank Heaven for Little Girls")
Although Fred Astaire had ended his dancing partnership with Ginger Rogers, he danced with other partners in The Band Wagon (1953) (with Cyd Charisse), in Daddy Long Legs (1955) (with Leslie Caron), in Funny Face (1957) (with Audrey Hepburn), and in Silk Stockings (1957) (again with Cyd Charisse).
Adult Themes Explored:
With television aimed at family audiences, the movies were freer to explore realistic adult themes and stronger or previously taboo subjects, such as in Hitchcock's Strangers on a Train (1951) with veiled hints at homosexuality, or voyeurism in Rear Window (1954) (with James Stewart as a wheel-chair bound photographer). George Stevens' A Place in the Sun (1951) demonstrated the tragic struggle of class differences, as social-climbing Montgomery Clift was convicted of the murder of his pregnant, working-class girlfriend (Shelley Winters) while romancing rich socialite Elizabeth Taylor. Thought daring at the time of its release, Josh Logan's Picnic (1955) starred attractive drifter William Holden who arrived in a Kansas town and romanced Kim Novak at the start of Labor Day picnic celebrations. A Summer Place (1959), with Percy Faith's recognizable theme song, was infamous for its scene of Sandra Dee's mother dragging her to the doctor for a pregnancy test after a beach overnight with lover Troy Donahue.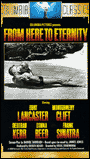 Columbia's multiple-Oscar winner From Here To Eternity (1953) was considered 'questionable' and ultimately sanitized due to its well-publicized, sensationalized, on-the-beach love-making scene and adulterous relationship between stars Burt Lancaster and Deborah Kerr. The Caine Mutiny (1954) effectively adapted Herman Wouk's Pulitzer Prize-winning novel with Humphrey Bogart in a memorable role as a crazed, paranoid naval officer named Queeg. The melodramatic soap opera Peyton Place (1957) adapted Grace Metalious's novel about scandalous activity in small-town New Hampshire. Joseph Mankiewicz directed Elizabeth Taylor, Katharine Hepburn, and Montgomery Clift in Tennessee Williams' intriguingly unpleasant Suddenly, Last Summer (1959). Another potent adaptation of a Tennessee Williams' stage hit, Richard Brooks' Cat on a Hot Tin Roof (1958) was forced to dilute its references to homosexuality, but it still contained frank exchanges about sex.
Marlon Brando Revolutionized the Screen with Method Acting:
Other films with adult-oriented content in the 50s included the stage-to-screen adaptation of Tennessee Williams' Pulitzer Prize-winning play A Streetcar Named Desire (1951) set in New Orleans, with Oscar-nominated Marlon Brando (he had performed in the successful 1947 Broadway play) in a star-making, emotional role as dirty, sweaty and erotic T-shirt-wearing Stanley Kowalski. (Jessica Tandy, who had played fragile Southern belle Blanche DuBois in the stage production, was replaced by Vivien Leigh - a perfect counterpart to Brando's animalistic, swaggering role.)

Brando's acting genius was also portrayed in the gritty organized crime drama On the Waterfront (1954) that won eight Oscars (and 30 year-old Brando's first Best Actor award), in which he portrayed informant, waterfront dockworker and pigeon-tender Terry Malloy (with his famous taxi cab speech: "I could've been a contender" and the scene of his retrieval of Eva Marie Saint's dropped glove). The political theme of Malloy's honorable ratting against the crime boss Johnny Friendly (Lee J. Cobb) helped to explain Kazan's own, self-justifying testimony before the House Committee on Un-American Activities (HUAC) in 1952. [Brando even made an impact in his first film, Fred Zinnemann's The Men (1950), as a bitter, hospitalized paraplegic soldier showing hostility toward his pre-war fiancee Teresa Wright.]
In his films of the early 50s, Brando brought a raw naturalistic realism to the screen - a new style termed Method Acting that he had acquired at the Actors Studio in New York, also exemplified in the acting of Montgomery Clift and James Dean in the era. (Although A Streetcar Named Desire (1951) was condemned by the Legion of Decency for its bold content, it pushed back the boundaries of the Production Code while hinting at homosexuality, nymphomania, and rape. Brando would forever be identified with the iconic tight T-shirt he wore in the film.)
Brando's greatness as an actor in the early 50s was honored with four successive Best Actor nominations:
Best Actor nomination: A Streetcar Named Desire (1951), famous for his bellowing of "Stella-a-a-a" at the foot of the stairs, and for his brutish, masculine performance
Best Actor nomination: Viva Zapata! (1952), with Brando as the Mexican revolutionary; also directed by Elia Kazan from John Steinbeck's screenplay
Best Actor nomination: for director Joseph L. Mankiewicz' Julius Caesar (1953) with Brando as a mumbling Marc Antony
Best Actor nomination and win (Brando's first): On the Waterfront (1954) - director Kazan also won an Oscar; with Brando as a failed boxer and stooge for a corrupt longshoreman's union
In the late 50s, Brando was also nominated a fifth time for his performance in Sayonara (1957), an early film with the theme of intermarriage between an Asian and American and the resulting prejudice, with Brando as a Korean War major romantically involved with a Japanese Kabuki dancer (Miiko Taka).

Film History of the 1950s
Part 1, Part 2, Part 3, Part 4, Part 5, Part 6
---



---