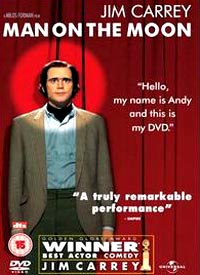 Man on the Moon (1999)
Director: Milos Forman
Studio/Distributor: Universal Pictures
Budget: $82 million
Domestic Gross: $34.6 million
Worldwide Gross: $47.4 million
Total Net Loss: $34.6 million
Although Jim Carrey won a Best Actor Golden Globe award for his portrayal of oddball comic Andy Kaufman in this biopic, the performer's avant-garde, unconventional, and elusive persona was an acquired taste and not for everyone. It's difficult to say who the intended audience was for this unusual, puzzling and enigmatic character study. Carrey was denied an Oscar nomination for the same role, similar to his omission from the nominations a year earlier for The Truman Show. The impressionistic film title was taken from an R.E.M. song from 1992.
Carrey was fully immersed in the eccentric character role of this disjointed, slightly incoherent biopic - it was a remarkable performance, but the film was mostly ignored by audiences. Very little of Kaufman's inner life or motivations became clearer after watching this detailed account of his life. Kaufman's acts in the late 70s and early 80s were bizarre, unusual and unpredictable, and sometimes incomprehensible. In some cases, he would deliberately trick, insult or fool his audience for comic effect, or not indulge them with some of his most famous routines or characters. He was known for reading The Great Gatsby cover to cover on stage, accurately impersonating Elvis Presley, singing children's songs to the beat of a conga drum, for his "foreign man" and "wrestling champion" characters, for his sleazy lounge performer alter-ego Tony Clifton (also performed by Paul Giamati), and for his "milk and cookies" performance at Carnegie Hall. Audiences misunderstood him and his pranks, not knowing whether he was for 'real', simply playing a character as part of his act, or bedeviling his viewers with a hint of hostility.
As he rose to stardom through various comedy clubs and guest appearances on TV (SNL and his "Mighty Mouse" routine, and the character of Latka on the sitcom Taxi), his weird statements about dying of lung cancer were not taken seriously. Most people viewed his shtick as a hoax, until he died (after attempting various quackery and miracle remedies) shortly thereafter in 1984 at the age of 35.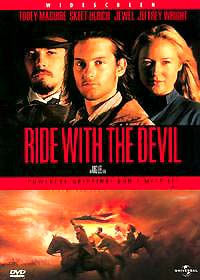 Ride With the Devil (1999)
Director: Ang Lee
Studio/Distributor: Universal Pictures
Budget: $38 million
Domestic Gross: $635,000
Worldwide Gross: $635,000
Total Net Loss: $37.4 million
Esteemed Taiwanese director Ang Lee's Civil War-era dramatic western told about how guerrilla-style renegade Bushwackers (known as Missouri Irregulars) in the South fought against Union troops and loyalists (known as Jayhawkers) along the Kansas-Missouri border. Producer James Schamus' intelligent script was based on Daniel Woodrow's 1987 novel "Woe to Live On," providing commentary on the local feuds (part of the larger war) where the conflict turned more personal, and led to emotional and physical wounds.
The violence-filled film starred miscast Tobey Maguire (as poor German immigrant son Jake Roedel with pro-Northern tendencies), Skeet Ulrich (as Roedel's cocky Southern-supporting friend Jack Bull Chiles), Jeffrey Wright (as pro-Confederate and ex-slave Daniel Holt, now "freed"), Simon Baker-Denny (as Southern gentleman George Clyde), and singer Jewel (as young war widow Sue Lee Shelley) in her screen debut. The group were cared for by Sue Lee during a cold winter in a crude woodshed shelter, during which time both Jack and Jake fell in love with her in secondary romantic sub-plots.
The slowly-deliberate, unconventional and serious film was a combination romance, war film, and coming-of-age film about lost innocence -- a complex mix, that explored the brutal effects of war on familes and on its young protagonists whose motives in fighting were unclear, and provided an evaluation of the pointlessness of war in general -- explaining the film's title. Lee's attention to historical detail and to period authenticity were evident, expressing his talent in making diverse choices in film-making subject matter with lyrical and sumptuous cinematography. However, the dark and sober film never found its audience, due to its slow pacing and lack of traditional entertainment values.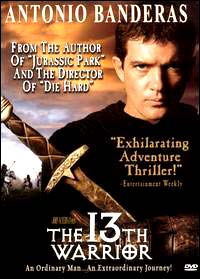 The 13th Warrior (1999)
Director: John McTiernan
Studio/Distributor: Buena Vista/Touchstone Pictures
Budget: $100-160 million
Domestic Gross: $32.7 million
Worldwide Gross: $61.7 million
Total Net Loss: $69-129 million
Total Estimated Loss (Inflation-Adjusted): $112-210 million
Antonio Banderas (in a traditional Tyrone Power or Victor Mature type role) starred in this Disney action-adventure film - a 10th century Viking saga (by Die Hard director John McTiernan) - as real-life Arab poet and nobleman Ahmed Ibn Fahdlan from Baghdad, who traveled northward to Viking lands as an ambassador. There, he became the non-Nordic "13th Warrior" who led adventurous and pagan roughneck blonde Norse (or "Northmen") warriors to fight against a local demonic scourge of maurading half-men, half-beast cannibals (known as "Eaters of the Dead") who attacked during night mists wearing giant bear skins to terrorize the land.
The plodding, male-dominated storyline, embellished with expensive special effects and set-pieces, was based on Michael Crichton's obscure 1976 novel Eaters of the Dead (adapted by William Wisher and Warren Lewis) - once the original title of the film. The carnage-filled film - with bloody scenes of graphic violence and lots of decapitations, sword fights, and battles - was derivative of various other hero-led films, such as The Seven Samurai (1954), Conan the Barbarian (1982), Braveheart (1995), Kull: The Conqueror (1997), and of the Old English epic poem Beowulf. Producers thought incorrectly that Banderas might repeat the success of his earlier swashbuckler The Mask of Zorro (1998).
The disastrous film was delayed repeatedly (over a year and a half since its production in 1997) due to poor test screenings, choppily re-edited (with the removal of tedious subplots) with some additional scenes re-shot by an uncredited Crichton, and then released in the late summer of 1999 without much fanfare. It was a loud film, in part due to Jerry Goldsmith's crashing and wailing score, and even with strong overseas box-office, it didn't recoup its costs.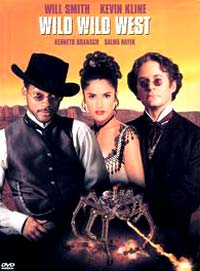 Wild Wild West (1999)
Director: Barry Sonnenfeld
Studio/Distributor: Warner Bros./Peters Entertainment
Budget: $170 million
Domestic Gross: $113.8 million
Worldwide Gross: $222.1 million
This wastefully-expensive, fluffy comic fantasy and buddy film, Sonnenfeld's follow-up western James Bond spy-spoof to Men in Black (1997), featured, among other things, Kenneth Kline as a red-wigged prostitute with falsies wearing a can-can dress in a brothel, a hammy Kenneth Branagh as legless Southern mastermind villain Dr. Arliss Loveless who had created a steam-powered, 80 foot-tall and 8-legged, fire-ball-spewing, mechanical iron tarantula (via special effects) in the desert, deadly buxom females with names such as Amazonia (Victoria's Secret model Frederique van der Wal), Miss Lippenreider (Sofia Eng), and Munitia (Musetta Vander), and much more.
The unsatisfying, vacuous film about a secret-agent duo in the post-Civil War old West was derived from the mid-to-late 60s popular TV series of the same name, with Robert Conrad as Secret Service agent Jim West (now played by miscast Will Smith) and Ross Martin as his brainy buddy, disguises-master and inventor Artemus Gordon (now played by Kevin Kline). Two made-for-TV movie sequels had already failed miserably: The Wild Wild West Revisited (1979) and More Wild Wild West (1980), both by director Burt Kennedy. The plot was about the duo's attempts to investigate the disappearance of America's top scientists, and to foil Loveless' plot to kidnap and kill President Grant (also played by Kline), take over the US, and then divide the existing states between Mexico, England, and himself.
The chemistry between the West/Gordon partnership was lacking and mismatched, to be substituted by expensively-amazing special effects (created by Industrial Light and Magic), a lame and clunky storyline, unclever racist and handicapped humor, mostly unfunny, cringe-inducing dialogue and situations (for example, Smith's dialogue to a white lynch mob about how he was accidentally "drumming" on a white lady's "boobies"), sexual innuendoes, and mysterious love interest showgirl Rita Escobar (Salma Hayek) who wore a revealing, tight-fitting bordello costume over her ample cleavage. The visually-stimulating film's muddled characterizations were undoubtedly due to the failed attempts of six screen/storywriters to pen an understandable script after numerous rewrites - including the addition of more gag sequences to pump up the comedy.
Released around the same time as Lucas' disappointing summer blockbuster Star Wars Episode I: The Phantom Menace (1999), Sonnenfeld's dull-edged but bloated film did poorly at the box-office during its theatrical release. It was nominated for nine Razzie Awards including Worst Actor (Kline), Worst Supporting Actor (Kenneth Branagh), Worst Supporting Actress (Kline as a prostitute), and Worst Supporting Actress (Salma Hayek, tied with Dogma (1999) and it won five: Worst Director, Worst Original Song -- "Wild Wild West", Worst Picture, Worst Screen Couple (Kline and Smith), and Worst Screenplay.