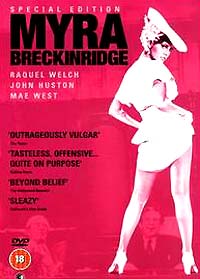 Myra Breckinridge (1970)
Director: Michael Sarne
Studio/Distributor: Twentieth Century Fox
Budget: $5.385 million
Domestic Gross: $3 million
Worldwide Gross: $8.72 million
Rentals: $4 million
Novelist Gore Vidal, who helped to adapt his own satirical 1968 novel about gender stereotypes and Hollywood into this odd, unusual, and controversial cult film, has since disowned this perverse X-rated (reduced to R) film. The racy, incoherent, vulgar and irreverent film was unintentionally funny and seriously chastised upon its release, although it was intentionally thought by Fox that it would be popular with hip, young film-going audiences who had seen unconventional, liberal films during the permissive sexual/political revolution (of the late 60s/early 70s) such as X-rated Best Picture winning Midnight Cowboy (1969), Easy Rider (1969) and M*A*S*H (1970). The drag-themed, debauched comedy was thought to be the voyeuristic, dreamy hallucinations of a male wishing to be a female siren.
Writer/director Michael Sarne's incompetently-made film (only his second feature) told about a New York gay film fanatic/writer named Myron Breckinridge (real-life film critic Rex Reed) who had a sex change operation (performed by chain-smoking mad doctor John Carradine). Myron refused circumcision: "Let's get it over with! Myra's waiting!" - and was transformed into the statuesque, busty, trans-sexual, male-bashing beauty Myra Breckinridge (Raquel Welch in a self-parodying performance). He/she then appeared at the Hollywood/Westwood acting school-academy of her lecherous cowboy uncle Buck Loner (John Huston) and demanded her inheritance, claiming that she was Myron's widow. She also vowed: "My purpose in coming to Hollywood is the destruction of the American male in all its particulars."
The film's tasteless plot featured aging, double-entendre-spouting, over-sexed, and campy 76 year-old Mae West as talent agent Leticia Van Allen for hunky males, two outrageous bi-sexual seduction scenes (to "realign the sexes"): an outrageous, emasculating sodomy-dildo rape scene on an infirmary examination table between domineering, star-spangled Myra and handsome aspiring star-pupil Rusty Godowsky (Roger Herren), and a lesbian scene with Farrah Fawcett (pre-Charlie's Angels fame) as dumb blonde Mary Ann Pringle, and another scene of Myra jumping up on a table and exhibiting herself without panties to prove that she had a sex-change operation. There was also an unexplicit scene of Myra delivering fellatio to Myron. Critics (and some of the stars themselves) also derided the film for its gimmickry -- arbitrarily including archival clips from old Fox Studio films to 'comment upon' the action/characters, including Shirley Temple, Loretta Young, Tyrone Power, Peter Lorre, Marilyn Monroe, Carmen Miranda and Laurel and Hardy - and as a result of lawsuits, some of the clips were removed.
The unprofitable, unqualified-disaster and embarrassing film disappeared for many decades until it was finally released on video/DVD.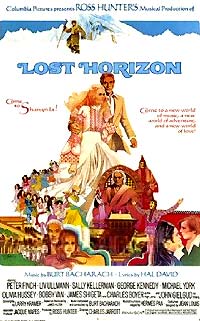 Lost Horizon (1973)
Director: Charles Jarrott
Studio/Distributor: Columbia Pictures/Ross Hunter Productions
Budget: $12 million
Domestic Gross: $8.3 million
US Rentals: $3.8 million
Total Net Loss: $9 million
This awkward and unimaginative film has often been rated as one of the worst films ever made, although it was planned to be a prestige production by its studio. Dubbed "Lost Investment", it was a remake of Frank Capra's non-musical Lost Horizon (1937) -- reinvented as a two and a half-hour, colorful, big-budget musical with a tone-deaf all-star cast, including Charles Boyer as the High Lama, Peter Finch as Robert Conway, John Gielgud as Chang (in a racially-stereotyped portrayal), Olivia Hussey as Maria, Sally Kellerman as neurotic pill-popping newsmagazine journalist Sally Hughes (originally a prostitute in the earlier film), Bobby Van as nightclub "entertainer" Harry Lovett, and Michael York as George Conway. It featured a forgettable musical score by Burt Bacharach and Hal David. The film's musical action in the middle Shangri-La portion were in Technicolor, while the framing portions of the film at beginning and end were non-musical and in black/white.
The unbelievable, disappointing and misguided film flop lacked dramatic intensity, precise choreography (by the legendary Hermes Pan), and was embarrassing to watch. In fact, some of the actors had their simplistic songs obviously dubbed (only two of the lead actors sang their own songs, Sally Kellerman and Bobby Van), with inept lip-synching. Further controversy arose over Gielgud's portrayal of Asian Chang, by the Japanese-American Citizens League. After preview screenings by the studio, the film was vainly re-edited (a 'fertility dance' number with bikini-clad muscle men was deleted, along with 23 other minutes of content) and has basically disappeared from existence in subsequent years (except for a limited laserdisc release).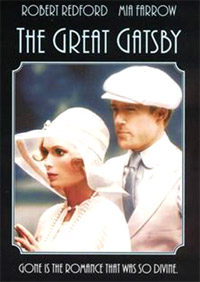 The Great Gatsby (1974)
Director: Jack Clayton
Studio/Distributor: Paramount Pictures
Budget: $6.5 million
Domestic Gross: $20.6 million
Worldwide Gross: $20.6 million
Although the ultra-hyped dramatic romance should have been a great and prestigious successful blockbuster, this screen adaptation of F. Scott Fitzgerald's 1925 flapper-era tale was mostly a bust, even though it made back its original investment. The film's tagline foreshadowed its failure and unfilmable nature: "GONE IS THE ROMANCE THAT WAS SO DIVINE." It won two minor Oscars: Best Costume Design and Best Adapted Score (Nelson Riddle). The meticulously-faithful script of the original book's commentary on the idle rich by Francis Ford Coppola was not fully realized. It was the third screen version of the novel (and a fourth was due out in 2012) - the first iteration was the silent The Great Gatsby (1926), a lost film starring Warner Baxter and Lois Wilson, followed by The Great Gatsby (1949) starring Alan Ladd and Betty Field.
Lacking emotional chemistry on the screen as star-crossed lovers, Robert Redford and Mia Farrow, dressed in clothes by Ralph Lauren (Oscar-winning Costume Design by Theoni V. Aldredge), portrayed the two main characters: obsessed, reclusive self-made "nouveau riche" millionaire Jay Gatsby, and his socialite love-interest Daisy Buchanan, who was married to "old-money" Tom Buchanan (Bruce Dern), but had been Gatsby's former lover during the war. The lifeless romance was sluggishly-paced with most of the emotion sucked out of it, due in part to the awkward voice-over narration of Fitzgerald's novel. It was rich in production values, but devoid of feeling in a number of static sequences.