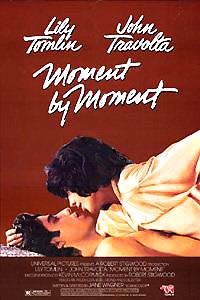 Moment by Moment (1978)
Director: Jane Wagner
Studio/Distributor: Universal Pictures/Robert Stigwell Organization (RSO)
Budget: $8 million
Total Gross: $11 million
Still, the idea of an R-rated character study and chick-flick melodrama about a May-December romance remains unnerving, between 24 year-old John Travolta - fresh from the disco dance hit Saturday Night Fever (1977) and Grease (1978) -- both produced by Robert Stigwood, and 39 year-old TV comedienne and actress Lily Tomlin (from Rowan and Martin's Laugh-In, and Oscar-nominated for Nashville (1975)). Years after making the film, Lily Tomlin admitted that she had been in a decades-old lesbian relationship with the film's director/writer Jane Wagner (with her directorial debut), when she was placed into this star-making effort.
The lifeless, dull and cliched script, the uncompelling, mis-matched and irritating lead characters (especially the Tomlin character with her monotone voice and expressions), their vapid dialogue, and the awkwardness of the ill-fated and improbable romantic relationship sank the film. Travolta portrayed Strip (!) Harrison, a young, drug-using runaway drifter, who became infatuated with unsatisfied, icy, middle-aged Beverly Hills housewife Trisha Rawlings in a souring marriage. [Note: The film had an eerie resemblance to Travolta's own real-life tragic romance with older actress Diana Hyland (with an 18 year age difference), who played his mother in the popular TV movie The Boy in the Plastic Bubble (1976), and who died in 1977 of breast cancer. It also didn't help that both Travolta and Tomlin had dark hair and shaggy haircuts and looked like siblings in the film, and that Tomlin closely resembled Travolta's own older sister Ellen - both added an incestuous subtext to the film's story.]
The career-ending film was quickly pulled from theatres (inexplicably, Universal released it at Christmas time!) when it became clear how truly awful and embarrassing it was for critics and fans alike - especially the scene of her manually-pleasuring (off-screen) Strip, and their notorious hot-tub scene in which the skinny Tomlin exhibited her rear end. However, for true camp appeal, the film would rate at the top of the scale. Travolta would headline many other flops over the course of his rising and falling career, including the sequel to Saturday Night Fever titled Staying Alive (1983), Two of a Kind (1983) (reuniting him with Grease co-star Olivia Newton-John), Perfect (1985), The Experts (1989), and the monumental disaster Battlefield Earth (2000).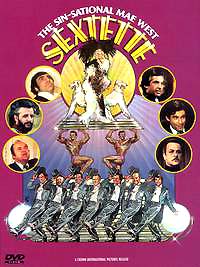 Sextette (1978)
Director: Ken Hughes, Irving Rapper
Studio/Distributor: Crown International Pictures/Briggs and Sullivan Productions
Budget: $7 million
Domestic Gross: ?
Ken Hughes' musical comedy (with the tagline: "The Sin-Sational Mae West") was notable as the final film for both bawdy 1930s actress Mae West (at age 85 at the time of filming) and Walter Pidgeon, and one of the biggest flops ever. It was based on her own Broadway play titled Sextet, and scripted by Herbert Baker. She starred as aging Hollywood star Marlo Manners just after her sixth marriage to a mismatched Sir Michael Barrington (32 year-old future James Bond actor Timothy Dalton), but faced constant interruptions in consummating the union from, among other things, fittings and photo sessions, her bothersome manager (Dom DeLuise) singing the Beatles' "Honey Pie", from her second, fourth and fifth husbands (Tony Curtis, Ringo Starr and George Hamilton), and from a studly group of musclemen in the U.S. Olympic Gymnastics Team ("Wow, I've never seen that position before"). The unusual film featured a number of real-life characters (and cameos), including gossip columnist Rona Barrett, Regis Philbin, George Raft (who appeared in West's first film also), and rock singers Keith Moon and Alice Cooper. At one point, Dalton spoke/sang to West the disco hit and their signature tune Love Will Keep Us Together.
The dialogue was atrocious, with the rowdy West continually asking for sexual contact (with a reversal of the double-standard) and embarrassingly maintaining her sex-kitten persona with unfunny double entendres or quips toward handsome young men. For example, Michael: "And, as for your manager, he really rubs me the wrong way." Marlo: "Don't worry, honey; I'll rub you the right way," or this line in which she bragged: "I'm the girl who works for Paramount all day, and Fox all night," or this additional line: "Well, marriage is like a book, the whole story takes place between the covers." She even repeated the standby: "Is that a gun in your pocket, or are you just glad to see me?"
After filming for a period of 12 weeks, with a determined but often disoriented, unstable and weak West in the lead role, it was rumored that the film was a tremendous flop, and there were worries that no Hollywood studio would want to distribute it. Sneak previews were organized in the spring and summer of 1977, with a debut premiere at Hollywood's Cinemadome featuring Mae West in a personal appearance, but negative reviews eventually doomed the film. Finally, Crown International agreed to distribute the film in 1979, but with the long gap since the film was made, most filmgoers had lost interest, especially given the subject matter.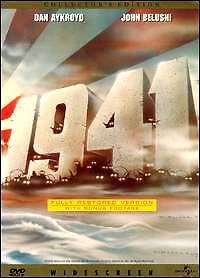 1941 (1979)
Director: Steven Spielberg
Studio/Distributor: A-Team Productions/Universal
Budget: $35 million
Domestic Gross: $31.8 million
Worldwide Gross: $92.5 million
Steven Spielberg's fifth film was this big-budget, zany but dark screwball comedy film. It told about imagined events on the West Coast surrounding the Japanese invasion of Pearl Harbor in December, 1941. It was a silly, epic parody of the actual shelling of a tidewater refinery (with minor damage to the piers and oil wells) by a Japanese submarine off the coast near Santa Barbara in late February 1942.
The disastrous film followed the director's multiple successes, including Jaws (1975) and Close Encounters of the Third Kind (1977). The film turned out to be a combination of Stanley Kramer's It's a Mad, Mad, Mad, Mad World (1963) and The Russians Are Coming, The Russians Are Coming (1966). It featured special effects (of miniaturized model planes flying over Hollywood in a parody of Star Wars (1977)), an opening sequence that spoofed Spielberg's own Jaws (1975), lots of destructive explosions and crashes (including a giant runaway ferris wheel on the Santa Monica pier), a paint factory and its effects on a tank, street rioting, a USO jitterbug contest, and a crash-landing in the La Brea Tar Pits.
It sported an all-star cast including lots of Saturday Night Live actors and Animal House (1978) performers, and a John Williams musical score. Important to note was that the film was nominated for three Academy Awards (Best Cinematography, Best Visual Effects, and Best Sound).
Set in Los Angeles, the hyperactive, non-politically correct plot involved the sighting of a Japanese submarine off the coast (captained by Toshiro Mifune as Cmdr. Akiro Mitamura and with Christopher Lee as German Capt. Wolfgang von Kleinschmidt), and the mass hysteria and chaos that resulted. Many actors were involved in major roles or cameos, including John Belushi as cigar-chewing, P-40 fighter airpilot Captain Wild Bill Kelso, Robert Stack as inept Major General Joseph Stilwell and Dan Aykroyd as Sgt. Frank Tree, Slim Pickens as captured Christmas tree farmer Hollis "Holly" Wood, and Ned Beatty as Dagwood-type homeowner Ward Douglas with Blondie-wife Joan (Lorraine Gary) whose house became an artillery base.
The budget of this unfunny and noisy slapstick film with undeveloped characters spiraled out of control, to a near-record $35 million, and resulted in disappointing box-office. It was originally released at 118 minutes, although an extended version existed at 146 minutes. The film was widely criticized by most film reviewers, and audiences avoided it, although it did fairly well overseas.