The Third Hundred
Greatest Films

Summaries - Part 2

The Third Hundred Greatest Films
Summaries - Part 2
(Links to Comprehensive Film Reviews)

Selection Criteria
B (continued)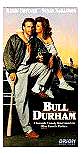 Bull Durham (1988)
Starring: Kevin Costner, Susan Sarandon, Tim Robbins, Trey Wilson, Robert Wuhl
Director: Ron Shelton
First-time director Ron Shelton, a former second-baser in the minor leagues, has made a predominant career of sports movies that realistically examine the participants' heart, both in terms of sportsmanship and in terms of romance. His writing (and directing) credits have also included: The Best of Times (1986) (football), White Men Can't Jump (1992) (basketball, also directed), Blue Chips (1994) (basketball), Cobb (1994) (baseball, also directed), The Great White Hype (1996) (boxing), Tin Cup (1996) (golf, also directed), and Play It To the Bone (2000) (boxing, also directed). This humorous romantic drama about the Carolina minor leagues is the quintessential modern sports film of America's greatest game. Kevin Costner stars as "Crash" Davis, a veteran, romantic-minded, minor league catcher who has to tutor wild young, rookie pitcher Ebby Calvin "Nuke" LaLoosh (Robbins) for the mediocre Durham Bulls, while simultaneously competing with him - in a love triangle - for the affections of English teacher and sexually-seductive baseball groupie Annie Savoy (Sarandon, Robbins' real-life 'wife'). Bull Durham would only receive a single Oscar nomination for Shelton's writing, while Costner's next film would be another baseball film, the mystical Field of Dreams (1989), based on the W.P. Kinsella book. (Costner and Shelton would reunite for Tin Cup (1996).) Academy Award Nominations, 1: Best Original Screenplay--Ron Shelton.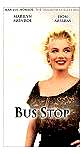 Bus Stop (1956)
Starring: Marilyn Monroe, Don Murray, Arthur O'Connell, Betty Field, Eileen Heckart, Robert Bray, Hope Lange
Director: Joshua Logan
Aka The Wrong Kind of Girl, this comedy/drama, adapted by George Axelrod (who also co-wrote The Seven Year Itch (1955) also starring Monroe) and based on the hit Broadway play by William Inge, was Marilyn Monroe's first "serious" lead role. She plays Cherie, a fifth-rate, hillbilly saloon-bar singer in Phoenix, originally from the Ozarks, whose dream is to go to Hollywood. Her path crosses that of a naive, callow and rude cowboy from Montana in town for a rodeo, Beauregard 'Bo' Decker (Murray in his film debut), who immediately is smitten by his sweet 'angel.' The most memorable moment of Bus Stop is Monroe's famous torch-song performance of "That Old Black Magic" for an unappreciative audience, mixing sensuousness with a wistfully sad, soulful quality. The country bumpkin persistently tries to woo Cherie (whom he crudely calls Cherry) - and forcefully kidnaps her to take her home with him. They become stranded during a blizzard at a roadside bus stop - the Blue Dragon Inn in Idaho, where she eventually falls for her abductor. Widely considered the best role of Monroe's career, it mixed comedy with dark pathos. The film proved Monroe was a more-than-capable actress reflecting her skillful acting talent and some of her own personal insecurities. It earned her better roles opposite such stars as Jack Lemmon, Tony Curtis, Clark Gable, and Laurence Olivier. The film later inspired a 1961-62 TV series of the same name. Academy Award Nominations: 1, Best Supporting Actor--Don Murray.
C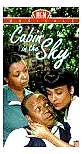 Cabin In the Sky (1943)
Starring: Ethel Waters, Eddie 'Rochester' Anderson, Lena Horne, Louis Armstrong, Rex Ingram, Kenneth Spencer
Directors: Vincente Minnelli (with Busby Berkeley)
Vincente Minnelli's debut film was based on Vernon Duke-Lynn Root's hit 1940 Broadway musical (directed by George Balanchine). An all-black cast musical (the first in Hollywood since Green Pastures (1936)), it was produced by Arthur Freed - an early crusader for civil rights. Released in sepia-tone, it is about a drink-loving gambler named Joseph 'Little Joe' Jackson (Anderson), who is having a lustful, extramarital affair. When he is nearly killed in a bar-room brawl, he fantasizes, in a dream sequence, about a battle for his soul between Heaven, led by God's General (Spencer), and Hell, led by Lucifer Jr. (Ingram). A real-life struggle also exists for his heart between his gospel-quoting, devoted wife Petunia (Waters) and his sultry southern mistress Georgia Brown (Horne). While the film is pretty dated and contains some racial stereotypes, it is marked by great musical performances, the most noteworthy of which come from Waters, who performs the hit standards "Taking a Chance on Love" and the Oscar-nominated "Happiness is a Thing Called Joe." Waters was a trailblazer for African-American performers, becoming the first African-American star of a national radio show before becoming the titular star of television's The Beulah Show. Screen legend Lena Horne also has her best role as the seductive Georgia - in the same year, she starred as Selina Rogers in Stormy Weather (1943). Eddie Anderson was best known for his role on the radio show The Jack Benny Program (later moved to television) as Rochester -- his role became so popular that it became an official part of his billing in all of his subsequent roles. Also features Louis Armstrong and Cab Calloway. Academy Award Nominations: 1, Best Song--"Happiness Is a Thing Called Joe".
Crimes and Misdemeanors (1989)
Starring: Martin Landau, Anjelica Huston, Woody Allen, Alan Alda, Mia Farrow, Sam Waterston, Jerry Orbach, Claire Bloom, Joanna Gleason
Director: Woody Allen
Perhaps Woody Allen's darkest, most somber movie, Crimes and Misdemeanors (1989) takes a long, provocative, and ultimately downbeat look at morality with its ensemble cast. Dual stories about Manhattanites, each composing about one-half of the film, are interwoven together, and interconnected by the character of a mutual friend - a lone holy man and rabbi named Ben (Waterston) who is going blind. The first story deals with Judah Rosenthal (Landau), a wealthy, law-abiding, successful, and well-respected ophthalmologist, who was married to Miriam (Bloom). However, an enraged and obsessed flight attendant and ex-lover Dolores Paley (Huston), with whom he has been cheating on his wife, threatens to divulge the scandal and ruin his life. With this dilemma facing him, Judah is forced to take extreme measures - the contemplation of murder of his mistress by contacting his seldom-seen brother Jack (Orbach) with Mafia connections. His guilt forces him to revisit his past and ask basic questions about his own values, the unfairness of life, virtue, 'the eyes of God,' a god-less universe, justice for evil-doing, and unequal punishment of the wicked. Meanwhile, in the lighter-spirited other half of the movie, Cliff Stern (Allen), a dedicated but struggling, serious documentary filmmaker (who is married but in the process of separating from wife Wendy (Gleason)), is reluctantly forced to direct a film of his despised rival - his superficial, vain but extremely successful brother-in-law and TV sit-com producer Lester (Alda). Complicating matters, Stern must compete with Lester over the object of his impossibly-romantic affections - the documentary's attractive production assistant named Halley Reed (Farrow). Academy Award Nominations: 3, including Best Director--Woody Allen, Best Supporting Actor--Martin Landau, Best Original Screenplay--Woody Allen.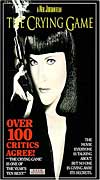 The Crying Game (1992)
Starring: Stephen Rea, Jaye Davidson, Miranda Richardson, Forest Whitaker, Jim Broadbent
Director: Neil Jordan
Writer/director Neil Jordan's powerful, layered suspense thriller/modern-day noir, which examines friendship, sexuality, love, political intrigue, race relations and human nature, was partly inspired by the classic Irish short story A Guest of the Nation by Frank O'Connor. The highly profitable independent film opens with the kidnapping of a British soldier named Jody (Whitaker) by a group of IRA resistance/terrorists, led by a cold, calculating femme fatale Jude (Richardson), who had entrapped the soldier by seducing him while he was intoxicated. One of the captors, Fergus (Rea), strikes an unlikely friendship with the prisoner, both knowing that Jody would most likely be executed. The execution goes awry when Jody, trying to escape, is accidentally killed by a convoy of British army soldiers, who immediately disperse the IRA cell. Fergus goes into hiding and partial retirement from the IRA in London, but feels compelled to honor his promise to Jody that if he was killed, he would tell Jody's beautiful lover Dil (Davidson, whose magnificent gender-bending Oscar-nominated performance was in a role that was considered uncastable) of his fate. As a love triangle develops, Fergus soon finds himself attracted to Dil and valiantly protective of the lonely and aloof hairdresser, but both harbor a secret that would prevent them from romantically loving one another. The revelation of Dil's sexual secret is a Hitchcockian plot twist that audiences were urged not to reveal, which they honored. Complications arise when Jude shows up, and embroils Fergus in a dangerous assassination plot, using "wee black chick" Dil as collateral. The film was a smash hit both critically and commercially, and earned six Oscar nominations, including Best Picture and two nominations for Jordan for his direction and original screenplay (which he won.) Shockingly, Richardson would be nominated for her role in Damage (1992) rather than for this film. Academy Award Nominations: 6, including Best Picture, Best Director--Neil Jordan, Best Actor--Stephen Rea, Best Supporting Actor--Jaye Davidson, Best Film Editing--Kant Pan. Academy Award: 1, Best Original Screenplay--Neil Jordan.
D
Dark Victory (1939)
Starring: Bette Davis, George Brent, Humphrey Bogart, Geraldine Fitzgerald, Ronald Reagan
Director: Edmund Goulding
Warner Bros. studios' sentimental, tragic and moving melodrama (a "weepie" or "woman's picture") - made in Hollywood's most famous and competitive year. The adult drama contains an electrifying, compelling, tour de force, tear-jerking performance from its major star -- Bette Davis. It was a bit of a risk for the movie studio to make and publicize an intense film about a terminally-ill patient with "prognosis negative." The protagonist is a young socialite-heiress named Judith Traherne (Davis), who suffers from a brain tumor and ultimately falls in love with her supportive and dedicated doctor Frederick Steele (Brent). In the midst of her deadly illness, she comforts her best friend Ann King (Fitzgerald), and courageously meets her fate when her eyesight dims. She climbs her stairs for the last time - accompanied by Max Steiner's swelling score in the film's finale. A title from a film trailer proclaimed: "The love story no woman will ever forget!" The film's screenplay by Casey Robinson was based on the brief and unsuccessful (due to its morbid subject matter) mid-30s Broadway play (starring Tallulah Bankhead) of the same name by George Emerson Brewer, Jr., and Bertram Bloch. Dark Victory was the second of Davis' four films with director Edmund Goulding - the others were That Certain Woman (1937), The Old Maid (1939), and The Great Lie (1941). Humphrey Bogart was completely miscast in a minor role as Michael O'Leary - an Irish stable groom/trainer, although Ronald Reagan as Alec Hamin, a bar-hopping, slightly decadent playboy, was effectively believable. The film was remade as Stolen Hours (1963) and as a made-for-TV movie in 1976 with Elizabeth Montgomery. Academy Award Nominations: 3, including Best Picture, Best Actress--Bette Davis (a two-time Oscar winner already, with her third Oscar nomination in five years, and her second of five consecutive nominations), Best Original Score--Max Steiner.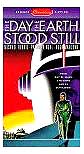 The Day the Earth Stood Still (1951)
Starring: Michael Rennie, Patricia Neal, Hugh Marlowe, Sam Jaffe, Billy Gray, Frances Bavier, Lock Martin
Director: Robert E. Wise
One of the seminal science fiction films of motion picture history, The Day the Earth Stood Still (1951) is based on Edmund H. North's adaptation of the short story "Farewell to the Master" by Harry Bates. Much like the "drive in movies" of the 1950's, such as The War of the Worlds (1952), Forbidden Planet (1956), and Invasion of the Body Snatchers (1956), this influential, fantasy sci-fi film featured state-of-the-art visual effects and salient social commentary on the Cold War and warfare. The film not only examined wider issues of politics and society, but also at human emotions and frailties. This cautionary science fiction parable begins with the landing of a spacecraft on the White House Mall. A benevolent, interplanetary alien in humanoid form, Klaatu (Rennie), causes a panic when he demands to speak to all of the representatives of Earth's governments. Although he warns the people of Earth to be non-violent and stop nuclear testing, he is shot by a nervous soldier. His massive robotic companion Gort (Martin) vaporizes the offensive weapons, as Klaatu is hospitalized. He goes into hiding posing as an Earthling named Carpenter while residing with a human family (single mother/widow Helen (Neal) and her son Bobby (Gray)), in order to observe their lives, and meanwhile to attempt to establish contact with Earth's leading scientist Dr. Bernhardt (Jaffe). Klaatu's demonstration of power over the industrial complex -- by stopping power everywhere for half an hour -- ends up tragically. One of the most famous phrases in science fiction history is recited by Helen to stop Gort's rampage when Klaatu is killed: "Gort, Klaatu barada nikto." The film ends with the alien visitor's resurrection and a warning-proclamation. With a memorable score by Bernard Herrmann. No Academy Award Nominations. It was remade in 2008 by director Scott Derrickson, starring Keanu Reeves as Klaatu and Jennifer Connelly as Helen.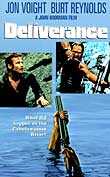 Deliverance (1972)
Starring: Jon Voight, Burt Reynolds, Ned Beatty, Ronny Cox
Director: John Boorman
British director John Boorman's gripping, absorbing, action-adventure film - about four suburban Atlanta businessmen-friends who encounter a disastrous rite-of-passage during a summer weekend's river-canoeing trip. Its famous tagline was: "This is the weekend they didn't play golf." The buddy group, composed of Ed Gentry (Voight), ultra-macho Lewis Medlock (Reynolds), fearful weakling Bobby Trippe (Beatty), and Drew Ballinger (Cox) face a nightmarish situation when they come upon the rapids and local hillbillies who degrade and terrorize them. The stark, uncompromising film was one of the first to deal with the theme of city-dwellers against the powerful, territorial forces of nature and the wilderness. The exciting box-office hit, most remembered for its banjo dueling and brutal, visceral action (and sexually-violent sodomy scene), was based on James Dickey's adaptation of his own 1970 best-selling novel (his first) of the same name - he contributed the screenplay and acted in a minor part as the town sheriff. The beautifully photographed film (by cinematographer Vilmos Zsigmond), shot entirely on location (in northern Georgia's Rabun County, bisected by the Chattooga River), was the least-nominated film among the other Best Picture nominees. Academy Award Nominations: 3, including Best Picture, Best Director--John Boorman, Best Film Editing.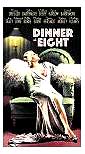 Dinner at Eight (1933)
Starring: Billie Burke, Lionel Barrymore, John Barrymore, Marie Dressler, Wallace Beery, Jean Harlow, Lee Tracy, Edmund Lowe
Director: George Cukor
A star packed, masterfully-directed classic MGM masterpiece - a witty, poignant romantic comedy-melodrama from 'woman's director' George Cukor and producer David O. Selznick. It was based on the popular, dialogue-rich Broadway hit by George S. Kaufman and Edna Ferber, and followed the successful pattern of MGM's previous year's Best Picture winner Grand Hotel (1932). It was studded with a tremendous ensemble cast of stars. The witty romantic comedy was filled with choice lines of dialogue, and revolved around various relationships and interactions between the characters before the party. A social-climbing, flighty Park Avenue snob Millicent Jordan (Burke) hosted a formal "dinner at eight" party in Manhattan during the height of the Depression, and invited an assortment of high-society guests. Vignettes told the story, as cracks in the facade of the high-society members were beginning to emerge. Suicide, financial ruin, love, infidelity, economic pressures, class conflict, the dawn of the talkies, divorce, aging and fading careers, and alcoholism were all adversely affecting their interactions. From the time of the invitations to the actual party, she ignored the physical and financial struggles of her floundering businessman-husband Oliver Jordan (Barrymore). The invited guests included crass, crooked rich tycoonish entrepreneur Dan Packard (Beery) and his candy-chewing, trampish, brassy blonde trophy wife Kitty (Harlow) who often battled each other, the forgotten and aging ex-Broadway stage star Carlotta Vance (Dressler), the cheating family physician Dr. Wayne Talbot (Lowe), and fading, suicidal, alcoholic silent-era matinee idol Larry Renault (Barrymore). No Academy Award Nominations.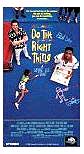 Do the Right Thing (1989)
Starring: Danny Aiello, Ossie Davis, Ruby Dee, Richard Edson, Giancarlo Esposito, Spike Lee, Bill Nunn, John Turturro
Director: Spike Lee
An even-handed, complex and disturbing work about racism, intolerance and violence, this controversial film is about a riot that eventually erupts on a sweltering summer day in the Bedford-Stuyvesant neighborhood of Brooklyn. During the opening credits, Public Enemy performs the film's hard-edged anthem and title song, "Fight the Power." The multi-ethnic cast of the film provides three-dimensional characters, and features the early career work of Samuel L. Jackson (as DJ Mister Senor Love Daddy) and Rosie Perez. The tension begins to escalate in this slice-of-life film because of a complaint by a militant patron named Buggin' Out (Esposito) that there are no pictures of 'brothers' on the "Wall of Fame" in a white-operated, Italian pizza restaurant owned by Sal (Aiello). This was the third (and breakout) feature film for African-American writer/director Spike Lee (who also stars as the pizzeria's delivery boy Mookie), whose resume already included: She's Gotta Have It (1986), and School Daze (1988). Academy Award Nominations: 2, including Best Supporting Actor--Danny Aiello, Best Original Screenplay--Spike Lee.
E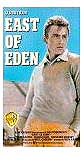 East of Eden (1955)
Starring: James Dean, Julie Harris, Raymond Massey, Burl Ives, Richard Davalos, Jo Van Fleet
Director: Elia Kazan
Director Elia Kazan's updated re-telling of the Biblical story of rival brothers, Cain and Abel and a paradise lost. A brooding James Dean - as the unappreciated son (Cain), vies against his dull, but favored stuffy brother (Abel) for the affections of their father. The maligned, misunderstood Cain character, representing the unlikeable and outcast director himself (for naming names before the HUAC Committee in 1952), becomes the sensitive hero of this film. As the poster stated, "Sometimes you can't tell who's good and who's bad!..." Writer Paul Osborn's screenplay adapted John Steinbeck's 1952 novel with the same title for this dramatic Warner Bros. film. [The film tells only a small portion of Steinbeck's work, leaving out the childhood of the parents and the Chinese character of Lee.] The CinemaScopic film, set in 1917 at a time just before the US entry into World War I, portrays the relationship between insecure, tortured, neurotic loner Caleb "Cal" Trask (Dean, in his first major role and film) and his dutiful, favored brother Aron (Davalos) - twin sons. Their father is a stern, hardened, devoutly religious, self-righteous man named Adam (Massey), a lettuce farmer living with his family in Salinas, California. The plot becomes emotionally charged when Cal expresses a liking for his brother's girlfriend Abra (Harris), and then learns that his mother (Van Fleet) is actually alive and operating a nearby brothel. One of the film's posters exclaimed: "East of Eden is a story of explosive passions and Elia Kazan has made it into a picture of staggering power." (This was the only one of James Dean's three major films released before his death, in the same year as Rebel Without a Cause (1955).) Academy Award Nominations: 4, including Best Actor--James Dean, Best Director--Elia Kazan, Best Screenplay--Paul Osborn. Academy Awards: 1, Best Supporting Actress--Jo Van Fleet.

Eyes Wide Shut (1999)
Starring: Tom Cruise, Nicole Kidman, Sydney Pollack, Leelee Sobieski
Director: Stanley Kubrick
Stanley Kubrick's last completed film was titled 'Eyes Wide Shut,' to imply self-contradictory opposites: at first being exposed or tempted, and then reflexively turning away or retreating. It was taglined simply with three words: "Cruise. Kidman. Kubrick." Tom Cruise starred as prominent, affluent NYC doctor Bill Harford, supposedly happily-married to Alice (real-life Nicole Kidman). In the opening sequence at a fashionable Christmas party, both were separately propositioned - jarring their comfortable conjugal state of marital harmony. He was ignorant of the fact of her past fantasized sexual infidelity with a naval officer which she confessed to him after smoking pot. This propelled him onto his own prolonged, risky and dangerous night-long quest for sexual intimacy (also portrayed possibly as a waking dream or fantasy), including a controversial masked ball orgy sequence and the self-sacrifice of a nude masked reveler. He survived his traumatic, baffling encounters to return 'redeemed' to his wife - who bluntly encouraged them to resume their sexual lives together, although with an uncertain future. No Academy Award Nominations.
---



---