The Third Hundred
Greatest Films

Summaries - Part 5

The Third Hundred Greatest Films
Summaries - Part 5
(Links to Comprehensive Film Reviews)

Selection Criteria
K (continued)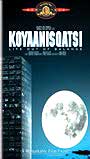 Koyaanisqatsi (1982)
Director: Godfrey Reggio
A powerful, unconventional, experimental and provocative script-less, actor-less, and dialogue-less film (except for the chanting of Hopi prophecy at the end), from director Godfrey Reggio - his first attempt at a feature-length narrative film. Considered both revolutionary and pretentious, this unique work with incredible, expert time-lapse photography is insightful about humankind and our relationship to nature, and explores the world in ways we usually never see due to our limited perceptions. The title was taken from a Hopi Indian word, meaning, among other things, "Life (a world) out of balance." This hypnotic, multimedia film supported by both Francis Ford Coppola and George Lucas illustrates the collision of the natural world with urban, technological life and civilization. Koyaanisqatsi features images and scenes that are truly haunting and linger long after the film is over, like the empty shells of the Pruitt-Igoe housing in St. Louis, the alternating shots between satellite photos of human cities and the landscapes of micro-chip circuitry, and the final shot of a V2 rocket exploding, as the camera follows the free-fall of a charred chunk to the ground. Clouds over the Grand Canyon appear as roiling waves of a white ocean, or reflected in a towering skyscraper, and city streets with streaks of brake lights from commuter's vehicles look like blood vessels in the circulatory system. Philip Glass' stunningly creative, minimalist score plays as large a part as the cinematography (by Ron Fricke), and beautifully complements this artistic film. Followed by two sequels in a Qatsi trilogy, of sorts: the equally powerful Powaqqatsi (1988) (life in transformation) focusing on Third World countries, and the lesser Naqoyqatsi (2003) (life as war). No Academy Award Nominations.
L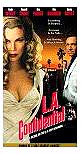 L. A. Confidential (1997)
Starring: Kevin Spacey, Russell Crowe, Guy Pearce, James Cromwell, Kim Basinger, Danny De Vito, David Strathairn, Ron Rifkin
Directors: Curtis Hanson
A gritty, violent, thrilling film noirish tale of sex, conspiracy, scandal, double-cross and betrayal, racism and corruption in early 1950's LA, committed by the police, politicians, and the press. The film pays homage to Robert Towne's earlier noir-based film Chinatown (1974) set in the same City of Angels, and the classics The Maltese Falcon (1941) and The Big Sleep (1946). Based on a thriller novel by James Ellroy, the film is about the intertwining lives of three very diverse LAPD officers (in an ensemble cast) who use incompatible methods while tackling a multiple murder scene at the all-night diner the Night Owl. Brutal, hot-tempered tough cop Bud Smith (Crowe) uses muscle and violence, while moralistic, clean-cut, college-educated rookie Ed Exley (Pearce) is law-abiding, idealistic, and does everything "by the book." A third narcotics cop, smooth Sgt. Jack Vincennes (Spacey) moonlights as a technical advisor for a sleazy Dragnet-style TV cop show and provides scandal-fodder for celebrity tabloid magazine Hush-Hush (headed by amoral editor-in-chief Sid Hudgens (De Vito) whose trademark closing line for all articles is: "You heard it here first, off the record, on the 'QT', and very hush-hush"). All three are overseen by sinister Captain Dudley Smith (Cromwell), who seems resigned to the corruption in the city and in his own police force. Kim Basinger, in a supporting Oscar-winning role, plays high-class femme fatale Lynn Bracken (a Veronica Lake look-alike through surgical enhancements) who works for a pornographer (Strathairn) who hires out celebrity look-alike prostitutes. Academy Award Nominations: 9, including Best Picture, Best Director--Curtis Hanson, Best Cinematography--Dante Spinotti, Best Original Dramatic Score--Jerry Goldsmith, Best Film Editing, Best Art Direction-Set Decoration, Best Sound Editing. Academy Awards: 2, including Best Supporting Actress--Kim Basinger, Best Adapted Screenplay--Curtis Hanson and Brian Helgeland.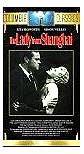 The Lady From Shanghai (1948)
Starring: Rita Hayworth, Orson Welles, Everett Sloane, Glenn Anders, Ted de Corsia
Director: Orson Welles
Welles' imaginative, complicated, unsettling film noir who-dun-it thriller - a B/W tale of betrayal, lust, greed and murder. With fascinating visuals and tilting compositions, luminous and brilliant camerawork (by Charles Lawton, Jr.), and numerous sub-plots and confounding plot twists. Orson Welles served as director, producer, screenplay writer, and actor, and based his screenplay upon Sherwood King's 1938 novel If I Die Before I Wake. The moody film, originally titled Take This Woman and then Black Irish, was made when major stars Orson Welles and sexy Rita Hayworth (with dyed and bobbed bleached-blonde hair) in her last film under contract to Columbia Pictures) were still married although estranged and drifting apart. Poor Irish seaman Michael O'Hara (Welles), after rescuing Mrs. Elsa 'Rosalie' Bannister (Hayworth) and becoming mesmerized by her - the enigmatic wife of a crippled San Francisco trial lawyer named Arthur Bannister (Sloane), he joins her yachting cruise as a crew member from New York to San Francisco (via the Panama Canal), and finds himself embroiled in a love affair and a mysterious plot (to kill Bannister's creepy business partner George Grisby (Anders)) that turns deadly and implicates him in murder. [The numerous close-ups of Rita Hayworth in the film were later added by Welles in Hollywood upon orders of the studio, to lend strength to her 'star' power.] The film, told through O'Hara's narration, was shot on locations including Acapulco, San Francisco, and at Columbia Studios sets, and features numerous classic set-pieces including: the aquarium scene, and the funhouse and Hall of Mirrors shoot-out climax. Ultimately, the film's length was severely cut down by one hour, creating an almost incomprehensible, discontinuous, cryptic patchwork from numerous retakes and substantial edits. Although it was filmed in late 1946 and finished in early 1947, it wasn't released until late in 1948. The film was mostly ignored - it failed both at the box-office and as a critical success. This was Welles' last Hollywood film until the making of Touch of Evil (1958) ten years later. No Academy Award Nominations.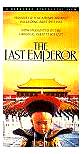 The Last Emperor (1987)
Starring: John Lone, Joan Chen, Peter O'Toole, Ruocheng Ying, Victor Wong, Dennis Dun, Vivian Wu
Director: Bernardo Bertolucci
One of the most successful films ever, Italian director Bernardo Bertolucci's lavish epic biography of Pu Yi, the last emperor of the Qing dynasty of China (the "Lord of ten thousand years and Son of Heaven") before the Communist revolution deposed him. Based in part on Pu Yi's autobiography, From Emperor to Citizen, Bertolucci garnered unprecedented support and permission from the Chinese government, something no other Western film company had received since 1949. This was the first film ever to be shot in the Forbidden City in the People's Republic of China, aside from the Lucy Jarvis documentary Forbidden City (1973). The grand, sweeping, character-driven story, told through flashbacks, follows the bittersweet life of the boy emperor born in 1906, who first sat in the Dragon Throne at the age of three -- memorably depicted by the imagery of the scene in which the restless young boy leaps up and pushes away a billowing yellow drapery - and sees thousands of his loyal costumed eunuch-servants bowing before him. He was literally a puppet - imprisoned within the gilded walls of the Forbidden City, and never allowed to leave its gates. In 1912, at the age of 7, he formally abdicated the throne, and remained a powerless figurehead Emperor, receiving tutoring from Scottish Reginald Johnston (O'Toole) in the ways of the West. In 1924 during a period of civil war, he was ousted from the Forbidden City (along with his opium-addicted empress Wan Jung (Chen) and official consort Wen Hsiu (Mei)) and moved to his native, Japanese-controlled Manchuria, where he served as a puppet emperor backed by the Japanese. After World War II, he was held prisoner as a pro-Japanese war criminal - first by the Russians, and then by the Communist Chinese for ten years, until being freed at the dawn of the Cultural Revolution. In one of the film's most memorable scenes, as a dispassionate young adult (Lone), Pu Yi wears Western clothes and wistfully croons "Am I Blue" - a silent cry for salvation from his boredom and entrapment. By film's end, his new life as a lowly gardener in Peking in the late 1960s is finally happy and free, and in a poignant scene as an elderly man, he revisits the Forbidden City, now open to tourists. One of the few films that won all of its Academy Award nominations. Academy Awards: 9, including Best Picture, Best Director and Best Adapted Screenplay--Bernardo Bertolucci, Best Music Score, Best Art Direction-Set Decoration, Best Cinematography (Vittorio Storaro), Best Film Editing, Best Costume Design, Best Sound Editing.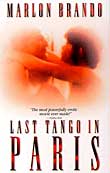 Last Tango in Paris (1972)
Starring: Marlon Brando, Maria Schneider, Jean-Pierre Léaud
Director: Bernardo Bertolucci
Bernardo Bertolucci's controversial, landmark X-rated film initiated a trend for arthouse films to include explicit erotic content. It told about a primal sexual affair between middle-aged, bitter and grieving hotel owner Paul (Brando in his seventh and last Best Actor-nominated role) whose wife had committed suicide and a 20-year old French student Jeanne (Schneider) who was engaged to be married to Tom (Léaud), a film director who was making a cinema verite film about her. Upon meeting in an apartment both are looking to rent, Paul forces himself violently on Jeanne sexually, bordering on rape, and begins a torrid, sexually perverse but anonymous 'no questions asked' affair with her (they don't know each other's names) that becomes increasingly vile, unromantic and scatological. His set of rules was notable for the time: "We are going to forget everything we knew - everything". The pure sexual nature of their relationship included the bathtub washing scene and the infamous, disturbing, and explicit sodomy (butter-lubricated anal sex) scene on the floor ("Get the butter"). Later, Paul reciprocated by letting Jeanne penetrate him anally with her fingers - part of his objective to "look death right in the face...go right up into the ass of death... till you find the womb of fear." Predictably, the film ended with his violent death on the balcony when she shot him with her father's gun. The film remains the sole still-mature rated (X, NC-17) film to earn Oscar nominations, alongside Ellen Burstyn's Oscar nomination for Requiem for a Dream (2000). (Midnight Cowboy (1969) and The Exorcist (1973) were subsequently re-rated as R.) Academy Award Nominations: 2, including Best Actor--Marlon Brando, Best Director--Bernardo Bertolucci.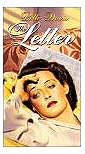 The Letter (1940)
Starring: Bette Davis, Herbert Marshall, James Stephenson, Gale Sondergaard, David Newell, Victor Sen Yung
Director: William Wyler
A classic melodramatic film noir of murder and deceit, effectively directed by William Wyler. The screenplay by Howard Koch was based on W. Somerset Maugham's mid-1920s London stage play (with Gladys Cooper in the lead role). Then, it was a Broadway play that opened in 1927 (with Katharine Cornell), followed by Paramount Studios' talkie of the same name in 1929 with Academy-Award nominated Jeanne Eagels (in her sound film debut) as the female protagonist. [It was the first full-length feature made at Paramount's Long Island studio.] The film's startling opening scene occurs on a moonlight night on the grounds of a Malaysian rubber plantation. The wife of the plantation owner, Leslie Crosbie (Davis) trails after Geoffrey Hammond (Newell) as he staggers from the bungalow's porch, and pumps bullets into his body. She claims to her faithful, long-suffering husband Robert (Marshall) that Hammond, an old family friend, took advantage of her and that she acted in self-defense, but when lawyer Howard Joyce (Stephenson) is hired to defend her, a letter surfaces and reveals her real motives. One of the trailers for the film provocatively asked: "What are the forbidden secrets in the letter? What is the strange spell that made this woman defy the unwritten law of the Orient?" Hammond's Eurasian widow (Sondergaard) uses the letter as part of a $10,000 blackmail scheme, demands a personal apology, and seeks the ultimate revenge. This great Bette Davis/Warner Bros. picture was positioned between the star's All This and Heaven Too (1940) and The Great Lie (1941). Academy Award Nominations: 7, including Best Picture, Best Actress--Bette Davis, Best Supporting Actor--James Stephenson, Best Director--William Wyler, Best B/W Cinematography, Best Original Score--Max Steiner, Best Film Editing.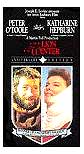 The Lion in Winter (1968)
Starring: Peter O'Toole, Katharine Hepburn, Anthony Hopkins, John Castle, Nigel Terry, Timothy Dalton, Jane Merrow
Director: Anthony Harvey
An historical, dramatic tale of dysfunctional family intrigue set in the court of British King Henry II (O'Toole) in 1183, from James Goldman's sharply written screenplay (adapted from his own play). Ten years earlier, Henry II had imprisoned his wife, Queen Eleanor of Aquitaine (Hepburn, who won her third of four acting Oscars), as punishment for helping precipitate a civil war against him. His three treacherous sons who are also vying for the British throne consist of the eldest, the legendary and fiery Prince Richard the Lionhearted (Hopkins in his film debut), the quiet but dangerous middle son Prince Geoffrey (Castle), and the youngest, the manipulative and thieving scoundrel Prince John (Terry). The three sons and estranged wife Eleanor are summoned by Henry to the castle for a Christmas family reunion in Chinon, France. He has decided to name one of his three sons as his heir to the throne. Adding to the intrigue and plotting of who will be favored (Henry favors John, while Eleanor favors Richard), the teenaged but cunning monarch King Philip II of France (Dalton in his film debut) is also invited, with his older sister Princess Alais (Merrow) - Henry's mistress. The film shines with the performances and dialogue between the two leads: 36-year old O'Toole as the 50 year-old monarch, and 61 year-old Hepburn as his younger wife. A cable television remake, The Lion in Winter (2003) starred Patrick Stewart and Glenn Close. Academy Award Nominations: 7, including Best Picture, Best Actor--Peter O'Toole, Best Director--Anthony Harvey, Best Costume Design. Academy Awards: 3, including Best Actress--Katharine Hepburn, Best Original Score--John Barry, Best Adapted Screenplay--James Goldman. (Note: Hepburn shared the Best Actress Oscar with Barbra Streisand, who tied Hepburn with her performance in Funny Girl (1968).)
M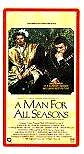 A Man For All Seasons (1966)
Starring: Paul Scofield, Wendy Hiller, Leo McKern, Robert Shaw, Orson Welles, Susannah York, Nigel Davenport, John Hurt, Vanessa Redgrave
Director: Fred Zinnemann
The verbose, stagy, yet superb screen adaptation and historical period piece by Robert Bolt and Constance Willis from Bolt's own stage play about the honorable Sir Thomas More (Scofield reprising his stage role in an Oscar-winning performance), Lord Chancellor of England, in a clash of ideals with King Henry VIII (Shaw, also Oscar-nominated). In the morality play of the conflict between church and state, More's unflinching faithfulness to the Catholic Church forces him to refuse to acknowledge the petulant king's divorce from Catherine of Aragon to marry his mistress, Anne Boleyn (an unbilled Redgrave), and subsequent creation of the Anglican Church of England. When the stubborn king breaks with papal Rome, the steadfastly-principled, strictly-ethical, and pious More resigns his chancellorship, which eventually leads to his imprisonment and execution in the Tower of London for his disapproving silence and continual refusal to accept the new Church. In one scene, More defends himself in a Westminster court to a jury handpicked by Henry VIII, and is betrayed by the traitorous Master Richard Rich (Hurt), while Cardinal Wolsey (Welles) chides More for his foolish rectitude. Academy Award Nominations: 8, including Best Supporting Actor--Robert Shaw, Best Supporting Actress--Wendy Hiller. Academy Awards: 6, including Best Picture, Best Actor--Paul Scofield, Best Director--Fred Zinnemann, Best Adapted Screenplay--Robert Bolt, Best Color Cinematography--Ted Moore, Best Color Costume Design.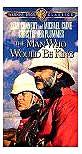 The Man Who Would Be King (1975)
Starring: Sean Connery, Michael Caine, Christopher Plummer, Shakira Caine
Director: John Huston
An old-fashioned, rousing costume adventure film and morality tale told in flashback from writer/director John Huston and based on Anglo-Indian novelist Rudyard Kipling's (Plummer) short story tale. [Huston had originally wanted to make the film in the 1940s, with Humphrey Bogart and Clark Gable in the lead roles as soldiers of fortune.] Shot on location in Morocco, it is about two roguish British soldiers-adventurers, Peachy Carnehan (Caine) and Daniel Dravot (Connery) at the turn of the century who set out from Raj-ruled India. While serving as military officers in the remote city of Kafiristan in E. Afghanistan (a province now called Nuristan), the pair are mistaken for gods or kings by the people in the priest cult, when an arrow from a renegade attack strikes Daniel's chest, but he survives without injury. Rather than actually being immortal, the arrow struck his bandolier and failed to penetrate into his flesh and wound him. The natives believe him to be the incarnation of Alexander the Great, and Daniel himself begins to arrogantly believe in his own divinity, and his right to take their rich royal treasures from the holy city of Sikandergul. Peachy, on the other hand, suspects that eventually their fraud will be found out, and attempts to get Daniel to give up the delusion and leave before calamity strikes. But Daniel insists on taking a native wife named Roxanne (Shakira Caine, Michael's real-life wife in her screen debut). The marriage turns out to be a disaster, because Roxanne, in fear of marrying a god, bites Daniel's face and draws blood - thereby exposing the two as mortals. As the two flee the city and its outraged natives, Daniel is killed when he falls to his death from a rope bridge into a deep gorge, while Peachy is caught, tortured and crucified, and left for dead. He eventually survives and returns to England where he tells his story to Rudyard Kipling. DreamWorks SKG's film version, its second feature-length animated film The Road to El Dorado (2000), with Kenneth Branagh and Kevin Kline, was set in Central America instead of Afghanistan. Academy Award Nominations: 4, including Best Adapted Screenplay--John Huston & Gladys Hill, Best Film Editing, Best Costume Design--Edith Head, Best Art Direction-Set Decoration.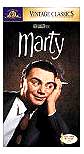 Marty (1955)
Starring: Ernest Borgnine, Betsy Blair, Esther Minciotti, Augusta Ciolli, Joe Mantell, Karen Steele, Jerry Paris
Director: Delbert Mann
The poignant, simple character study of lonely, 34 year-old Marty Piletti (Borgnine in an Oscar-winning performance), an ordinary, burly, heavy-set Bronx butcher who still lives with his love-smothering, widowed Italian mother Theresa (Minciotti). It was a very different role from Borgnine's menacing, sadistic villains or murderous 'heavies' in From Here to Eternity (1953) and Bad Day at Black Rock (1955). By the touching film's end, Marty and a homely, 29 year-old female wallflower and high-school teacher Clara Snyder (Blair) are liberated - both are triumphant over their respective limitations. Its most famous line of dialogue, between Marty and friend Angie (Mantell), emphasized Marty's endlessly boring despair: Angie: "What do you wanna do tonight?" Marty: "I dunno, Angie. What do you wanna do?" The film's screenwriter Paddy Chayefsky transformed his own original teleplay into a successful major motion picture - and the modest film remains one of the best examples of the cinematization of a television play. (The TV comedy-drama was originally presented on NBC-TV's "Philco-Goodyear Playhouse" series in May of 1953, with leads Rod Steiger and Nancy Marchand, during a period now recognized as the "Golden Age of Television.") As a feature film, it was one of the biggest 'sleepers' in Hollywood history, from the independent production company of Harold Hecht and actor Burt Lancaster. A modest, black and white film in an era of widescreen color epics, its critical acclaim and box-office success were phenomenal. It was the second Best Picture Oscar-winning film to also win the top prize (known as the Golden Palm (Palme d'Or)) at Cannes. Academy Award Nominations: 8, including Best Supporting Actor--Joe Mantell, Best Supporting Actress--Betsy Blair, Best Cinematography, Best Art Direction. Academy Awards: 4, including Best Picture, Best Director--Delbert Mann, Best Actor--Ernest Borgnine, Best Screenplay--Paddy Chayefsky.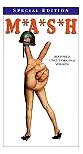 M*A*S*H (1970)
Starring: Donald Sutherland, Elliott Gould, Tom Skerritt, Sally Kellerman, Robert Duvall, Roger Bowen, Gary Burghoff, John Schuck
Director: Robert Altman
Robert Altman's controversial, zany and satirical signature film (earning him the first of his five directorial Academy Award nominations), and best known as the source of the long-running television series. The countercultural, black comedy anti-war film takes place at the 4077th Mobile Army Surgical Hospital (MASH) unit during the Korean War, a thinly disguised allegory for the unpopular Vietnam War that was raging at the time. The film's characters in the ensemble cast became truly memorable: Captain Benjamin "Hawkeye" Pierce (Sutherland), Captain "Trapper" John McIntyre (Gould), Major Margaret "Hot Lips" O'Houlihan (Kellerman in an Oscar-nominated role), moralistic Major Frank Burns (Duvall), Major Duke Forrest (Skerritt), Colonel Henry Blake (Bowen) and Corporal Walter "Radar" O'Reilly (Burghoff, the only major cast member to star in the TV series.) With little over-riding plot, the episodic film with some improvisation basically examines how the wisecracking surgeons and other unit members irreverently deal with the pressures, boredom and stupidity of wartime, by engaging in pranks and anti-authoritarian behavior. They terrorize Major Burns and sexy head nurse "Hot Lips" O'Houlihan, save the camp dentist Painless Pole (Schuck) from suicide while singing the famous theme song "Suicide Is Painless," and play in the climactic football game. Academy Award Nominations: 5, including Best Picture, Best Director--Robert Altman, Best Supporting Actress--Sally Kellerman, Best Film Editing. Academy Awards: 1, Best Adapted Screenplay--blacklisted Ring Lardner, Jr. (his second after winning one for Woman of the Year (1942), often interpreted as an "apology").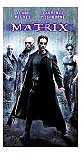 The Matrix (1999)
Starring: Keanu Reeves, Laurence Fishburne, Carrie-Anne Moss, Hugo Weaving, Joe Pantaliano
Co-Directors: Andy and Larry Wachowski
The Wachowski Brothers' popular, imaginative, visually-stunning science-fiction action film - the first in a trilogy with inferior sequels: the somewhat successful but critically derided The Matrix Reloaded (2003) and the artificially-expanded The Matrix Revolutions (2003). A computer software company techie programmer and illegal hacker named Thomas Anderson (Reeves) (with screen name alias Neo) is contacted by the mysterious, vinyl-clad heroine Trinity (Moss) and the super-cool, messianic space-ship captain Morpheus (Fishburne) who is the leader of the rebel forces. He is told (with an Alice in Wonderland reference) via his computer: "The Matrix has you. Follow the white rabbit." Neo is informed that he is the champion or chosen one to save Mankind from a malevolent, sentient machine race, that has entrapped all of humanity, in the year 2199!, inside a computer simulation (The Matrix) dreamworld, and tricked them into believing that the simulation is reality. The Artificial Intelligence system also uses the brains and bodies of the trapped human beings as expendable "living batteries." Freed by this knowledge, Neo soon learns to take advantage of the Matrix, bending the malleable laws of physics to his will, such as impossible feats of physicality (such as running up walls or leaping impossibly high) and altering his perception so dramatically that he sees bullets in flight in order to dodge them. The true standout of the film is the menacing Machine Army agent "Agent Smith," played with a tongue-in-cheek, edgy pseudo-serious flair by Hugo Weaving, whose mannerisms recall 1950's Cold War governmental "Men In Black" agents. The Matrix became best known for its revolutionary visual effects - airborne kung fu, 3-D freeze frame effects with a rotating or pivoting camera, and bullet-dodging. The film became a smash hit, featuring elaborate fighting and stunt sequences, as well as a convoluted screenplay that blurred the edge between reality and fantasy without losing the audience's grasp of the story. The film was followed by an anthology or series of nine related shorts collectively called The Animatrix (2003), highlighted by Andy Jones' short Final Flight of the Osiris. The film was nominated for four technical Oscars and won all of them. Academy Awards: 4, including Best Editing, Best Sound Editing, Best Sound Effects Editing, Best Visual Effects.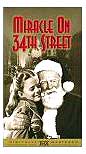 Miracle on 34th Street (1947)
Starring: Edmund Gwenn, Maureen O'Hara, Natalie Wood, John Payne, Gene Lockhart, Porter Hall, William Frawley
Directors: George Seaton
A popular, perennial favorite Thanksgiving and Christmas holiday film adapted from Valentine Davies' original story. A sentimental and appealing Frank Capra-esque morality fantasy tale (similar to Meet John Doe (1941)) about the struggle between faith and doubting cynicism, as well as between the holiday spirit of generosity and materialistic commercialism. When a Macy's New York City Thanksgiving Day parade Santa Claus is discovered to be intoxicated by a white-whiskered, kindly old man calling himself Kris Kringle (Gwenn), Kringle is hired by special-events parade organizer and single mother Doris Walker (O'Hara) to be their new Saint Nick. The emergency in-house replacement - the new, grandfatherly jolly fellow from the North Pole, proves to be a smash hit, but some doubts are raised when he sends customers to other rival department stores, such as Gimbels, when Macy's doesn't have the correct merchandise. Kringle, who insists he is the real Santa Claus, is examined by the store psychologist and determined to be insane, and further investigation reveals the old man to be a delusional, but harmless resident of a nursing home in Great Neck, LI. Psychiatrists from Bellevue Hospital threaten to have him put away in a mental institution, but Kringle's twinkly-eyed earnestness and wholesomeness remove the doubts of even the skeptical Doris and her equally cynical, wide-eyed, precocious second-grade daughter Susan (Wood). The film climaxes with the famous court hearing on Kringle's insanity between Macy's (legally represented by Doris' handsome bachelor lawyer Fred Gaily (Payne)) and Gimbels. The legal case ends with the presentation of sacks of forwarded letters sent to the Post Office addressed to Santa Claus, proving that the U.S. Government believes that Kris is Santa. Perhaps the most touching moment, however, is Kringle reassuringly singing a song to a frightened, refugee Dutch girl in her native language. The film was remade twice on television in 1955 and 1973 (with Thomas Mitchell and Sebastian Cabot respectively as Kringle) and memorably in a John Hughes-produced 1994 remake, with Richard Attenborough as Kringle, co-starring Elizabeth Perkins, Dylan McDermott and Mara Wilson. Academy Award Nominations: 4, including Best Picture. Academy Awards: 3, including Best Supporting Actor--Edmund Gwenn, Best Screenplay--George Seaton, Best Original Story--Valentine Davies.
---



---