End of the Silents - Upheavals in the Film Industry with the Early Talkies:
As anticipated, the arrival of sound created great upheaval in the history of the motion picture industry, (as spoofed and exemplified in the film Singin' in the Rain (1952)). However, the transition from silent films to sound films wasn't completely calamitous or disruptive. In fact, every major Hollywood studio began to make two versions of their motion picture releases - in an orderly and rational fashion. In some cases, the plots of the two versions differed (with either alternative takes, reversed sequences, or changed endings). One major example was All Quiet on the Western Front (1930), which had a 'silent' version (with music and effects) and a 'sound' version.
At the same time, film studios were confronted with many problems related to the coming of sound, including restricted markets for English-language talkies. Many Hollywood actors/actresses lacked good voices and stage experience, and their marketability decreased. Technically, camera movements were restricted, and noisy, bulky movie cameras had to be housed in clumsy, huge sound-insulated booths with blimps (sound-proof covers), to avoid picking up camera noise on the soundtrack. Artistically, acting suffered as studios attempted to record live dialogue, because stationary or hidden microphones (in either their costumes or other stage props) impeded the movement of actors. Some of the earliest talkies were primitive, self-conscious, crudely-made productions with an immobile microphone - designed to capitalize on the novelty of sound.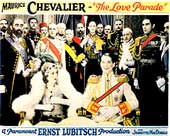 Silent film studios became obsolescent, and new investments had to be made for expensive new equipment, technological innovations, and sound-proofed stages. Cameras were mounted on moveable, squeak-proofed dollies, and microphones were hung from booms that could be held above the action (outside of the camera's view). Lubitsch's first sound film The Love Parade (1929) (with Jeanette MacDonald's debut appearance), exhibited the director's creative adaptation to the requirements of sound film, and was one of the first backstage musicals with musical numbers that were integral to the plot. Smoothly directed, Lubitsch avoided making it stage-bound and over-acted like many of the early talkies. And Rouben Mamoulian's first film Applause (1929) did creative and revolutionary things with recorded sound, such as overlapping soundtracks, and using sounds as cues or signals.
Films that began production as silents were quickly transformed into sound films. All of the studios were forced to follow suit. By 1930, the silent movie had practically disappeared, and by the mid 1930s, film industry studios had become sound-film factories. In 1927, only 400 US theatres were wired for sound, but by the end of the decade, over 40% of the country's movie theatres had sound systems installed.
Many stars of the silent era with heavy accents and disagreeable voices saw their careers shattered (e.g., Polish-accented Pola Negri, Emil Jannings, Ramon Novarro, Clara Bow, Vilma Banky, Colleen Moore, Rod La Rocque, Gilbert Roland, Nita Naldi, Renee Adoree, Blanche Sweet, Agnes Ayres, and John Gilbert), while others like Joan Crawford, Paul Muni, Greta Garbo, Ronald Colman, Lon Chaney, Sr., Richard Barthelmess and Gloria Swanson survived the transition - but elocution lessons from diction coaches became a necessity for some. Other silent stars, such as Mary Pickford, failed to make the transition to talkies and retired in the 30s. Many new film stars and directors that had to be imported from Broadway, would become familiar Hollywood names in the 1930s.
The Use of Color:
Another technological advance, in addition to sound, was the use of color. In the earliest years of the industry, hand-tinting/painting had been tried, but it was largely impractical, laborious, and unrealistic looking. Another process called Kinemacolor used a movie camera and projector that both exposed and projected black and white film through alternating red and green filters. In 1915, the Technicolor Motion Picture Corporation was founded by Herbert Kalmus, Daniel Comstock, and Burton Westcott to develop a more advanced system to colorize motion pictures. The company's first color process was a two color (red and green) additive system that used two color negatives pasted or printed together. The first two-color Technicolor production was The Gulf Between (1917), and the first commercial, two-color Technicolor feature film made was the six-reel The Toll of the Sea (1922), also noted as the first to use a subtractive two-color process. The first feature-length blockbuster color picture using this same innovative process was The Black Pirate (1926) with Douglas Fairbanks, Sr.
By 1932, what began as a two-color system in the mid- and late 1910s and 1920s evolved into a much richer and vibrant three-color process by Technicolor. Disney's first Technicolor cartoon, Flowers and Trees, won Disney his first Oscar for Best Short Film-Cartoon of 1931-32. The first three-strip, regular exposure Technicolor film was RKO's and Rouben Mamoulian's Becky Sharp (1935) - the first feature-length, three-strip Technicolor production.
Many Other "Firsts":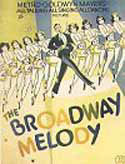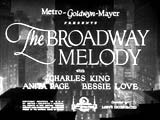 The first original film musical and the first musical/sound film to win the "Best Picture" Academy Award was MGM's The Broadway Melody (1929) starring Charles King, Anita Page, and Bessie Love. it was also MGM's first full-length musical feature (in a long succession of distinguished musicals) and the first widely-distributed sound feature.
Other film studios rushed into production their own musicals to compete for box-office returns. MGM quickly followed up with the elaborate, Best Picture-nominated musical revue Hollywood Revue of 1929 (1929), advertising it as having all of MGM's silent-film stars (Lionel Barrymore, Joan Crawford, Buster Keaton, John Gilbert, Marion Davies, Bessie Love, Norma Shearer, Marie Dressler, and more) now "talking and singing", with hosts Jack Benny and Conrad Nagel - it was notable for an early version of "Singin' in the Rain". Another of the first "variety" shows was Warners' The Show of Shows (1929), featuring "all-talking, all singing, and all dancing", with Winnie Lightner singing the first renditions of "You Were Meant For Me" (with Bull Montana) and "Singing in the Bathtub". It also starred Myrna Loy, John Barrymore, comedian Ben Turpin, 'Eight Sister Acts' and more, and was hosted by Master of Ceremonies Frank Fay.
The first all-color sound musical production (in two-strip Technicolor) was Warners' and director Alan Crosland's backstage musical On With the Show! (1929), famous for Ethel Waters singing "Am I Blue?" Another popular early musical was the first of a film series - director Roy Del Ruth's Technicolor The Gold Diggers of Broadway (1929) - it was the second full-length color sound feature film ever made. It was famous for "Tip-Toe Through the Tulips With Me" and "Painting the Clouds with Sunshine" by Nick Lucas, who also starred in the film. It was a remake of the silent, non-musical comedy film about chorus girls, The Gold Diggers (1923) - and it was followed by Mervyn LeRoy's musical remake The Gold Diggers of 1933 (1933).
The first major, feature-length Hollywood sound film with an all-black cast was King Vidor's first talkie - MGM's Hallelujah (1929), but it was initially shot as a silent. It was the first film with a dubbed, asynchronous soundtrack added later in the studio - a technological, post-production advancement. In 1928, the first film-related hit record was Al Jolson's Sonny Boy, sung three times in Jolson's second feature film, the part-talkie, part-silent high-grossing tearjerker The Singing Fool (1928).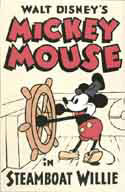 The first all-talking (or all-dialogue) picture was a gangster film - Warners' experimental entry with sound and dialogue was director Brian Foy's crude Lights of New York (1928). Nonetheless, it had 24 transitional titles. [All ten of 1928's 'all-talking' films were made at Warners.] The first all-talkie picture in Great Britain, Blackmail (1929), was made by British director Alfred Hitchcock. The film was originally released as a silent film, but the studio pressured Hitchcock into adding dialogue sequences (with innovative post-synchronization techniques) for a talkie version. The suspenseful film was advertised by posters: "See & Hear It - Our mother tongue as it should be - SPOKEN! 100% Talkie. 100% Entertainment. Hold everything till you've heard this one!"

The first speaking cartoon with synchronized sound was Walt Disney's (and lead animator Ub Iwerks') Steamboat Willie (1928), debuting the cute character of Mickey Mouse. Strangely, Mickey's first sound cartoon didn't include Mickey's voice -- he didn't speak until his ninth short, The Karnival Kid (1929) when he said the words: "Hot dogs!" [Walt's voice was used for Mickey.]
In 1929, Disney started his Silly Symphony animated cartoon series, first with the memorable The Skeleton Dance (1929). In the same year, the first synchronized talking animated short/cartoon (as opposed to a cartoon with a soundtrack), Bosco The TalkInk Kid (1929), was produced by animators Hugh Harman and Rudolf Ising (Harman also created the enduring Merrie Melodies and Looney Tunes cartoon series).
Influential Organization Formed To Self-Regulate the Industry: The MPPDA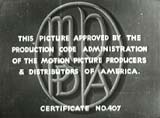 In 1922, the Hollywood studios formed the Motion Picture Producers and Distributors of America (MPPDA) - a trade organization to lobby politicians, self-regulate the industry, and to counter negative publicity from a rash of scandals (e.g., the infamous Roscoe "Fatty" Arbuckle rape/murder case in September 1921, and Mabel Normand's three criminal cases - one involving the murder of lover-millionaire William Desmond Taylor in 1922), and other mysterious events (the drug overdose of morphine-addicted silent film actor Wallace Reid in January, 1923, and the death of movie producer-director Thomas Ince onboard newspaper magnate William Randolph Hearst's yacht The Oneida in November, 1924). The MPPDA's main purpose was to re-shape the industry's public image, to settle issues or common problems, and to keep the industry afloat amidst growing concern to shut it down.
Producers appointed conservative Will H. Hays, the former Postmaster General of the US, to be the head of the MPPDA, to begin efforts to clean up the motion picture industry before the public's anger at declining morality depicted in films hurt the movie business. Hays later set up the Hays Production Code in March, 1930 to monitor acceptable behavior and keep films wholesome by enforcing a standards code, to further control the conduct of actors and regulate film content.
The Beginning of the Academy Awards:
The non-profit organization, the Academy of Motion Picture Arts and Sciences (AMPAS) was founded in 1927 with Douglas Fairbanks as president, to recognize and reward excellence within the film industry. The AMPAS organization established the Academy Awards in the late 1920s and first announced them in February 1929, and then distributed them in mid-May of 1929 for films opening between August-1927 and late July-1928.
In the first year of the Academy Awards' presentations, separate awards (not known as Oscar quite yet) were given for Best Production (now termed Best Picture). There were two "Best Picture" winners: the financially successful anti-war film, William A. Wellman's Wings (1927) for Best Production and Sunrise (1927) for Best Unique and Artistic Picture (a category that was immediately dropped). Wings (1927), coming at the end of a cycle of films about WWI, featured exciting aerial combat sequences and starred Clara Bow and a young actor named Gary Cooper. These films were the only silent films ever to win the Academy Award for 'Best Picture'. The Jazz Singer (1927), declared ineligible for the Best Picture award, was given a special award for revolutionizing the industry.

Film History of the 1920s
Part 1, Part 2, Part 3, Part 4
---



---