Griffith, Vidor, and Gish: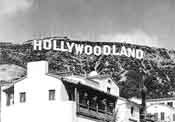 In 1919, the population of Hollywood was 35,000, but by 1925, had swelled to 130,000. The Hollywood sign (originally advertising and spelling out HOLLYWOODLAND) was built above the Hollywood Hills in 1923 for $21,000 by a real estate developer. It was not an advertisement to promote the major film studios, but was actually put up to advertise a local real estate development in nearby Beachwood Canyon - and was only supposed to be installed for 18 months. The sign lost its suffix "LAND" in 1949 when the Hollywood Chamber of Commerce began a contract with the City of LA Parks Department to repair and rebuild the sign.
[After being declared an historic landmark in 1973, it was rebuilt in the late 70s by funds established by singer/cowboy Gene Autry, rocker Alice Cooper, and Playboy head Hugh Hefner.]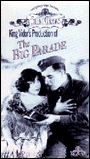 D. W. Griffith continued to be successful (his earlier Birth of a Nation (1915) remained the most popular film until another war saga Gone with the Wind (1939) was filmed at the end of the 30s). One of Griffith's last commercial blockbusters, his classic melodrama of a morally-ostracized young woman, Way Down East (1920), was famous for its daring sequence of Lillian Gish in a blizzard and on a floating ice, rescued at the last minute by Richard Barthelmess. Griffith's next film, Orphans of the Storm (1922), starred sisters Dorothy and Lillian Gish in a semi-factual drama of the French Revolution.
The largest grossing silent film up to its time was King Vidor's WWI tale - an epic, anti-war film and romance story from MGM The Big Parade (1925), starring matinee idol John Gilbert. Vidor's enduring classic silent film of Everyman, The Crowd (1928), a realistic "slice-of-life" tale of a faceless, underpaid, hard-working clerk who never seemed to get ahead in the big city of New York during the Jazz Age, was under-appreciated at the time of its release. Lillian Gish collaborated with Swedish director Victor Seastrom for two films: Nathaniel Hawthorne's classic The Scarlet Letter (1926) and The Wind (1928), one of the last great silent films.
Expensive Epics and Cecil B. DeMille: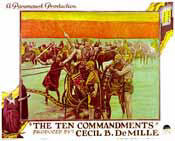 Interestingly, some of the biggest successes of the 1920s were similar to the wide-screen epics of the 50s, such as:
Rex Ingram's The Four Horsemen of the Apocalypse (1921) (that launched Valentino's career as a star)
master showman Cecil B. DeMille's Joan the Woman (1916), The Ten Commandments (1923) and The King of Kings (1927)
the expensive spectacle of MGM's and Fred Niblo's colossal Ben-Hur (1926)
All of these lavish and grand films foreshadowed their epic remakes during the mid-fifties and early sixties and in later years. The silent era Ben-Hur (1925) was the greatest and most legendary spectacular of its kind, budgeted at a record $3.9 million - the most expensive silent film ever (it made $9 million at the box-office) and the most expensive film made in the 1920s. Hollywood experimented with an early form of Technicolor for some color sequences in DeMille's big-budget, $1 million epic The Ten Commandments (1923) and also in Ben-Hur (1925).
Always noted as a showman, Cecil B. DeMille's name was forever associated with extravagant production values and biblical spectacles (with rich doses of orgies and bathing scenes) that he first filmed in the 1920s. He also adapted to the times with patriotic war-time films, such as Till I Come Back to You (1918), sophisticated romantic comedies such as Old Wives For New (1918) and the racy romantic farce Don't Change Your Husband (1919) with Gloria Swanson, and sexy melodramas such as the risque The Affairs of Anatol (1921).
Westerns and Prototypes of Other Genres:

The western film genre was uniquely American and became popular in the early days of the cinema. The first major Western, a landmark film, was director James Cruze's epic pioneer saga filmed on-location, The Covered Wagon (1923), an authentic-looking 83 minute film advertised as "the biggest thing the screen has had since The Birth of a Nation." Legendary director John Ford directed his first major film, a seminal Western titled The Iron Horse (1924), the sweeping tale of the construction of the first transcontinental railroad. The last film the old rugged Western hero, William S. Hart, appeared in was King Baggot's Tumbleweeds (1925). Famed cowboy actors, in addition to William S. Hart, included Tom Mix and Harry Carey.

Other prototypical films were also released in the 1920s. The first science-fiction film (with early examples of stop-motion special effects) about prehistoric dinosaurs in a remote South American jungle The Lost World (1925), adapted from Sir Arthur Conan Doyle's tale, premiered during the silent era. Willis O'Brien, who would later be responsible for the success of King Kong (1933), came of age as a stop-motion animator for this film. [In 1925, Imperial Airways presented it as the first in-flight movie on a flight from London to Europe.]
The prototype standard for later spooky, haunted "old dark house" mysteries was The Cat and the Canary (1927), a film re-made numerous times in future years. And one of the first in the gangster film genre was Josef von Sternberg's Prohibition-era Underworld (1927). Famous American movie dog, German shepherd Rin Tin Tin starred in over 20 films during the 20s silent era, including Warners' Rinty of the Desert (1928) and the transitional talkie-film Frozen River (1929). Detective Charlie Chan's introduction (as portrayed by Japanese actor George Kuwa) was in the 10-part serial House Without a Key (1926).
The Birth of the Talkies:
By the late 1920s, the art of silent film had become remarkably mature. Although called silents, they were never really silent but accompanied by sound organs, gramophone discs, musicians, sound effects specialists, live actors who delivered dialogue, and even full-scale orchestras. There would be two competing sound or recording systems developed during the early 'talkie' period: sound-on-disc, and sound-on-film.
In 1925-26, America technologically revolutionized the entire industry, with the formation of the Vitaphone Company (a subsidiary created by Warner Bros. and Western Electric). Warner Bros. launched sound and talking pictures, with Bell Telephone Laboratory researchers, by developing a revolutionary synchronized sound system called Vitaphone (a short-lived sound-on-disc process developed in 1925 that quickly became obsolete by 1931). This process allowed sound to be recorded on a phonograph record that was electronically linked and synchronized with the film projector - but it was destined to be faulty due to inherent synchronization problems. Originally, Warner Bros. intended to use the system to record only music and sound effects - not dialogue. The process was first used for short one- and two-reel films, mostly comedies and vaudeville acts.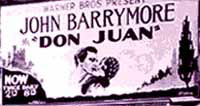 The first feature-length film with synchronized Vitaphone sound effects and musical soundtrack (canned music and sound effects recorded on large wax discs), but without spoken dialogue, was Warner Bros.' romantic swashbuckler adventure Don Juan (1926). The prestigious production was premiered in New York on August 6, 1926, and starred John Barrymore (nicknamed "The Great Profile") as the hand-kissing womanizer (the number of kisses in the film set a record). Director Alan Crosland's expensive film failed to create the sensation that Warners had hoped for. The second Vitaphone production was The Better 'Ole (1926), featuring musical comedy and recording star Al Jolson, among others.
Most of the studios started to convert from silent to sound film production - a tremendous capital investment. Thousands of existing theaters had to be rewired for sound at great expense. In the mid 1920s, Warners invested over $3 million in outfitting its 'picture palaces' to show Vitaphone films, and went into debt because of it.
In 1926, William Fox of the Fox Film Corporation responded to Warners' success with its own similar and competing, advanced Movietone system - the first commercially successful sound-on-film process developed in conjunction with General Electric. It added a 'soundtrack' directly onto the strip of film and would eventually become the predominant sound technology. [This system would soon replace the inflexible Vitaphone system because it was easier to synchronize the sound.]
The first feature film released using the new Fox Movietone system was Sunrise (1927), directed by F. W. Murnau -- the first professionally-produced feature film with an actual soundtrack. Fox's Movietone system was also premiered in early 1927 with the showing of director Raoul Walsh's 12-reel comedy-drama war film What Price Glory? (1926) (originally released in November, 1926, and then re-released in January, 1927 with synchronized music and sound effects). They also released a Fox-Movietone News newsreel of the Lindbergh takeoff on May 20, 1927 from New York for his flight across the Atlantic toward Paris - the first sound news film. The first talking picture made in Hollywood was a Fox-Movietone 5-minute short titled They're Coming to Get Me (1927).
The Jazz Singer: The World's First 'Talkie'

In April, 1927, Warners built the first sound studio to produce a feature film with sound. Another sound feature released on October 6, 1927, and directed by Alan Crosland for Warner Bros. revolutionized motion pictures forever. Producer Sam Warner died one day before the film's premiere at Warners' Theatre in New York City. It was the first feature-length talkie (and first musical), The Jazz Singer (1927), adapted from Samson Raphaelson's successful 1925-26 musical stage play (that starred George Jessel in the Broadway role). It was also the most expensive film in the studio's history, at a budget of about $500,000. Here was a revolutionary film that was mostly silent - with only about 350 'spontaneously spoken' words, but with six songs (in the film's partly-synchronized musical soundtrack). The film was about an aspiring Jewish cantor's son who wanted to become a jazz singer rather than a cantor in the synagogue.
The sound era was officially inaugurated when audiences saw Russian-born American vaudeville star Al Jolson, and first heard him improvise a song's introduction: "Wait a minute! Wait a minute! You ain't heard nothin' yet," after the film's first musical interlude - a song called Dirty Hands, Dirty Face. Jolson proved his boast by continuing to sing Toot, Toot, Tootsie. They were further astonished by his talking to his mother (Eugenie Besserer) in an extemporaneous way after singing Blue Skies, and the film's final song Mammy. Jolson was chosen for the role (after it was turned down by Eddie Cantor) since he had already performed three songs in Warners' experimental short film April Showers (1926), and because he was, in real-life, a cantor's son who had first sung in a synagogue as a child.
The other major film studios (Paramount, Loew's, First National and UA) realized the expensive and challenging ramifications of the sound revolution that was dawning, and that talkie films would be the wave of the future. In May 1928, to avoid an inevitable patent war, they signed an agreement with Western Electric to analyze the competing sound systems within the next year and jointly choose a single, standardized sound system.

Film History of the 1920s
Part 1, Part 2, Part 3, Part 4
---



---