Rudolph Valentino (1895-1926):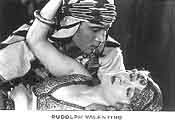 The greatest male attraction in exotic, adventurous romantic pictures was handsome, hot-blooded Italian-born import Rudolph Valentino, after his breakthrough appearance in the famous tango scene in director Rex Ingram's spectacle The Four Horsemen of the Apocalypse (1921). Dubbed the "Latin Lover," the matinee idol symbolized the forbidden and mysterious eroticism denied to American women in the 1920s in such films as The Sheik (1921), Camille (1921), the successful Blood and Sand (1922), The Eagle (1925), and The Sheik's popular sequel The Son of the Sheik (1926). The Son of the Sheik was a tremendous hit, released at the time of Valentino's funeral.
In 1926, his death came at the untimely age of 31, due to a perforated ulcer and peritonitis. Crowds in New York, mostly female mourners, verged on mass hysteria as they tried to view his body. [One of Valentino's legacies was that a brand of popular condoms was named after his role in one of his most famous films.] Native-born director Clarence Brown, who had directed Valentino in The Eagle (1925) also directed imported actress Greta Garbo in Flesh and the Devil (1927), Woman of Affairs (1928), and turn-of-the-decade Anna Christie (1930).
German Expressionism and Its Influence:

An artistic movement termed Expressionism was established in the prolific European film-making industry following World War I. It flourished in the 1920s, especially in Germany in a 'golden age' of cinema (often termed 'Weimar Cinema'), due to fewer restrictions and less strict production schedules.
Expressionism was marked by stylization, dark shadows and dramatic chiaroscuro lighting, visual story-telling, grotesque characters, distorted or slanted angular shots (of streets, buildings, etc.) and abstract sets. Leading directors utilizing these new unconventional, atmospheric and surrealistic dramatic styles included G.W. Pabst (known later for directing American actress Louise Brooks in Pandora's Box (1929)), Paul Leni (who directed the 'old dark house' film The Cat and the Canary (1927) and Universal's The Man Who Laughs (1928) with Conrad Veidt), F.W. Murnau and Fritz Lang.
In the early 1920s, three nightmarish, German expressionistic films were to have a strong and significant influence on the coming development of U.S. films in the 30s-40s - notably the horror film cycle of Universal Studios in the 30s, and the advent of film noir in the 1940s:
Robert Wiene's surrealistic fantasy/horror film The Cabinet of Dr. Caligari (1919-20, Germ.) (aka Das Kabinett des Doktor Caligari) starring Conrad Veidt - the earliest and most influential of German Expressionistic cinema
F. W. Murnau's classic vampire film (the first of its kind) with actor Max Schreck - an adaptation of Bram Stoker's Dracula novel titled Nosferatu, A Symphony of Horrors (1922, Germ.) (aka Nosferatu, Symphonie des Grauens)
Fritz Lang's Dr. Mabuse: The Gambler (1922, Germ.) (aka Doktor Mabuse der Spieler) introduced the director's evil genius character
-- Lang's Metropolis (1927, Germ.) has generally been considered the last of the classic German Expressionistic films
Imports From Abroad:
Destined to encourage the viewing of foreign-language films, English subtitles were put on the German musical Two Hearts in Waltz Time (1930) (aka Zwei Herzen im Dreiviertel-Takt) by Herman Weinberg. It was the first film to be subtitled for release in the United States.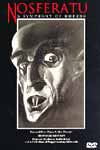 Some of the best artists, directors, and stars (such as Pola Negri, Bela Lugosi, Peter Lorre and Greta Garbo) from European film-making circles were imported to Hollywood and assimilated there as emigrants. A number of early directors in Hollywood were hired artists from abroad - including successful German directors F. W. Murnau (invited to Hollywood by William Fox for his first Fox film - the critically-acclaimed Sunrise (1927)), Fritz Lang, Josef von Sternberg and Ernst Lubitsch (he directed his first American film, Rosita (1923) starring Mary Pickford), the great Swedish director Victor Seastrom (famous for The Wind (1928) - the last silent film of Lillian Gish), Austrian-born director Erich von Stroheim, producer Alexander Korda, director Michael Curtiz (recruited by Warners from Hungary), German cinematographer Karl Freund, and Russian-born director Rouben Mamoulian.
Director Ernst Lubitsch's first American comedy The Marriage Circle (1924) about marital infidelity in Vienna, was later remade as the musical One Hour With You (1932). With his classic, sophisticated "touch," Lubitsch boldly confronted the pre-Hays code of censorship with So This Is Paris (1926).
Later in Germany, Fritz Lang's last major silent film was the futuristic drama Metropolis (1927) - the expensive film enriched cinema in years to come with its innovative techniques, futuristic sets and Expressionistic production design, and allegorical study of the class system. Murnau's notable silent film weepie classic The Last Laugh (1924) told its entire story about a proud but demoted hotel doorman (Emil Jannings) through visualization, innovative camera movements (with only one inter-title), stylized mis-en-scene, a subjective point-of-view, and optical effects. Both Lang's Metropolis and Murnau's The Last Laugh were filmed by the pioneering German cameraman Karl Freund.
Murnau also filmed Moliere's 17th century satire Tartuffe (1925) as a movie within a movie, and Goethe's tragedy Faust (1926) with stunning chiaroscuro, images of medieval castles, huge mountains and Faust (Gosta Ekman) flying with Mephisto (Emil Jannings). Faust was the film that gave Murnau a contract with Hollywood's Fox Studios. The dark films of Josef von Sternberg in the late 1920s ushered in the gangster film: Underworld (1927), The Drag Net (1929), and The Docks of New York (1929).
Austrian-born director Erich von Stroheim's style was more harsh and European than the works of other imported directors. He had begun as an assistant director to D. W. Griffith. His specialty was the melodramatic portrayal of a decadent Europe with audacious scenes of sexuality. His brooding and expensive Foolish Wives (1922) was the longest commercially-made American film to be released uncut at 6 hours and 24 minutes in Latin America, but it was severely edited to a 10-reel version for general release. Von Stroheim's admired nine-hour, 42-reel silent masterpiece Greed (1924) (a detailed adaptation of Frank Norris' novel McTeague) was screened only once in its original form for newly-formed MGM executives including Irving Thalberg, and then severely cut down to its current length of 133 minutes (about 10 reels). Reportedly, the 32 reels of edited negatives were melted down by MGM to extract the valuable silver nitrate from the film stock. The same difficulties of extravagant over-spending and interminable length also plagued his film The Wedding March (1928).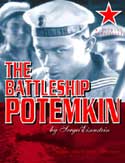 Legendary Russian auteur director Sergei Eisenstein's classic landmark and visionary film, Battleship Potemkin (1925, Soviet Union) was released in the US in 1926, advancing the art of cinematic storytelling with the technique of montage (or film editing). Its most celebrated film scene, with superb editing combining wide, newsreel-like sequences inter-cut with close-ups of harrowing details - to increase tension, was the Odessa Steps episode. It was based upon the incident in 1905 when civilians and rioters were ruthlessly massacred. In the scene (with 155 separate shots in less than five minutes), the Czarist soldiers fired on the crowds thronging on the Odessa steps with the indelible, kinetic image of a baby carriage careening down the marble steps leading to the harbor, and the symbolism of a stone lion coming awake. [Note: The scene was parodied in a number of films, including Terry Gilliam's Brazil (1985) and Brian DePalma's The Untouchables (1987).]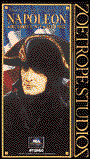 Another technological cinematic achievement was attained by experimental French filmmaker Abel Gance in his film Napoleon (1927, Fr.), a visually revolutionary picture originally six hours long and partially filmed with panoramic, "triptych" Polyvision (three-screens side-by-side to create a wide-screen effect, later known by future generations as Cinerama) at its climax. This meant that the film had to be shot with three synchronized cameras, and then projected on a gigantic, 3-part screens. [Within a few years, Fox's Grandeur wide-screen system was an early attempt at 70 mm. film gauge.]
And at the end of the decade, the influential and creative film The Man with the Movie Camera (1929, Soviet Union) from experimental cameraman/director Dziga Vertov, employed some of the first uses of the split screen, montage editing, and rapidly-filmed scenes in its view of Moscow.
Comedy Flourished: Arbuckle, Chaplin, Lloyd, Keaton and More
It was a great era for light-hearted silent comedy, with the triumvirate of humorists: Charlie Chaplin, Buster Keaton, and Harold Lloyd, and the early popularity of Roscoe "Fatty" Arbuckle until a scandal destroyed his career in 1921.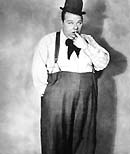 "Fatty" Arbuckle was one of the earliest silent film comedians (as well as director and screenwriter). He started out with the Selig Polyscope Company in 1909 (his first film was Ben's Kid (1909)), and then went onto Universal Pictures in 1913 and also appeared in several of Mack Sennett's Keystone Comedies films, noted for fast-paced chase sequences and 'pie-in-the-face' segments. Arbuckle was the first of the silent comedians to direct his own films, starting with Barnyard Flirtations (1914). His teaming with Mabel Normand at Keystone, in a series of "Fatty and Mabel" films, were lucrative for the studio.
In 1917, Arbuckle formed his own production company ("Comique Film Corporation") with producer Joseph Schenck which afforded more creative control, hiring Buster Keaton to star in his first film The Butcher Boy (1917). He used his 'fatness' as part of his sight gags, and his slightly-vulgar but sweet and playful character became extremely popular with younger audiences. By 1919, he had secured at $3 million/3-year contract with Paramount Pictures to star in 18 silent films - the first multi-year, multi-million dollar deal for a Hollywood studio. It has been little mentioned that Arbuckle mentored and aided Buster Keaton and Charlie Chaplin as they entered the film business, before his own downfall in the early 1920s.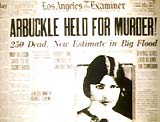 While Arbuckle's latest comedy was playing across the country, Crazy to Marry (1921), he was celebrating in San Francisco's St. Francis Hotel over a three-day Labor Day weekend. During the bash in the hotel with liquor freely flowing (during Prohibition!), he was accused of the rape and murder of young 25 year-old starlet and 'party girl' Virginia Rappe in a widely-publicized case - Rappe died a few days later in a hospital of a ruptured bladder. Arbuckle was thoroughly and unfairly chastised by Hearst's 'trial-by newspaper' (with soaring sales) and public condemnation. One of the partygoers interviewed by the prosecution was an unreliable witness named Maude Delmont, known in LA as a blackmailer and as "Madame Black" - with a criminal history of fraud and extortion (she would lure young women to parties in order to entrap wealthy males). She claimed that Arbuckle assaulted Rappe, although other witnesses disputed her assertions. Fatty's career was substantially over, although he was eventually fully acquitted of the act after three trials in the spring of 1922.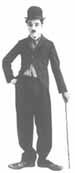 The popularity of Charlie Chaplin as the Tramp soared in movies after his initial films with Keystone, Essanay, and Mutual. As already stated, he co-founded United Artists studios in 1919 with Mary Pickford, D. W. Griffith, and Douglas Fairbanks. His first silent feature film was First National's 6-reel The Kid (1921) (with child star Jackie Coogan), in which he portrayed the Tramp in an attempt to save an abandoned and orphaned child. (35 year old Chaplin married his underage, 16 year-old The Kid co-star Lita Grey in 1924).
Chaplin also appeared in The Pilgrim (1923) - in which he mimed the David and Goliath story, and in the classic The Gold Rush (1925), a story with pathos and wild comedy about a Lone Prospector in Alaska. Chaplin was presented with a special Academy Award "for versatility and genius in writing, acting, directing, and producing" for The Circus (1928). Chaplin's comedies were matched by the acrobatics and dare-devil antics of silent comic Harold Lloyd, who appeared as a gallant, 'never-say-die' All-American "Boy" (with glasses) in Safety Last (1923) - famous for his harrowing climb up the side of a tall building, Girl Shy (1924), The Freshman (1925), and The Kid Brother (1927).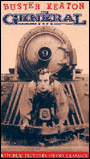 There was also the inspired comedic work of passively-unsmiling, sardonic Buster Keaton (The Great Stone Face) in Sherlock Jr. (1924) (Keaton's first solo directorial work), The Navigator (1924), the Civil War epic The General (1927) (Keaton co-directed with Clyde Bruckman) about a runaway train with spectacular sight gags, Steamboat Bill, Jr. (1928) - his last independent film, and The Cameraman (1928), Keaton's first film for MGM that also marked the beginning of his decline.
Baby-faced Harry Langdon's best feature film in a short four-year film career, The Strong Man (1926), was director Frank Capra's feature-film debut. The film predated Chaplin's City Lights (1931) by several years with its plot of a meek man in love with a blind woman. Langdon also starred in two other hits: Tramp, Tramp, Tramp (1926) and Capra's Long Pants (1927) that would place him the same league as his three other comic contemporaries: Charlie Chaplin, Buster Keaton, and Harold Lloyd. Stan Laurel and Oliver Hardy appeared in their first film as a slapstick comedy team - a Hal Roach studio comedy Duck Soup (1927), and then performed in director Clyde Bruckman's Putting Pants on Philip (1927). The Marx Brothers debuted in their first film together in 1929, The Cocoanuts (1929).
And bulbous-nosed master comic W. C. Fields first juggled in the Ziegfeld Follies on Broadway in New York City from 1915-1921. In the mid-20s, he moved to Hollywood and wrote, directed, and starred in films. His first film was the one-reel Pool Sharks (1915). After appearing in the Broadway musical Poppy, he starred in D.W. Griffith's screen version of the circus film, renamed Sally of the Sawdust (1925). (It was later remade as Poppy (1936), with Fields in the same role.)

Film History of the 1920s
Part 1, Part 2, Part 3, Part 4
---



---