Early Gangster Films at Warners: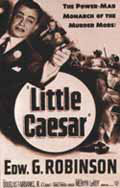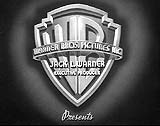 Warner Bros. developed its own style by producing gritty narratives, social problem pictures and a succession of tough, realistic gangster movies in the sound (and Depression) era, reflecting the era's shaken confidence in authority and the country's social traditions. The major stars of Warners to emerge in the 30s were: Muni, Flynn, Edward G. Robinson, Cagney, Bogart, and Davis (with Warners from 1931-1949).
Always an early adopter, Warners launched the gangster genre with Mervyn LeRoy's Little Caesar (1930) - a star-making role for Edward G. Robinson as snarling, fast-talking mobster Caesar Enrico Bandello who met his inevitable fate with the words, "Mother of mercy, is this the end of Rico?" William Wellman's The Public Enemy (1931) starred a swaggering, cocky urban gangster portrayed by James Cagney (in his first film after a stint as a song-and-dance man in vaudeville) - in a film most-remembered for the scene in which the hoodlum abusively stuffed a grapefruit half into Mae Clarke's face, and the scene of Cagney's death at his mother's door.

Billionaire Howard Hughes' and United Artists' hard-hitting gangster film Scarface (1932), directed by Howard Hawks and produced outside the Hollywood system, was delayed for two years due to censorship, and was required to add the qualifying sub-title "The Shame of the Nation" to its main title. With a script from hard-hitting newspaperman Ben Hecht, it starred Paul Muni (who was better known for playing historical characters such as Emile Zola and Louis Pasteur) as a psychopathic Chicagoan crime boss (based upon Al Capone). The spectacular and controversially-violent film (with incest in a sub-plot) included a record number of killings - 28, and inventively used a visual "X" motif throughout to signal that a murder was imminent.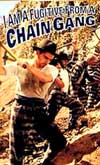 After the previous three gangster films, the genre branched out to other uncompromising, "serious" social drama films, including Best Picture-nominated I Am A Fugitive From a Chain Gang (1932) that dealt with such subjects as chain gangs and prison reform (an expose specifically referring to Georgia's brutal treatment) and promoted social reform of a corrupt court system. William Wellman's social problem film Wild Boys of the Road (1933) told the story of two disillusioned teens forced to travel cross-country rails to find work during the height of the Depression. Michael Curtiz' hard-hitting melodrama Black Fury (1935) also starred Paul Muni as a coal miner caught in the middle of a labor dispute. In one of his first important screen roles, Humphrey Bogart re-created his stage role as gangster Duke Mantee in a starring film role opposite Bette Davis in The Petrified Forest (1936). James Cagney starred as a gangster who grew up on the wrong side of the tracks, in Michael Curtiz' Angels With Dirty Faces (1938). At the end of the decade, Cagney was gunned down in the finale of The Roaring Twenties (1939) in another gangster role.
Universal's Horror Films: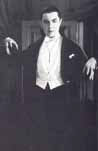 Escapist entertainment emerged at Universal, one of the minor film studios during the "Golden Age of Hollywood." Universal produced a Best Picture winner in the second Academy Awards ceremony - a serious anti-war polemic, All Quiet on the Western Front (1930) - the controversial, landmark film was denounced and banned in numerous European countries. It was a remarkable film that used 'advanced' sound dubbing techniques - incorporating sound effects, dialogue, and music on one soundtrack.
The studio had its greatest success with its cycle of classic horror films. Actually, the horror film releases were the first modern horror movies (a resurrected genre), beginning with Tod Browning's Dracula (1931) (expressionistically filmed by Karl Freund). The film starred Bela Lugosi in a star-making role as the vampire Count Dracula, a creation of Irish writer Bram Stoker in his 1897 novel Dracula. [Dracula would become the most frequently-portrayed character in horror films.]

Universal's next feature was James Whale's gothic Frankenstein (1931) with an unbilled Boris Karloff as the MONSTER, and then Karloff also starred as the unforgettable Egyptian corpse in German Karl Freund's directorial debut film The Mummy (1932).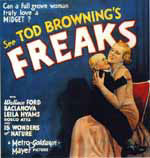 To capitalize on Universal's success with their horror films in 1931, Browning's next film was MGM's shocking, bizarre and unsettling Freaks (1932) - deliberately casting real-life pinheads (microcephalics), circus freaks and mis-shapen dwarves to sensationalize its content. Two of its taglines proclaimed: "Do the Siamese Twins make love?" and "Can a full-grown woman truly love a midget?" In the vengeful, unforgettable ending of the grotesque film, the cruel Cleopatra is mutilated and changed into a legless, chicken-like creature as revenge. MGM was so horrified by the film's premise that it sold off the film to exploitative, second-rate distributors who toured it and renamed it Nature's Mistakes. To the studio's dismay, the film was both a financial disaster and a critical failure.
The first of eight films to co-star Bela Lugosi and Boris Karloff was the surrealistic The Black Cat (1934). James Whale was coerced into making more horror films for Universal, including The Old Dark House (1932), The Invisible Man (1933), and then in 1935, the now-talking MONSTER was presented with a Bride Monster (but she screeched her rejection of a Mate) in director Whale's superior horror-comedy sequel Bride of Frankenstein (1935).
Clark Gable - Example of a Mega-Star: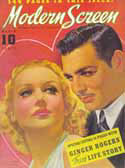 MGM stars Clark Gable and Joan Crawford (who were paired in eight films - the first of which appeared in 1930) were crowned the "King and Queen" of Hollywood (Tinseltown) in 1937 at the El Capitan Theater, after a popularity poll. (Leading lady Myrna Loy was also crowned with Gable). After a few small roles in silents, Clark Gable, the future King of Hollywood, was first noticed by the public in Susan Lenox: Her Fall and Rise (1931) with co-star Greta Garbo, then in a hot romantic pairing opposite Joan Crawford in Possessed (1931), and next co-starring with Jean Harlow and Mary Astor in the sensationally steamy drama Red Dust (1932). Famed gangster John Dillinger was gunned down outside Chicago's Biograph Theater on July 22, 1934 after viewing Gable in the crime drama Manhattan Melodrama (1934). The Hollywood community (and world) were stunned when in June of 1937, sexy actress Jean Harlow passed away from a serious bladder infection, in the midst of filming Saratoga (1937) for MGM with Gable.
Tragically, Gable appeared in only one film - No Man of Her Own (1932) - with his own wife Carole Lombard (she died in an airplane crash in early 1942). Among the films that increased Clark Gable's popular pre-eminence in films was director Frank Capra's hit It Happened One Night (1934) (in which his removal of a shirt revealed his bare chest and the absence of an undershirt - setting the US underwear industry into a tailspin). In a strange twist of fate, Gable had been loaned out to Columbia to make It Happened One Night (1934) and ended up winning his first (and only) Best Actor award with the rival studio.
Other films that propelled Gable further into stardom, upon his return to MGM, were Mutiny on the Bounty (1935), The Call of the Wild (1935), one of MGM's most successful films and one of the earliest 'disaster' films - San Francisco (1936) (known for its spectacular 20-minute earthquake sequence), Test Pilot (1938), and of course, Gone with the Wind (1939) with Gable's most famous leading role as roguish Rhett Butler in Margaret Mitchell's best-selling story.
The Effects of the Depression on the Film Industry: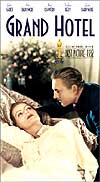 The Great Depression hit hard. Nearly all of the Hollywood studios (except MGM) suffered financially during the early 30s, and studios had to reorganize, request government assistance, cut budgets and employees, and close theatres when profits plummeted. Attendance at theatres was drastically affected, although during even the darkest days of the Depression, movie attendance was still between 60-75 million per week. Special incentives and giveaways (such as 2-for-1 features, dish nights, and other contests and attractions) helped to maintain a patronizing audience. The balancing act for film-making was to both reflect the realism and cynicism of the Depression period, while also providing escapist entertainment to boost the morale of the public by optimistically reaffirming values such as thrift and perseverance (without offending the censors).
During most of the Depression Era, Hollywood responded with expensive, mass-produced entertainment or escapist entertainment. The best example of an all-star production heavily bankrolled by the studios was MGM's Best Picture-winning Grand Hotel (1932), with "Garbo" (speaking her oft-quoted line: "I want to be alone"), John Barrymore, Joan Crawford, Wallace Beery, and Lionel Barrymore. The film set a pattern for future films, telling stories about the lives and destinies of several individuals - including a vivacious office stenographer, a brusk unethical businessman, a ballerina dancer, a gentleman jewel-thief, and a lowly terminally-ill bookkeeper - that were woven together into a whole.
The Decline - and Resurgence of Musicals: The Emergence of Busby Berkeley
By 1932, Hollywood studios had glutted the public's tired appetite and their overexposed song-and-dance epics (often sacrificing plot and character development) went into a commercial decline, coinciding with the height of the Great Depression. Audiences bypassed many of the musical films that were being cranked out, and preferred to watch other genre creations, such as the early gangster films: Public Enemy (1931) and Little Caesar (1930), the comedy film Min and Bill (1930), or the Best Picture-winning western film Cimarron (1931). The novelty of sound had worn off and the popularity of musicals suffered.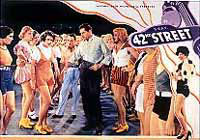 Fortunately, musicals produced at Warner Bros. reached their full flowering by capturing the unique, innovative surrealistic choreography of Busby Berkeley, who arranged dancers and chorus girls in geometric, kaleidoscopic displays. Two of master choreographer Busby Berkeley's earliest films (and the most popular of star Eddie Cantor's six films for Samuel Goldwyn) were Whoopee (1930) and UA's The Kid From Spain (1932). Berkeley's last choreographic work before leaving for Warner Bros. was Roman Scandals (1933) - notorious for totally-nude, long-haired slave girls (portrayed by the Goldwyn Girls).
The first of Berkeley's choreographed-directed musicals for Warner Bros. was Lloyd Bacon's backstage show 42nd Street (1933). The successful musical inspired the Gold Diggers series of films with more of Berkeley's trademark choreographing: Mervyn LeRoy's Gold Diggers of 1933 (1933) (that included "We're in the Money" with coin-clad chorus girls, "The Shadow Waltz" with swirling chorines playing neon violins, and the moving, anti-Depression number "Remember My Forgotten Man"), Gold Diggers of 1935 (1935) (famous for Berkeley's "Lullaby of Broadway"), and In Caliente (1935).
The first of three film versions of A Star is Born (1937) was the non-musical one in the late 30s - it starred Janet Gaynor and Fredric March in the poignant, weeper/melodrama. [The best of all three versions was the musical re-make A Star is Born (1954) starring Judy Garland and James Mason.]
The romantic pairing of Jeanette MacDonald and Nelson Eddy in the first of their eight films together began in 1935 with their performances in Naughty Marietta (1935).

Film History of the 1930s
Part 1, Part 2, Part 3, Part 4, Part 5, Part 6
---



---