---
SPORTS FILMS


Part 1

Sports Films


Part 1 | Examples-1 | Examples-2 | Examples-3 | Examples-4

Sports Films are those that have a sports setting (football or baseball stadium, arena, or the Olympics, etc.), competitive event (the 'big game,' 'fight,' or 'competition'), and/or athlete (boxer, racer, surfer, etc.) that are central and predominant in the story. Dramatic sports films or biographies have created memorable portraits of all-American sports heroes, individual athletes, or teams who are faced with tough odds in a championship match, race or large-scale sporting event, soul-searching or physical/psychological injuries, or romantic sub-plot distractions. Fictional sports films normally present a single sport (the most common being baseball, football, basketball, and boxing), and include the training and rise (and/or fall) of the underdog or champion in the world of sports.

Sports films may be fictional or non-fictional; and they are a hybrid sub-genre category, although they are often one of the following:

Most Popular Sports Theme:

The most popular sports themes in Hollywood films of the 20th-21st centuries appear to be auto-racing, American football, baseball, boxing, and basketball in a plentiful selection of films. Track and field, horse racing, golf, ice hockey, soccer and wrestling have also proven to be popular sports themes. See also AFI's 10 Top 10 - The Top 10 Sports Films

Sports should play a predominant role in a 'true' sports film, although there have been some that stretch the definition of a sport film, such as films about:
bob-sledding (i.e., Cool Runnings (1993))
bowling (i.e., Kingpin (1996))
cheerleading (i.e., Bring It On (2000))
chess (i.e., Searching for Bobby Fischer (1993))
curling (i.e., Men With Brooms (2002))
dog shows (i.e., Christopher Guest's mockumentary Best in Show (2000))
figure skating (i.e., The Cutting Edge (1992))
gladiatorial combat (i.e., Gladiator (2000))
motocross (i.e., Spetters (1980))
poker (i.e., The Cincinnati Kid (1965))
pool (i.e., The Hustler (1961))
roller derby (i.e., The Fireball (1950), Kansas City Bomber (1972))
rowing (i.e., Oxford Blues (1984))
rugby (i.e., This Sporting Life (1963))
running (i.e., The Loneliness of the Long Distance Runner (1962))
skateboarding (i.e., Grind (2003))
skiing (i.e., Downhill Racer (1969))
spelling (i.e., Spellbound (2002))
sports marketing and 'chick-flick' (i.e., Jerry Maguire (1996))
table-tennis (i.e., The Tao of Pong (2004))
Top Grossing Sports Films (Since the late 1970s to early 1980s):
The domestic grosses of almost every type of sports film (made since the late 1970s to the early 1980s to the present) were compared, and led to this compilation (figures should be considered approximate):
| | | | | |
| --- | --- | --- | --- | --- |
| Rank | Name of Sport | Total Gross (Approx.) of All Movies (in Wide Release) in Sport | Title (and Year) of Top Grossing Film in the Sport | Top Film's Domestic Gross Revenue |
| 1 | Auto/Car Racing | $1.8 billion | Cars (2006) | $244 million |
| 2 | Football | $1.4 billion | The Blind Side (2009) | $256 million |
| 3 | Baseball | $1.2 billion | A League of Their Own (1992) | $107.5 million |
| 4 | Boxing | $972 million | Rocky IV (1985) | $127.9 million |
| 5 | Basketball | $672 million | Space Jam (1996) | $90.4 million |
| 6 | Ice Hockey | $345 million | Miracle (2004) | $64.4 million |
| 7 | Olympics | $340.8 million | Blades of Glory (2007) | $119 million |
| 8 | Horse Racing | $324 million | Seabiscuit (2003) | $120.3 million |
| 9 | Surfing | $209 million | Surf's Up (2007) | $58.9 million |
| 10 | Soccer | $172 million | Kicking & Screaming (2005) | $52.8 million |
| 11 | Figure Skating | $168 million | Blades of Glory (2007) | $119 million |
| 12 | Golf | $159 million | Tin Cup (1996) | $53.8 million |
| 13 | Track and Field | $144 million | Chariots of Fire (1981) | $59 million |
| 14 | Cheer-leading | $126 million | Bring It On (2000) | $68 million |
| 15 | Dodgeball | $114 million | Dodgeball: A True Underdog Story (2004) | $114 million |
| 16 | Bob-Sledding | $69 million | Cool Runnings (1993) | $69 million |
| 17 | Wrestling | $66 million | The Wrestler (2008) | $26 million |
| 18 | Billiards | $53 million | The Color of Money (1986) | $52 million |
| 19 | Swimming | $46 million | Swimfan (2002) | $29 million |
| 20 | Rugby | $40 million | Invictus (2009) | $37 million |
| 21 | Bowling | $25 million | Kingpin (1996) | $25 million |
| 22 | Cycling | $19 million | Quicksilver (1986) | $8 million |
| 23 | Tennis | $17 million | Wimbledon (2004) | $17 million |
| 24 | Roller Derby | $13 million | Whip It (2009) | $13 million |
| 25 | Skiing | $11 million | Aspen Extreme (1993) | $8 million |
| 26 | Wheelchair Rugby | $1.5 million | Murderball (2005) | $1.5 million |
| 27 | Cricket | $909K | Lagaan (2001) | $909K |
Popular Real-Life Sports Characters:
A number of sports films have documented or portrayed real-life characters, such as the following:
boxer James J. Corbett (Errol Flynn) in Gentleman Jim (1942)
New York Yankees baseball player Lou Gehrig (Gary Cooper) in The Pride of the Yankees (1942)
baseball player Jackie Robinson as Himself in The Jackie Robinson Story (1950) - he was still an active ballplayer at the time (his career didn't end until 1955)
middleweight champion Rocky Graziano (Paul Newman) in Somebody Up There Likes Me (1956)
boxer Jack Johnson (James Earl Jones) in The Great White Hope (1970)
boxer Jake LaMotta (Robert DeNiro) in Raging Bull (1980)
slugger Babe Ruth (John Goodman) in The Babe (1992)
boxer Muhammad Ali (Will Smith) in Ali (2001)
Depression-Era heavyweight boxer James J. Braddock (Russell Crowe) in director Ron Howard's The Cinderella Man (2005)
South Africa's improbable Rugby World Cup victory in 1995, in Invictus (2009), led by rugby captain Francois Pienaar (Matt Damon), with Morgan Freeman portraying inspiring political leader Nelson Mandela
Popular Football Films: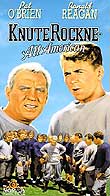 Typical sports football films (with biographical elements) include the sentimental biography of the Notre Dame football coach, Lloyd Bacon's Knute Rockne: All-American (1940). One of the best films ever made about pro-football was Ted Kotcheff's North Dallas Forty (1979) which examined the brutal fact of labor abuses and drug use in professional football - loosely basing its story on the championship Dallas Cowboys team. The tearjerking made-for-TV sports film Brian's Song (1970) used professional football as the backdrop for its sad tale of the death of real-life Chicago Bears running back (James Caan as Brian Piccolo). Burt Reynolds starred in The Longest Yard (1974) as scandalized ex-professional football quarterback Paul Crewe in prison who must organize a team of convicts to challenge a prison-guard team (and then face the additional challenge of throwing the game). Recently, Cameron Crowe's sports romance-drama Jerry Maguire (1996), famous for the phrase "Show me the money!" starred Tom Cruise as a hard-driven major sports agent, and Academy Award-winning Cuba Gooding, Jr. as a football player.
In the Oscar-nominated The Blind Side (2009), a semi-autobiographical sports drama, the plot told about Michael Oher - who was able to overcome poverty and adoption (in the family of Leigh Anne Tuohy (Oscar-winning Sandra Bullock)), to eventually become an NFL football player - an offensive lineman for the Baltimore Ravens.
Baseball Sports Films: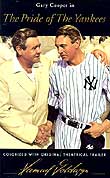 One of the best sports biopics was Sam Wood's The Pride of the Yankees (1942) with Gary Cooper in a fine performance as New York Yankees great Lou Gehrig. In The Jackie Robinson Story (1950), the famed black player who crossed the major-league 'color-line' and joined the Brooklyn Dodgers portrayed himself. Director Barry Levinson's mythical and romanticized film about baseball titled The Natural (1984) featured Robert Redford as Roy Hobbs - a gifted baseball player who made a fairytale comeback and led his New York team to the World Series. Ron Shelton, who was an actual ex-minor leaguer, wrote and directed the intelligent comedy/drama Bull Durham (1988) which used as its backdrop minor league baseball to tell the story of a baseball groupie (Susan Sarandon), a veteran catcher (Kevin Costner) and a dim-witted pitcher named Nuke LaLoosh (Tim Robbins).
The immensely popular fantasy/drama Field of Dreams (1989) concerned the creation of a ball diamond in the middle of an Iowa cornfield by a farmer (Kevin Costner). Writer/director John Sayles' Eight Men Out (1988) dramatized the infamous episode in professional baseball of the scandalous 1919 World Series that was fixed - with its final sepia-toned shots of banned ball-player "Shoeless" Joe Jackson (D.B. Sweeney) in the minors. And Tommy Lee Jones starred as the legendary baseball great Ty Cobb in Shelton's Cobb (1994). The popular Penny Marshall-directed A League of Their Own (1992) portrayed a 1940s female baseball team named the Rockford Peaches in the All American Girls Professional Baseball League (including players Madonna, Geena Davis, and Rosie O'Donnell), coached by Tom Hanks! More recently, Moneyball (2011) starred Brad Pitt as Billy Beane, general manager in the early 2000s of the Oakland Athletics, who radically believed in relying on statistics alone to pick players for the team.
Basketball Sports Films:
Basketball-related sports dramas are not as numerous: three notable ones were Spike Lee's He Got Game (1998) with Denzel Washington as the convict father of a promising basketball athlete, David Anspaugh's Hoosiers (1986) about an underdog 50s basketball team (coached by Gene Hackman) that won the state championship, and Ron Shelton's play-filled, trash-talking court action film White Men Can't Jump (1992) with its two basketball hustlers/con-artists (Woody Harrelson and Wesley Snipes) and their scenes of two-on-two tournaments. The family-friendly comedy sports-related film Space Jam (1996), the first full-length picture for Warner Bros.' Looney Tunes characters, starred real-life basketball superstar Michael Jordan AND Bugs Bunny in a blend of live-action and animation.
Boxing Sports Films: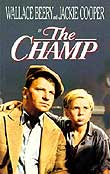 Films about boxing are perhaps the most numerous sub-genre, and one of the most lucrative. One of the best boxing films ever made, along with Robert Wise's classic film noirish The Set-Up (1949) starring Robert Ryan as aging boxer Stoker Thompson, was the realistically stark Body and Soul (1947). It starred John Garfield as boxer Charlie Davis who 'sold his soul' to unethical promoters but then had a change of heart in the last three rounds of a championship fight during which he was supposed to take a dive. Others included King Vidor's classic The Champ (1931), an award-winning story of a prizefighter and his young son, Champion (1949) with Kirk Douglas as the young fighter, the brutal boxing drama The Harder They Fall (1956) (Humphrey Bogart's underrated last film in which he portrayed Eddie Willis - an aging, crooked sportswriter), Ralph Nelson's Requiem for a Heavyweight (1962) with Anthony Quinn as punch-drunk, washed-up professional boxer Louis 'Mountain' Rivera, Martin Ritt's The Great White Hope (1970) with James Earl Jones as black boxer Jack Jefferson, and Karyn Kusama's independent feminist film Girlfight (2000) with a great performance by Michelle Rodriguez as a struggling Brooklynite and teenage Latino boxer. David O. Russell's Oscar-winning dramatic boxing film The Fighter (2010) told about two half-brothers who were boxers: welterweight "Irish" Micky Ward (Mark Wahlberg) and Dicky Eklund (Christian Bale) - a boxer-turned-trainer who was plagued by drugs and addiction, but triumphed to lead Mickey to the world championship.
One of the best films of the 80s decade,

Raging Bull (1980) was Martin Scorsese's tough, visceral and uncompromising biopic film of the rise and fall of prizefighter Jake La Motta with a remarkable performance by actor Robert DeNiro. The stylized scenes in the ring included flying blood and sweat, exaggerated flashbulb camera flashes, slow-motion and violent punching sounds. The all-American fictional, underdog Philadelphia boxing hero Rocky Balboa in the populist, feel-good, Oscar-winning drama Rocky (1976) series emerged as the peak boxing-film series, with a reprised film in the next decade, Rocky Balboa (2006):
Other Sports Films: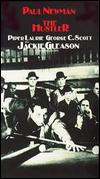 Kevin Costner portrayed a talented pro golfer in Ron Shelton's romantic sports film Tin Cup (1996). Although a comedy, Caddyshack (1980) was about an elitist country club for golf, a mischievous green-destroying gopher, and a crazed groundskeeper (Bill Murray).
And Paul Newman portrayed swaggering, upstart poolshark gambler Fast Eddie Felson in The Hustler (1961) in the world of professional pool, shooting against the great champ Minnesota Fats (Jackie Gleason). Newman reprised his role in Martin Scorsese's The Color of Money (1986).
Autoracing in the Daytona 500 was featured in the action/drama Days of Thunder (1990). Ron Howard's Rush (2013) told of the intense 1970s rivalry between two Formula One competitive speed-racers: handsome playboy James Hunt (Chris Hemsworth) and Austrian opponent Niki Lauda (Daniel Bruhl). The most successful car-racing film was Pixar's/Disney's animated Cars (2006).
And one of the most memorable ice hockey films was Slap Shot (1977), with Paul Newman as inspiring player-coach Reg Dunlop of a minor-league team. One of the most successful ice-hockey films was Miracle (2004), the true story of the 1980s US Olympic hockey team, coached by Herb Brooks (Kurt Russell), who led the team to improbable victory over the Russians. The Best Picture winner Chariots of Fire (1981) told the parallel stories of two English runners (one a devout Protestant, the other Jewish) competing in the 1924 Paris Olympics. Downhill Racer (1969) starred Robert Redford as an American downhill skier training to become an Olympic superstar.
Some of the "Worst" Sports Films:
Other than some of the most classic and best sports films, there are also those that are sometimes considered the 'worst' sports-related films of all time, such as:
The Bad News Bears Go to Japan (1978), a remake (the third film in the series) of the 1975 film with Walter Matthau, starring Tony Curtis as the coach (baseball)
The Main Event (1979), a romantic comedy with Barbra Streisand and Ryan O'Neal (boxing)
The Slugger's Wife (1985), a romantic drama with Michael O'Keefe and Rebecca DeMornay (pro-baseball)
Amazing Grace and Chuck (1987) (Little League baseball, the NBA, other sports stars, and anti-nuclear war)
Caddyshack II (1988), a sequel to the 1980 hit (golf)
Rocky V (1990), the fifth film in the never-ending series (boxing)
The Babe (1992), with John Goodman (baseball)
The Fan (1996), with Robert De Niro as a fanatical fan (baseball)
Any Given Sunday (1999), with Al Pacino (pro-football)
Rollerball (2001), a remake of the 1975 classic (futuristic sports)
Awards for Sports Movies:
The first sports movie to win the Best Picture Academy Award was Rocky (1976), often on the ten-best sports film lists. Others include Chariots of Fire (1981) and Million Dollar Baby (2004). Robert DeNiro won a Best Actor Oscar for his portrayal of real-life boxer Jake LaMotta in Martin Scorsese's

Raging Bull (1980), while Hilary Swank won a Best Actress Oscar for portraying a working-class waitress who aspired to be a professional women's boxer in Million Dollar Baby (2004). Kirk Douglas earned his first Oscar nomination playing middleweight Midge Kelly in Champion (1949). And Sandra Bullock won Best Actress for her role in the semi-autobiographical sports-drama film The Blind Side (2009).
---



---