---
Super-Heroes
on Film
Major Comic-Book (or Comic-Strip) Super-Heroes
Appearing in Fantasy-Action Films
Fictional super-heroes with extraordinary powers, derived from 1930s-1960s comic books and other sources, have been the subjects of numerous fantasy and sci-fi films (both live-action and animated, and serialized and feature-length) with action-oriented heroes and heroines, almost too many to mention fully. Flash Gordon, Superman, Batman, Spider-Man, the Hulk, X-Men, and Iron Man have been some of the major examples. As of March 2012, Stan Lee's comics had been adapted into Hollywood movies 15 times - a record for the most movies from the work of a comic book creator.
These superheroes are repeatedly chosen to be the subjects of big-budget blockbuster films, with glossy production values, expensive CGI special effects and sets, make-up and costuming. Usually, a simplistic plot line involves the superhero's struggle against an arch-nemesis or super-villain (usually interested in world domination, the acquisition of riches, or the wreaking of vengeance). They usually end with pyrotechnic showdowns.
The difficulty with listing films related to comic-book heroes is that there are so many varieties: live-action, animated and other original or adapted combinations:
Flash Gordon - based on the science-fiction adventure comic strip by Alex Raymond, first published as a King Features syndicated Sunday comic strip on January 7, 1934.

The first iterations of the character were the adventurous, sci-fiction/fantasy Flash Gordon serials of the late 1930s (with Buster Crabbe as Flash and Jean Rogers as blonde Dale Arden). The action-oriented episodes were filled with fantastic spaceships, futuristic scenes and cities, monsters, and other imaginative creations:
Flash Gordon (1936), 13 installment serial from Universal, the first Flash Gordon screen adventure, and the first pure science-fiction serial; the original and the best of its type; later condensed into a 97-minute feature film titled Flash Gordon: Rocketship; later retitled for TV viewing in the 1950s as Space Soldiers
Flash Gordon's Trip to Mars (1938), 15 episode serial from Universal, the sequel to the 1936 serial, with Jean Rogers as a brunette; later retitled for TV viewing in the 1950s as Space Soldiers' Trip to Mars
Flash Gordon Conquers the Universe (1940), 12 part serial from Universal, the third of three serials in the late 1930s; with Carol Hughes as Dale Arden; later retitled for TV viewing in the 1950s as Space Soldiers Conquer the Universe
Director Mike Hodges' campy and cartoonish Flash Gordon (1980, UK/US) starred Sam Jones as the heroic space warrior (with Melody Anderson as his attractive female companion Dale Arden), fighting Emperor Ming the Merciless (Max von Sydow) on the planet Mongo and his plans for world domination - with cliff-hanger action; accompanied by a rock musical score from the band Queen; now a major cult film.
Superman (The Man of Steel) - based upon the DC Action Comics' Superman character created by artist Joe Shuster and writer Jerry Siegel, debuting in Action Comics # 1 (in June of 1938). Superman was the world's first comic-book superhero to appear on the big screen.
See Greatest Film Series Franchises - Superman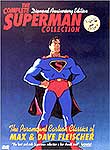 Superman's first film appearance was in an animated series of seventeen Superman cartoons, beginning with Fleischer Studios' creations from 1941-1942, in an agreement with DC Comics. Dave and Max Fleischer were responsible for the first nine Superman cartoons (the pilot and eight subsequent shorts) through Terror on the Midway (1942), with the remaining eight shorts produced by Paramount's Famous Studios during 1942-43, beginning with Japoteurs (1942).
The first Superman short, Superman (1941) (aka The Mad Scientist), which premiered in late September of 1941, introduced the terms "faster than a speeding bullet" and "Look, up in the sky!" The most famous of the series was the second entry, The Mechanical Monsters (1941) with the super-hero battling giant flying robots - and marking a redesigned Lois Lane and the first time Superman would change into his costume in a phonebooth (and his sole use of X-ray vision in the series). Also notable was the 8-minute short The Bulleteers (1942).
The animated shorts in the early 1940s were followed by two 15 chapter action serials in the late 40s, both starring Kirk Alyn as the Kryptonite hero:
Superman (1948) from Columbia Pictures (directed by Thomas Carr and Spencer Gordon Bennet)
Atom Man vs. Superman (1950), the sequel from Columbia Pictures (again directed by Bennet). It was about Superman/Clark Kent fighting against bald Lex Luthor/Atom Man (Lyle Talbot), who threatened Metropolis with a sonic vibrator and crippled the "Man of Steel" with kryptonite.
The first Superman theatrical feature film was the hour-long Superman and the Mole Men (1951) - an attempt by the comics publisher to encourage interest in having the Superman character appear on TV. It starred George Reeves as Superman (rather than Kirk Alyn, who reportedly wanted too much money), and Phyllis Coates as Lois Lane. The Adventures of Superman, the popular TV series from 1952-1958 (with 104 episodes) also starred George Reeves and Coates, and was a carry-over from the 1951 movie. Over a year after its release, the 1951 film was split up and aired as a "two-parter" to close the first season (1952) of the early 50s TV show.
There were four Superman films (Warner Bros.) about 20 years later, with Christopher Reeve in the lead role from 1978-1987:
Director Bryan Singer's Superman Returns (2006), the fifth film in the series since 1978, starred newcomer Brandon Routh as the Man of Steel, and Kevin Spacey as Lex Luthor, Kate Bosworth as Lois Lane, Frank Langella as Perry White and Eva Marie Saint as Martha Kent. The underperforming film failed to really re-energize the franchise.
The film was an unusual sequel in that it took place after the events of Superman II (1980), and pretended the events of the dismal next two sequels never took place. It stressed its place in the series by the following: it made numerous references to the first two films. It used the exact same opening credits style (zooming CGI titles of the same font type). The film also utilized John Williams' famous fanfare and score. It featured the same ending (Superman flying above the Earth at dawn and smiling at the camera before flying offscreen), and it even used Marlon Brando to play Jor-El posthumously, splicing clips from the first film into the film using CGI. In the plot, Superman - after returning to Earth after five years in space - found that Lois Lane was a single mother and Lex Luthor was still causing trouble. It was the world's first live-action Hollywood feature with selected sequences (about 20 minutes) converted from 2D to IMAX 3D.
The next feature film - Man of Steel (2013), was a reboot of the series on the 75th anniversary of the character. It was directed by Zach Snyder and starred Henry Cavill as The Man of Steel, Russell Crowe as Superman's father Jor-El, Michael Shannon as General Zod on Krypton, the Kent parents (Kevin Costner and Diane Lane), and Amy Adams as Pulitzer Prize-winning reporter Lois Lane.
In addition:
the disastrous flop Supergirl (1984), with Helen Slater as the super-heroine cousin of Superman, a spin-off of the 1978 film.
Batman (the Dark Knight or the Caped Crusader) - based on DC Comics' Batman character created by Bob Kane and writer Bill Finger. Batman first appeared in Detective Comics # 27 (in May of 1939). Batman had his own comic book, beginning with Batman # 1 (in the spring of 1940).
See Greatest Film Series Franchises - Batman
Batman was the first DC Comics character to have his own serial. The earliest Batman on film was in a 15-episode serial from Columbia Pictures, titled Batman (1943). It starred Lewis Wilson as smug playboy Bruce Wayne (alias superhero Batman), "America's No. 1 crime fighter," and Douglas Croft as his "young two-fisted assistant" Robin/Richard "Dick" Grayson - the crime fighting duo against Japanese agent Dr. Tito Daka/Prince Daka (J. Carrol Naish) of Emperor Hirohito.
A second version of the Batman/Robin superhero saga, a 15-part weekly serial from Columbia Pictures, titled Batman and Robin (1949), starred Robert Lowery as Batman/Bruce Wayne ("a wealthy playboy"), who lived in the Wayne residence (with the Batcave below) located in the suburbs of Gotham City, and John Duncan as his sidekick Robin/Dick Grayson - the duo were "famed crusaders for law and order." The villain in this second series was the hooded Wizard (Leonard Penn).
The comics character of Batman has starred in eight full-length live-action movies from 1966 to 2012. It was a record for the most movie adaptations of a comic character.
The first Batman theatrical feature film was 20th Century Fox's campy Batman (1966) (aka Batman: The Movie). It was based on the mid-1960s Batman TV series, and starred members of the TV cast, including Adam West as Gotham City's caped crusader Bruce Wayne and Burt Ward as the Boy Wonder Robin. It was noted as being a parody, with camp features and tongue-in-cheek dialogue.
There were seven Batman films (Warner Bros.) with four different actors in the title role, from 1989-2012:
In addition:
the adult-oriented, animated Batman: Mask of the Phantasm (1993), based upon the popular 1990s animated TV series, with voices provided by Kevin Conroy (Batman/Bruce Wayne), Dana Delany (Andrea Beaumont), and the Joker (Mark Hamill)
the critically-assailed film Catwoman (2004), with little relation to the previous DC Comic character portrayed by Michelle Pfeiffer in Batman Returns (1992), with Halle Berry as the whip-cracking, evil-fighting feline character adept in the Brazilian martial art of capoeira
Spider-Man - based upon Marvel Comics' Spider-Man (Spidey) created by artist/writer Stan Lee and Steve Ditko, and first appearing in the comic book Amazing Fantasy # 15 (in August of 1962), and debuting in its own comic book The Amazing Spider-Man # 1 (in March of 1963).
See Greatest Film Series Franchises - Spider-Man
There were three Spider-Man films with Toby Maguire in the lead role as bookworm teen Peter Parker who turned into the muscle-bound web-slinging superhero. These first three films from 2002-2007 were directed by Sam Raimi:
director Sam Raimi's record-breaking blockbuster Spider-Man (2002) was derived from the original source material (and from 52 episodes in the 1967-1970 Saturday morning cartoon series on ABC). It told of the adventures of college student Peter Parker (Tobey Maguire), alias super-human Spider-Man after being bitten by a radioactive arachnid, fighting his nemesis the Green Goblin (Willem Dafoe). It was the highest-grossing superhero film of all time until surpassed by The Dark Knight (2008) six years later, knocking it into second place
Raimi's sequel Spider-Man 2 (2004) - it was set two years into the future featuring a new villain: Dr. Otto Octavius/Doctor Octopus (Alfred Molina) with four mechanical tentacles. It became the third highest grossing superhero film
Spider-Man 3 (2007), the third film in the series since 2002, was again from director Sam Raimi, with Thomas Haden Church as the villainous morphing Flint Marko (aka Sandman), and Topher Grace as Venom. Although not as popular with the critics, it became the fourth highest-grossing superhero film

The rebooted The Amazing Spider-Man (2012) was made with a new director (Marc Webb) and new cast members, including a new main actor (Andrew Garfield as Peter Parker/Spider-Man); also with Emma Stone as classmate/love interest Gwen Stacy and Rhys Ifans as Dr. Curt Connors/The Lizard - a villainous humanoid reptile.
Marc Webb's sequel film, The Amazing Spider-Man 2 (2014) was due next, with Emma Stone reprising her role as Gwen Stacy - in addition to Andrew Garfield as Peter Parker/Spider-Man, Jamie Foxx as the villain Max Dillon/Electro, and Dane DeHaan as wealthy scion Harry Osborn (Peter Parker's boyhood friend) - the Green Goblin.
X-Men - a Marvel Comics series created by artist Jack Kirby and Stan Lee was about six peace-keeping mutant characters (Marvel Girl, Angel, Professor Xavier, Beast, Cyclops, and Iceman). The superhero X-Men team first appeared in the comic book The X-Men # 1 (in September of 1963). Wolverine first appeared in a cameo in the last panel of the comic book The Incredible Hulk # 180 (in October of 1974). His first full appearance was in the next issue The Incredible Hulk # 181 (in November of 1974). Wolverine was created by writer Len Wein and Marvel art director John Romita, and was later enhanced by writer Chris Claremont and co-writer/artist John Byrne.
See Greatest Film Series Franchises - X-Men
There were originally three X-Men films (from 2000 to 2006) from 20th Century Fox:
director Bryan Singer's surprise hit, X-Men (2000) that starred Hugh Jackman as Wolverine/Logan, Halle Berry as Storm, and other colorful characters, in Charles Xavier's (Patrick Stewart) school of mutant X-Men: Rogue, Magneto, Sabretooth, Toad, Cyclops, and Mystique
director Bryan Singer's X2: X-Men United (2003) - an inevitable (and superior) sequel, with the X-Men battling against the mysterious anti-mutant militant Col. William Stryker
director Brett Ratner's X-Men: The Last Stand (2006) (originally titled X3), the third film in the series, about the uncovering of the Dark Phoenix force (a Marvel comics entity portrayed by Famke Janssen as Jean Grey, a class 5 mutant)
Director Matthew Vaughn's mutant origin story X-Men: First Class (2011), a prequel to the first three films, was set in 1962, the year of the Cuban Missile Crisis. It showcased the early friendship of Professor Charles Xavier or "X" (James McAvoy) and his future rival-nemesis Magneto (Michael Fassbender) of the Brotherhood of Mutants, and how Professor X became a peaceful revolutionary leading the mutants. 20th Century Fox envisioned this film as the first film in a new trilogy. It was the second-lowest-grossing X-Men movie to date.
The next film in the series was: X-Men: Days of Future Past (2014) - again directed by Bryan Singer, with a $200+ million budget, making it the priciest and most complicated X-Men film to date. The story involved time-travel in two time periods - the X-Men had to alter the past to save the future. A distant-future Wolverine was sent back to the 1970s to prevent war. The superhero film combined the casts of both the original X-Men Trilogy and the prequel X-Men: First Class (2011).
Other spin-off variations also appeared, involving one of the X-Men characters, Wolverine/aka James Howlett or Logan (Hugh Jackman), with accelerated healing, enhanced senses, bone claws, and an adamantium skeleton:
director Gavin Hood's X-Men Origins: Wolverine (2009), a derivative origin-story prequel with both Wolverine and Sabretooth
director James Mangold's The Wolverine (2013) - a second spin-off film of Marvel's solo character about the immortal, self-healing, clawed mutant Wolverine. This film was set long after all the existing entries in the X-Men series-franchise. The immortal, self-healing mutant traveled to modern-day Japan to say farewell to dying friend Yashida, a wealthy tycoon, and found himself protecting sheltered, rich heiress Mariko (Japanese supermodel Tao Okamoto) from deadly opponents while struggling with his own immortality. The Wolverine fought off two mutant enemies, Marvel's Silver Samurai (Will Yun Lee) and Viper (Svetlana Khodchenkova), and a host of samurai warriors, ninjas, and yakuza (Japanese mafia members).
Blade - a third-string Marvel Comics' character created by writer Marv Wolfman and illustrator Gene Colan. Blade originated in the comic book The Tomb of Dracula # 10 (in July of 1973).
director Stephen Norrington's violent and superb hit film Blade (1998) starred Wesley Snipes as the black leather-clad, super-human vampire hunter with kung fu skills. He was opposed by the half-breed, arch-nemesis vampire Deacon Frost (Stephen Dorff). This was partially an origins story.
Mexican director Guillermo del Toro's bloody sequel, Blade II (2002) with expensive special effects. It featured Wesley Snipes reprising his popular role.
director David S. Goyer's Blade III (2004) (aka Blade: Trinity), a second sequel
The Marvel Cinematic Universe
The Marvel Cinematic Universe (MCU) was a major franchise of superhero films (derived from Marvel Comics characters) independently produced by Marvel Studios, beginning with Iron-Man, then the Hulk, Thor, Captain America, and The Avengers.

The order of films in the Marvel Cinematic Universe are numbered below (there were 10 films through the year 2014):
Iron-Man - Marvel Comics' first in-house, self-financed production (by Marvel Studios) was about an armored metal man of iron or cyborg. The superhero was created by Stan Lee, Larry Lieber, Don Heck and Jack Kirby, and first appeared as billionaire industrialist Tony Stark (loosely based on Howard Hughes) in the comic book Tales of Suspense # 39 (in March of 1963).
(1) Director Jon Favreau's and Paramount's Iron Man (2008) starred Robert Downey, Jr. in a comeback role as billionaire playboy, philanthropist, and weapons mogul Tony Stark, suited up as a flying, rocket-firing superhero. It co-starred Gwyneth Paltrow as Stark's secretary Virginia "Pepper" Potts, Terrence Howard as Lt. Colonel James "Rhodey" Rhodes, and Jeff Bridges as bad guy Obadiah Stane.
(3) director Favreau's sequel Iron Man 2 (2010) - the superhero film featured a Russian-Slavic arch-nemesis - the greasy-haired Ivan Vanko/Whiplash (Mickey Rourke); also corporate weapons manufacturer rival Justin Hammer (Sam Rockwell), Don Cheadle as "Rhodey," and Scarlett Johansson as sexy Natalie Rushman/Russian spy Black Widow
(7) Iron Man 3 (2013), directed and co-written by Shane Black, and again starring Robert Downey, Jr. as the genius-billionaire-playboy inventor and his lady-love Pepper Potts (Gwyneth Paltrow), battling a new enemy - an anti-American terrorist known as Mandarin (Ben Kingsley). The character of Mandarin was created by Stan Lee and designed by Don Heck, and first appeared on the paneled page in 1964's "Tales of Suspense" No. 50. Another baddie character aligned with Mandarin was Aldrich Killian (Guy Pearce), an ex-geek scientist. The story line also concerned a drug substance known as Extremis which could cure illness but had serious side effects; this was Marvel's first film since the wildly-successful Marvel's The Avengers (2012)
The Hulk - aka the green Hulk, another Marvel Comics figure created by Jack Kirby and Stan Lee, was a character named Dr. Bruce Banner who was accidentally irradiated by gamma radiation from a test bombing, and transformed into the Incredible Hulk when angry or excited. The Hulk character first appeared in The Incredible Hulk # 1 (in May of 1962).
The Incredible Hulk (1977), the popular TV series (from 1977-1982), introduced the Hulk character, first personified by Bill Bixby (as David Banner) and Lou Ferrigno (as the raging superego). The first season of The Hulk included ten episodes (and two TV movies).
Later, there were the following variations - two stand-alone feature-length films:
director Ang Lee's visually-striking and creative live-action remake The Hulk (2003) with a beastly CGI-creature (originally Dr. Bruce Banner (Eric Bana)); the Universal picture was an origins film
(2) director Louis Letterier's The Incredible Hulk (2008), a reboot (with a new backstory) by Marvel Studios, starred Edward Norton as mild-mannered scientist Bruce Banner, pursued by The Abomination (Tim Roth) - radiation-exposed ex-KGB agent Emil Blonsky
In addition:
director Sam Liu's animated Planet Hulk (2010), set on the distant planet of Sakaar
the appearance of the Hulk character (Mark Ruffalo) in Marvel's The Avengers (2012) - see below
Thor - the character of Thor based upon the thunder god of the same name in Norse mythology. The fictional superhero character, the Mighty Thor, first appeared in Marvel Comics' Journey into Mystery # 83 (in August of 1962). The super-strong Thor was created by Stan Lee, Larry Leiber, and Jack Kirby.
(4) Director Kenneth Branagh's and Paramount's Thor (2011), another Marvel Comics production from Marvel Studios, starred Chris Hemsworth as the mythic title character, an Asgardian god (golden, hammer-wielding Norse god of Thunder) and crown prince, who battled against his villainous adopted brother Loki (Tom Hiddleston) who wished to become king of Asgard. It also starred Natalie Portman as astro-physicist Jane Foster.
(8) the sequel Thor: The Dark World (2013) (aka Thor 2), directed by Alan Taylor (from Game of Thrones), again starred Chris Hemsworth as Thor, who brought his human love interest Jane Foster (Natalie Portman) to the celestial realm of Asgard. His main new foe was Malekith the Accursed (Christopher Eccleston).
Captain America - the character of Captain America was created by Joe Simon and Jack Kirby as a Marvel comic-book character in 1941, debuting in Captain America Comics # 1 (cover-dated March of 1941).
The 15-episode Captain America (1944) by directors John English and Elmer Clifton, the last Republic Pictures serial ever made about superheroes, starred Dick Purcell as the comic-book hero Captain America/aka DA Grant Gardner.
Director Albert Pyun's Captain America (1990) starred Matt Salinger as Steve Rogers/Captain America - a superhuman warrior wearing red/white/blue. This film about the Marvel Comics character was never given a widespread US theatrical release, but went straight to DVD/cable TV in 1992 after some delays.
(5) director Joe Johnston's and Paramount's Captain America: The First Avenger (2011) was also a superhero film derived from Marvel Comics by Marvel Studios. Set in 1942, it featured the WWII patriotic, Stars & Stripes shield-bearing bionically-enhanced US super-soldier Steve Rogers/Captain America (Chris Evans). He battled against Hitler's disfigured weapons specialist Johann Schmidt/Red Skull (Hugo Weaving), who went rogue to pursue his own plans for world domination.
(9) the sequel Captain America: The Winter Soldier (2014) (aka Captain America 2), directed by brothers Anthony and Joe Russo, was similar to a 1970s-styled conspiracy thriller. It again reprised many roles (Chris Evans as Captain America/Steve Rogers, Scarlett Johansson as Natasha Romanoff/the Black Widow, and Samuel L. Jackson as Nick Fury); the "Winter Soldier' referred to covert assassin James "Bucky" Barnes (Sebastian Stan) hiding out in Washington DC - Steve Rogers' ex-best friend and WWII pal, while another character was added to S.H.I.E.L.D - veteran Alexander Pierce (Robert Redford).
The Avengers - the original band of Marvel super hero characters debuted in the comic book The Avengers # 1 (in September of 1963), created by Stan Lee and Jack Kirby. They included the Hulk, Ant-Man, Wasp, Thor, and Iron Man.
(6) Writer/director Joss Whedon's and Disney's superhero ensemble film Marvel's The Avengers (2012), from Marvel Studios, featured a slew of iconic Marvel Comics superheroes - a group led by one-eyed, eye-patch-wearing spymaster Nick Fury (Samuel L. Jackson), the leader of a government high-tech law enforcement agency named S.H.I.E.L.D.. He brought together a team of good-guy Avengers to combat a galactic threat to destroy Earth, led by Thor's villainous, megalomaniac, adoptive and exiled brother Loki (Tom Hiddleston):
narcissistic Iron Man/Tony Stark (Robert Downey, Jr.)
Captain America/Steve Rogers (Chris Evans)
Black Widow/Natasha Romanoff (Scarlett Johansson), a Russian agent from Iron Man 2 turned into a ninja-twirling, S.H.I.E.L.D. commando
hammer-pounding Thor (Chris Hemsworth)
the Incredible Hulk/Bruce Banner (Mark Ruffalo)
crossbow archer Hawkeye/Clint Barton (Jeremy Renner)
(11) Writer/director Joss Whedon's sequel was The Avengers 2 (2015) - with all the major characters reprising their roles, and additional characters including a twin brother-sister team: fast-moving Quicksilver and sorceress Scarlet Witch.
Guardians of the Galaxy - based upon the cult-favorite comic book's superhero team, first appearing in Marvel Super-Heroes # 18 (in January of 1969). It was written by Arnold Drake and penciled by Gene Colan.
(10) Guardians of the Galaxy (2014) - directed by James Gunn; the main character was Peter Quill/Star-Lord (portrayed by Chris Pratt), who was abducted from Earth (the state of Missouri) at the age of 8, and raised by a group of thieves and smugglers known as Ravagers. He became the self-proclaimed half-alien leader of the Guardians (a law-and-order team), including other oddball intergalactic members: a genetically-engineered gunslinging varmint named Rocket Raccoon (Bradley Cooper), a giant fighting tree creature named Groot (Vin Diesel), a knife-wielding gray-green skinned warrior-muscleman named Drax the Destroyer (Dave Bautista), and green-skinned humanoid assassin Gamora (Zoe Saldana) - the last survivor of an extinct alien race.
Many More Super Heroes or Comic-Book Characters
the DC superhero character of The Flash, "the fastest man alive" and also known as "The Scarlet Speedster," first appeared in Flash Comics # 1 (in January of 1940); the second incarnation of the Flash, Barry Allen, from 1956-1985, has generally been considered the first hero of the Silver Age of comic books
the first black superhero named The Black Panther was created by Marvel comic book writers Stan Lee and Jack Kirby in 1966 (first appearing in Fantastic Four # 52 in July of 1966); the noble, fearsome ruler character was from the fictional African nation of Wakanda
Roger Vadim's futuristic Barbarella (1968) starred Jane Fonda as the Queen of the Galaxy comic-strip heroine
director Mario Bava's Danger Diabolik (1968) was based upon the Italian comic Diabolik, created by Angela and Luciana Giussani; with John Phillip Law (as a super-criminal) and Marisa Mell
TV's pilot movie Wonder Woman (1974) with tennis star Cathy Lee Crosby, and TV's The New, Original Wonder Woman (1975-79) with Lynda Carter, in satin tights. The character was derived from the original DC Comics strip, first appearing in All-Star Comics # 8 (December-January of 1941) by William Moulton Marston; David Kelley's unaired 2011 TV pilot starred Adrianne Palicki as Wonder Woman
director Robert Altman's box-office failing musical Popeye (1980) was based on E. C. Segar's comic strip of the same name; with Robin Williams as the squinty-eyed, pipe-smoking sailor title character with muscular arms, and Shelley Duvall as stick-thin Olive Oyl
Disney's poorly-received Condorman (1981), about a comic-book illustrator named Woody Wilkins (Michael Crawford) recruited by a CIA friend to rescue a beautiful Soviet defector Natalia (Barbara Carrera), while assuming the persona of his comic-book character: the flying "Condorman"
director Wes Craven's Swamp Thing (1982) brought to life DC Comics' monstrous bog-humanoid (portrayed by Dick Durock), created by writer Len Wein and artist Berni Wrightson (and first appearing in House of Secrets # 92 in July of 1971); a low-budget theatrical sequel followed, titled The Return of Swamp Thing (1989)
director Katsuhiro Otomo's Akira (1988) was based upon the director's anime comic Akira, first published by Kodansha
Jim Henson's and director Steven Barron's Teenage Mutant Ninja Turtles: The Movie (1990), with sewer-dwelling, crime-fighting Turtle characters named after Renaissance artists: Leonardo, Donatello, Raphael, and Michelangelo

Teenage Mutant Ninja Turtles II: The Secret of the Ooze (1991), directed by Michael Pressman
Teenage Mutant Ninja Turtles III (1993), directed by Stuart Gillard, set in 17th century Japan
Teenage Mutant Ninja Turtles (2007), a CGI-animated film that was a sequel to the live-action film series - it took place after the second film in 1991 and pretended the events of the third film never occurred
Teenage Mutant Ninja Turtles (2014), a modern-day reboot directed by Jonathan Liebesman in another Michael Bay production; with all the Turtles filmed in CGI, and Megan Fox starring as Turtles ally April O'Neil, a TV news reporter.

co-writer/director/star and producer Warren Beatty's stylish Dick Tracy (1990) featured cartoonist Chester Gould's Gotham City detective Dick Tracy (portrayed by yellow-garbed Warren Beatty); distributed by Tribune Media Services, Dick Tracy originally made his debut on October 4, 1931 in the Detroit Mirror newspaper

Dick Tracy was originally a 1930s serial, beginning with Dick Tracy (1937) and Dick Tracy Returns (1938), starring Ralph Byrd

director Sam Raimi's comic-book style action-horror film Darkman (1990) starred Liam Neeson as vengeful burn victim scientist Dr. Peyton Westlake/Darkman, a tormented hero with synthetic skin

Darkman 2: The Return of Durant (1994), directed by Bradford May; Arnold Vosloo replaced Liam Neeson; direct-to-video
Darkman III: Die Darkman Die (1996), also directed by Bradford May; also direct-to-video

director Joe Johnston's and Disney's The Rocketeer (1991) was based upon the comic-book character created by writer/artist Dave Stevens in 1982 (the Rocketeer first appeared in a cameo in Starslayer # 1 (in February 1982), and then more fully in Starslayer # 2 (April, 1982)). It told about a top-secret jetpack (sought by Nazi spies) that propelled a young 1930s stunt flyer (unknown actor Billy Campbell as Cliff Secord) into being a super-hero, opposite Jennifer Connelly as Jenny Blake. The action film was well-received by critics, but bombed at the box-office
writer/director/star Robert Townsend's and MGM's Meteor Man (1993) about a Washington DC school teacher named Jefferson Reed (Townsend) who became a superhero after being struck by a glowing green meteorite with super-powers, who came to the aid of his beleaguered and gang-terrorized neighborhood
producer Roger Corman's low-budget The Fantastic Four (1994) was based upon the Marvel Comics comic book super-team, created by writer/editor Stan Lee and artist/writer Jack Kirby, and first appearing in The Fantastic Four # 1 (cover-dated November of 1961). The film explained the origins of the 'fantastic four' who were given superpowers when exposed to cosmic rays from a passing comet, while in an experimental spacecraft. The four individuals were: Reed Richards/Mister Fantastic (Alex Hyde-White), Sue Storm/The Invisible Woman (Rebecca Staab), Johnny Storm/The Human Torch (Jay Underwood), and Ben Grimm (Michael Bailey Smith), who battled against Doctor Doom (Joseph Culp). The film was never theatrically released nor available on home video.

20th Century Fox's and director Tim Story's Fantastic Four (2005), from Stan Lee's and Jack Kirby's comic characters, was about a group of four super-powered astronauts (due to cosmic radiation exposure to a passing comet) who opposed enemy Doctor Victor Von Doom (Julian McMahon). The four included: Reed Richards (Ioan Gruffudd) - a stretchable and rubbery Mr. Fantastic, Sue Storm (Jessica Alba) - the Invisible Woman, cocky Johnny Storm (Chris Evans) - the Human Torch, and Ben Grimm (Michael Chiklis) - the rock-hard The Thing
Fantastic Four: Rise of the Silver Surfer (2007), a sequel also directed by Tim Story; additionally with Doug Jones as Norin Radd/The Silver Surfer

the comic-book styled fantasy comedy The Mask (1994) starred Jim Carrey as geeky banker Stanley Ipkiss who was transformed into a frenetic and zany Tex Avery-like superhuman by a magical mask

Son of the Mask (2005), released over a decade later, an awful sequel (and flop) with Jamie Kennedy substituting for Carrey

director Russell Mulcahy's and Universal's The Shadow (1994) was based upon the Walter B. Gibson character created in 1931, played by Alec Baldwin (aka Lamont Cranston). It was one of the least successful of the super-hero films, thereby failing to become a franchise
20th Century Fox's commercially-oriented movie Mighty Morphin' Power Rangers: The Movie (1995) was derived from the popular kids TV series about a group of six teenaged Power Rangers with super-hero powers. It was heavily-marketed with Power Ranger toys

Turbo: A Power Rangers Movie (1997), a sequel

the adapted, cultish midnight film Tank Girl (1995), based upon the underground British comic-book punk heroine
director Simon Wincer's The Phantom (1996) was based upon the comic strip The Phantom created by Lee Falk (and the Columbia Pictures' low-budget 15-chapter cliffhanger serials of 1943 starring Tom Tyler). It starred Billy Zane as the crimefighter. The Paramount film was a box-office failure, curtailing plans for further sequels
the fantasy adventure/horror film Spawn (1997) was derived from the Image Comics' leading character. It featured the debut of the dark character created by comic book artist (and executive producer) Todd McFarlane - the vengeful, super-powered anti-hero from Hell named Spawn (Michael Jai White)

followed by the animated sequels Spawn 2 (1998) and Spawn 3: The Ultimate Battle (1999)

writer/director Kenneth Johnson's urban-oriented superhero film Steel (1997), with basketball star Shaquille O'Neal as the title character Steel (aka weapons inventor-designer John Henry Irons); the armor-clad character was a spin-off from a 1993 appearance in Reign of the Supermen! comics (a Superman derivative)
director Kinka Usher's debut film and offbeat comic spoof Mystery Men (1999) was based upon Bob Burden's Flaming Carrot Comics, now published by Image Comics. The Universal film starred Ben Stiller (as Mr. Furious), William H. Macy (as Shoveler), Hank Azaria (as the Blue Raja), Geoffrey Rush (as the villainous Casanova Frankenstein) - and more
the original comedy biopic American Splendor (2003) from directors/screenwriters Shari Springer Berman and Robert Pulcini, starred Paul Giamatti as Harvey Pekar, a real-life comic book writer. The screenplay was based on Pekar's comic book series American Splendor, which he had been writing since 1976 on Dark Horse Comics, and the 1994 book-length comic Our Cancer Year co-authored with soulmate Joyce Barber (Hope Davis)
director Mark Steven Johnson's sci-fi action thriller Daredevil (2003) was based upon the popular Marvel Comics' character (first appearing in Daredevil # 1 (in April of 1964)), created by writer-editor Stan Lee, artist Bill Everett and Jack Kirby. The film starred Ben Affleck as lawyer-by-day Matthew Murdock - a blind (but sense-enhanced) crime-fighting masked super-hero at night. It also included the appearance of Jennifer Garner (TV's Alias star) as female assassin Elektra Natchios - a future spin-off character

director Rob Bowman's martial-arts ninja comic-book action film spinoff flop Elektra (2005) starred Jennifer Garner as the Greek title character assassin Elektra Natchios. The film was derived from the equally disastrous Daredevil (2003) a few years earlier

director Guillermo del Toro's and Columbia Pictures' Hellboy (2004) was based on artist/writer Mike Mignola's Hellboy published by Dark Horse Comics (the character first appeared in San Diego Comic-Con Comics # 2 in August of 1993) and the 4-issue miniseries The Seed of Destruction. It starred Ron Perlman (as the monstrous horned creature from Hades), Selma Blair, and John Hurt

Hellboy 2: The Golden Army (2008), d. Guillermo del Toro, with Perlman reprising his title role

director/screenwriter Brad Bird's ingenious blockbusting and Oscar-winning Best Animated Feature, The Incredibles (2004), was the sixth collaboration between Disney and Pixar. It was about paunchy Bob "Mr. Incredible" Parr (voice of Craig T. Nelson), an ex-do-good Superhero suffering a mid-life crisis and living under-cover in suburbia, with his restless wife Helen (voice of Holly Hunter) - former rubber-limbed masked vigilante Elastigirl, and their superhero children. The family was lured back into super-herodom against the evil Syndrome (voice of Jason Lee)
director Jonathan Hensleigh's The Punisher (2004) was an action-based comic-book superhero film, based on a Marvel Comics anti-hero character created by Gerry Conway (with publisher Stan Lee) that first appeared in The Amazing Spider-Man # 129 (cover-dated Feb. 1974). The Punisher/aka Frank Castle (Thomas Jane) was a frontier-style, ruthless and vengeful vigilante in modern-day urban America.

the first film, The Punisher (1989, Australia), a straight-to-video release by director Mark Goldblatt, starring Dolph Lundgren
a reboot and sequel, Punisher: War Zone (2008), with Ray Stevenson in the lead role

director Robert Rodriguez' Sin City (2005) was adapted from Frank Miller's Eisner Award-winning comic series of graphic, noir-like stories, beginning in the early 90s with Sin City
Nick Fury: Agent of Shield (2006) was a made-for-TV pilot, starring David Hasselhoff as Stan Lee's James Bond-like secret agent
director James McTeigue's V for Vendetta (2006) was based on the comic book series by Alan Moore (illustrated by David Lloyd), and produced/screenwritten by the Wachowski brothers. The story was set in the dystopian future in the UK. The first episodes of V for Vendetta were originally published in black-and-white between 1982 and 1985, in Warrior, a British anthology comic published by Quality Comics, and then reprinted and continued after 1988 by DC Comics
Columbia Pictures' and writer/director Mark Steven Johnson's Ghost Rider (2007) was about a stuntman motorcycler-turned supernatural superhero (anti-hero vigilante) named Johnny Blaze (Nicolas Cage)

the sequel Ghost Rider: Spirit of Vengeance (2012), was set several years after the first film

writer/director Frank Miller's The Spirit (2008), a noirish super-hero film based on Will Eisner's comic-strip The Spirit, starring Gabriel Macht as Denny Colt (aka the masked crimefighter The Spirit) battling his arch-nemesis The Octopus (Samuel L. Jackson); Scarlett Johansson co-starred as femme fatale Silken Floss
director Zack Snyder's Watchmen (2009) was based upon the DC Comics comic-book by Alan Moore and Dave Gibbons. The Warners' film presented a multi-generational history of many super-hero ("costumed adventurer") characters, including Daniel Dreiberg/Nite Owl II (Patrick Wilson), Adrian Veidt/Ozymandias (Matthew Goode), Sally Jupiter/Silk Spectre (Carla Gugino), Laurie Jupiter/Silk Spectre II (Malin Akerman), and Billy Crudup as villainous Dr. Jonathan Osterman/Doctor Manhattan
director Matthew Vaughn's Kick-Ass (2010), a violent dark action drama/comedy about a New York teenager Dave Lizewski (Aaron Johnson), a comic-book fan, who dreamt of being a super-hero known as Kick-Ass; controversial for its obscenities and a particularly violent profanity-spewing character known as Hit-Girl (11 year-old Chloe Moretz)
director Michel Gondry's and Columbia Pictures' The Green Hornet (2011) starred Seth Rogen as the Green Hornet/Britt Reid and Jay Chou as his sidekick Kato. It was based on the 1930s radio serial show (debuting in 1936) and comic book series about the adventures of the masked crime-fighting super hero and billionaire vigilante (Britt Reid, aka Green Hornet) and his martial arts sidekick Kato. The characters were created by Fran Striker and George Trendle, the same team who created The Lone Ranger and his faithful sidekick Tonto.

[Note: Universal's 13-episode serial The Green Hornet (1940) starred Gordon Jones as the crusading hero Britt Reid (the Green Hornet) - a modern-day 'Robin Hood.' The Green Hornet was also a mid-60s TV series with Van Williams as the Green Hornet and Bruce Lee as his martial-arts sidekick, Kato.]

director Martin Campbell's and Warners' Green Lantern (2011), another DC Comics character, starred Ryan Reynolds as Hal Jordan, a USAF top-gun test jet pilot with a supernatural, magical alien green power-ring, and a pulsating, shiny skin-tight green power suit. He was recruited to be in an intergalactic police force, patrolling Earth to keep the universe safe from a tentacled floating glob called Parallax that took over the spirit of Professor Hector Hammond (Peter Sarsgaard), transforming him into a malevolent, vengeful telekinetic villain. Jordan was selected by the magic ring to become the first earthling member of an army of warriors known as the Green Lantern Corps. It also starred Blake Lively as Hal's love interest Carol Ferris

related to Green Lantern: First Flight (2009), an animated DC Comics feature film, with Christopher Meloni as the voice of Hal Jordan; direct-to-video
---



---