In the Heat of the Night (1967)
Background
---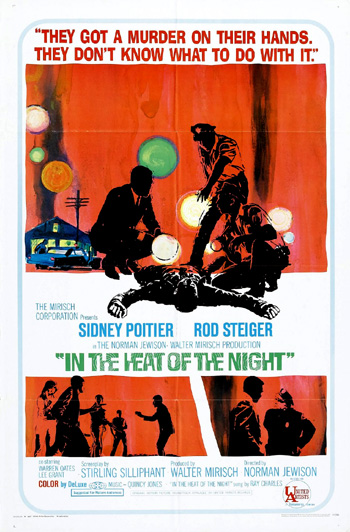 In the Heat of the Night (1967) is a tense whodunit detective story thriller that is set in the little town of Sparta, Mississippi during a hot summer, with an innovative score by Quincy Jones. Norman Jewison masterfully directed this murder melodrama from a screenplay by Stirling Silliphant that was based on the novel by John Ball. The film's posters proclaimed: "They got a murder on their hands. They don't know what to do with it."
The liberal-minded film, realistically-filmed by cinematographer Haskell Wexler, (who had just filmed Who's Afraid of Virginia Woolf? (1966) and would later go on to Coming Home (1978)), was a milestone for the racially-divided mid-60s because it forced the odd-couple collaboration of a bigoted but shrewd Southern sheriff and a lone, intelligent black homicide expert from Philadelphia. The film, with a non-white actor in a lead acting role, was so controversial that it couldn't be filmed in the Deep South, so the sets were recreated in various small towns in two states: Sparta, Freeburg, and Belleville, Illinois, and Dyersburg, Tennessee.
Surprisingly, the film was nominated for seven Academy Awards and received five Oscars, including Best Picture, Best Actor (Rod Steiger), Best Screenplay (Stirling Silliphant), Best Sound, and Best Film Editing. It defeated Best Picture competitors Bonnie and Clyde and director Mike Nichols' The Graduate, and another Poitier vehicle on inter-racial marriage - Guess Who's Coming to Dinner. Although Rod Steiger won the Best Actor Oscar, Sidney Poitier didn't even receive a nomination. [Note: Steiger had stiff Best Actor competition from Warren Beatty in Bonnie and Clyde, Paul Newman in Cool Hand Luke, Dustin Hoffman in The Graduate, and Spencer Tracy in Guess Who's Coming to Dinner.] And nominated Norman Jewison failed to take home the Best Director Oscar for the celebrated film - instead Mike Nichols won the award (presumably because he had failed to win as Best Director the previous year for Who's Afraid of Virginia Woolf? (1966)). The film's other losing nomination was for Best Sound Effects (James A. Richard).
Following the success of this film, Sidney Poitier reprised his Virgil Tibbs character in two other films: he investigated the murder of a prostitute in the sequel They Call Me Mister Tibbs! (1970) and battled against a drug smuggling ring in The Organization (1971). The film was the first Best Picture Oscar winner to be adapted into a regular prime-time TV series in 1988, with Carroll O'Connor as Sheriff Bill Gillespie and Howard Rollins as Virgil Tibbs.
The Story
---
After the murder of a wealthy and powerful Northern industrialist named Philip Colbert (uncredited Jack Teter) in the town one night, a well-dressed black stranger, Virgil Tibbs (Sidney Poitier), waiting for a late night train in the deserted train station, is arrested as a prime suspect solely because of his color. Tibbs is brought before shrewd, overweight, gum-chewing, fast-talking, redneck Sheriff Bill Gillespie (Rod Steiger).
Virgil, as it turns out, is an intelligent, Philadelphia homicide detective with a badge. When Virgil confidently demonstrates his investigative skills in front of the prejudiced Sheriff and his deputies, Gillespie can't help but insult him after being embarrassed and shown up:
Gillespie: Well, you're pretty sure of yourself, ain't you, Virgil. Virgil, that's a funny name for a nigger boy to come from Philadelphia. What do they call you up there?
Virgil: They call me Mister Tibbs.
The Sheriff tricks and challenges the smart black detective to stay and help solve the murder case using his experienced in police work and forensics:
You're so damn smart! You're smarter than any white man. You're just going to stay here and show us all. You got such a big head that you could never live with yourself unless you could put us all to shame...I don't think you could let an opportunity like that pass by.
Gillespie summarizes what life is like when the Philadelphia detective visits his home:
Gillespie: You know, you know Virgil, you are among the chosen few.
Virgil: How's that?
Gillespie: Well I think that you're the first human being that's ever been in here.
Virgil: You can't be too careful, man.
Gillespie:...I got no wife. I got no kids. Boy...I got a town that don't want me...I'll tell you a secret. Nobody comes here, never.
As they work together to solve the murder mystery in an atmosphere of hatred and antagonism, the central focus of the film is on the changing, unfolding relationship between the two clashing, strong-willed men as they move from inherent prejudice to grudging mutual respect and admiration for each other.
Virgil helps to solve the case amidst southern racist tensions with Gillespie. Suspects include wealthy citizen Eric Endicott (Larry Gates) and redneck Sheriff Bill Gillespie's bigoted deputy Sam Wood (Warren Oates), who is also accused, during the case, of impregnating slutty 16 year-old Delores Purdy (Quentin Dean) in town.
By the film's conclusion, it is revealed that the real murderer and 'true father' of Delores' baby is a diner counter worker named Ralph Henshaw (Anthony James) who confesses in the Sheriff's office that he has murdered Colbert to pay for Delores' abortion.
In the final memorable scene, after the crime is solved, Virgil Tibbs and Gillespie say goodbye at the train station as Virgil leaves town. Virgil takes his suitcase, which Gillespie is carrying.
Gillespie: Well, got your ticket? Here you are. (Gillespie hands him his luggage.)
Virgil: Thank you. (Gillespie offers his hand for a handshake.) Bye-bye.
Gillespie: Bye. (Tibbs climbs the stairs of the train as Gillespie walks away a bit.) Virgil? (Tibbs looks back.) You take care, you hear? (A faint smile crosses both their faces.)
Virgil: Yeah. (Tibbs enters the train car.)
---
---