Little Women (1933)
Background
---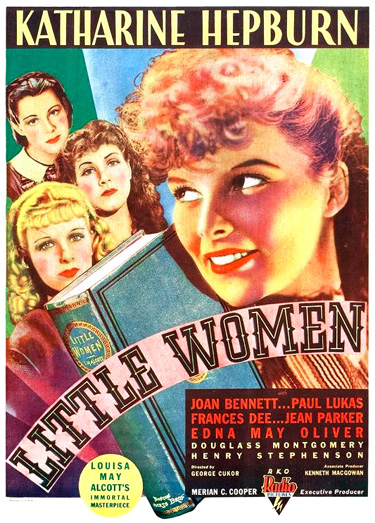 Little Women (1933) is one of the best-made film renditions of the Louisa May Alcott Civil War-era tale of a family of four sisters in New England, from director George Cukor. It was Katharine Hepburn's fourth career film, following her first Best Actress Oscar win for Morning Glory (1933).
The Story
---
The March family includes self-reliant and sharp-tongued Jo (Katharine Hepburn), Amy (Joan Bennett), Beth (Jean Parker), and Meg (Frances Dee), with their beloved "Marmee" (Spring Byington). There are many wonderful scenes, beginning with the snowy opening title credits.
Amy (Joan Bennett) often uses amusing malapropisms: ("I know what I mean, and you needn't be 'statirical about it! It's proper to use good words and improve your 'vocabilary'"), and Jo's enthusiastic favorite expression is: "Christopher Columbus!". One memorable scene is the one in which the March sisters discuss what they'll each do with their Christmas present of $1 from Marmee.
Marmee reads of a letter from her husband (fighting in the Civil War) to her daughters:
Give them all my dear love and a kiss. Tell them I know they will remember all I said to them: that they will be loving children to you, they will do their duty faithfully, fight their bosom enemies bravely and conquer themselves so beautifully that when I come back to them, I may be fonder and prouder than ever of my little women.
One of the most memorable sequence of scenes is Jo's return to care for her sister Beth, followed by Beth's moving death scene. At first, the dying Beth reassures her older sister Jo:
I'm not afraid anymore! I'm learning that I don't lose you, that you'll be more to me than ever, and NOTHING can part us, though it seems to. Oh, Jo! I think I'll be homesick for you - even in heaven.
Jo writes an ode to her sister titled "My Beth":
Oh my sister, passing from me
Out of human care and strife
Leave me, as a gift those virtues
Which have beautified your life
By that deep and solemn river
Where your willing feet now stand
Beth's last words are spoken to Jo: "I think I can sleep now. Oh look, Jo. My birds. They got back in time" - at the moment of her death when the birds fly off from the window sill, in the very moving, tearjerking scene.
---
---