10 Best Films of All Time

by Sight & Sound Magazine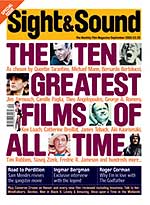 Sight & Sound Magazine, every ten years since 1952, has published the results of their pollings of the world's leading film critics, to compile a list of the Ten Best Films of All Time.
Facts and Commentary About the List:
As a qualification of what 'greatest' means, Sight & Sound's invitation letter stated to the participants in the polling: "We leave that open to your interpretation. You might choose the ten films you feel are most important to film history, or the ten that represent the aesthetic pinnacles of achievement, or indeed the ten films that have had the biggest impact on your own view of cinema."

Filmsite has compiled results of the British film magazine's polling, and published them below.
Note: The films that are marked with a yellow star

are the films
that "The Greatest Films" site has selected as the "100 Greatest Films".
---
10 Best Films of All Time Polls
by Sight & Sound Magazine
(by number of appearances in top 10, alphabetical order,
including the top-ten ranking within each decade's poll)
Number of Appearances in Top Ten Poll, Film Title, Year, Director

NAT

1952
Rank*

1962
Rank*

1972
Rank*

1982
Rank*

1992
Rank*

2002
Rank*

2012
Rank*

* Ranking from # 1 to # 10 based upon total number of votes received in that year's polling

7 Appearances in Top 10:
La Regle du Jeu (1939)
(Jean Renoir)

FR

# 10

# 3

# 2

# 2

# 2

# 3

# 4

6 Appearances in Top 10:
Battleship Potemkin (1925)
(Sergei Eisenstein)

USSR

# 4

# 6

# 3

# 6

# 6

# 7

Citizen Kane (1941)
(Orson Welles)

US

# 1

# 1

# 1

# 1

# 1

# 2

5 Appearances in Top 10:

4 Appearances in Top 10:
8 1/2 (1963)
(Federico Fellini)

IT

# 4

# 5

# 9

# 10

The Passion of Joan of Arc (1928)
(Carl Theodor Dreyer)

FR

# 7

# 7

# 6

# 9

Vertigo (1958)
(Alfred Hitchcock)

US

# 7

# 4

# 2

# 1

3 Appearances in Top 10:
L'Avventura (1960)
(Michelangelo Antonioni)

IT

# 2

# 5

# 7

The Searchers (1956)
(John Ford)

US

#10

# 5

# 7

Tokyo Story (1953)
(Yasujiro Ozu)

JP

# 3

# 5

# 3

2001: A Space Odyssey (1968)
(Stanley Kubrick)

UK

# 10

# 6

# 6

2 Appearances in Top 10:
L'Atalante (1934)
(Jean Vigo)

FR

# 10

# 6

The Bicycle Thief (1948)
(Vittorio De Sica)

IT

# 1

# 7

The General (1927)
(Buster Keaton, Clyde Bruckman)

US

# 8

# 10

Greed (1924)
(Erich von Stroheim)

US

# 7

# 4

The Magnificent Ambersons (1942)
(Orson Welles)

US

# 8

# 7

Singin' in the Rain (1952)
(Gene Kelly, Stanley Donen)

US

# 3

# 10

Sunrise (1927)
(F. W. Murnau)

US

# 7

# 5

Ugetsu Monogatari (1953)
(Kenji Mizoguchi)

JP

# 4

# 10

1 Appearance in Top 10:

Brief Encounter (1945)
(David Lean)

UK

# 10

City Lights (1931)
(Charles Chaplin)

US

# 2

The Godfather (1972) and
The Godfather Part II (1974)
(Francis Ford Coppola)

US

# 4

The Gold Rush (1925)
(Charles Chaplin)

US

# 2

Intolerance (1916)
(D.W. Griffith)

US

# 5

Ivan the Terrible (1945-1946)
(Sergei Eisenstein)

USSR

# 7

Le Jour Se Leve (1939)
(Marcel Carne)

FR

# 7

Louisiana Story (1947)
(Robert Flaherty)

US

# 5

The Man With a Movie Camera (1929)
(Dziga Vertov)

USSR

# 8

Le Million (1930)
(Rene Clair)

FR

# 10

Pather Panchali (1955)
(Satyajit Ray)

IN

# 6

Persona (1967)
(Ingmar Bergman)

SW

# 5

The Seven Samurai (1954)
(Akira Kurosawa)

JP

# 3

La Terra Trema (1948)
(Luchino Visconti)

IT

# 9

Wild Strawberries (1957)
(Ingmar Bergman)

SW

# 10
---


---