100+ Greatest Westerns

Introduction












---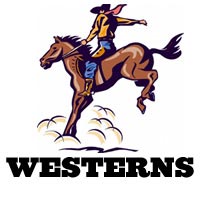 100 Greatest Westerns - Introduction and Brief History: For over 100 years, Westerns have been a popular, uniquely American staple -- although the genre has suffered both peaks and valleys in popularity. In fact, Westerns made up the dominant film genre from the beginning of cinema until about 1960, and they appear to be making an invigorating comeback, at least on TV.
Modern movie remakes such as 3:10 to Yuma (2007) and the Coen brothers' True Grit (2010) have paid homage to their mid-twentieth-century predecessors. All Westerns embody a return to the bygone frontier: wide-open spaces, sturdy individualists, gunfighters, shoot-outs, larger-than-life good guys and bad guys, institutions such as the saloon (with bad girls), horse chases, cattle, and lawmen.
Edwin S. Porter's innovative short The Great Train Robbery (1903), marked the real birth of the genre. Some of the earliest traditional Westerns were based on Wild West pulp novels and stories, including the genre's first epic -- the pioneer spectacular The Covered Wagon (1923). From the thirties to the late forties, inexpensive, formulaic B Westerns were churned out each year by the hundreds by lesser studios (Columbia, Universal, and Republic) -- mostly for kiddie audiences at matinees.
As B Westerns began to disappear from theaters and appear on television, the genre's development was saved by some respectable A Westerns. They included John Ford's influential

Stagecoach (1939), Ford's take on the Wyatt Earp legend My Darling Clementine (1946), and Ford's acclaimed Cavalry trilogy. Also important was Howard Hawks' definitive generational-conflict and cattle-drive tale

Red River (1948). During the era, the much-censored The Outlaw (1943) and scandalous Duel in the Sun (1946) infused the genre with sex. The traditional Western experienced a resurgence in the fifties, brought about by Fred Zinnemann's allegorical

High Noon (1952), George Stevens'

Shane (1953), and the wide-screen epics Vera Cruz (1954) and The Big Country (1958).
During the postwar period of the forties and fifties, some Westerns took on brooding, dark, and intense themes. Hollywood infused them with cynicism, character complexities, flawed outlaw heroes, and dark pessimism. Anthony Mann teamed with James Stewart for a cycle of five Westerns (from 1950-1955) with themes including revenge, paranoia, and obsession, while neglected director Budd Boetticher collaborated with Randolph Scott in the late 1950s on seven B-Westerns with lean and simple plots. Sergio Leone's trilogy of spaghetti Westerns was representative of a subgenre of foreign films featuring American stars (e.g., Clint Eastwood and Henry Fonda): A Fistful of Dollars (1964), For a Few Dollars More (1965), The Good, the Bad and the Ugly (1966), and Once Upon a Time in the West (1968, It.). Spaghetti Westerns helped pave the way for the further globalization of Westerns, evidenced earlier by John Sturges' The Magnificent Seven (1960) (a remake of Akira Kurosawa's Seven Samurai (1954, Jp.)).
So-called revisionist Westerns reinvented, redefined, ridiculed, and questioned the themes and elements of traditional classics. Delmer Daves' Broken Arrow (1950) was considered the first Hollywood picture to take a sympathetic view of the Native Americans. It was followed 40 years later by Kevin Costner's politically correct Dances With Wolves (1990). Bad Day at Black Rock (1955), Peckinpah's violent

The Wild Bunch (1969), Little Big Man (1970) with Dustin Hoffman as elderly Jack Crabb, Altman's McCabe & Mrs. Miller (1971), Robert Aldrich's Vietnam allegory Ulzana's Raid (1972), and many other similar films turned the genre upside down. Spoofs such as Cat Ballou (1965), Butch Cassidy and the Sundance Kid (1969), and Blazing Saddles (1974) made fun of some of the form's conventions. Actor-director Clint Eastwood's serious Best Picture-winning Unforgiven (1992) brought the genre back full-circle.
Note: The films that are marked with a yellow star

are the films that Greatest Films has selected as the "100 Greatest Films".
Highest Ranking Western Movies
(in reverse chronological order)

Unforgiven (1992):
The # 4 western film in ABC-TV's "The Best in Film: The Greatest Movies of Our Time" in 2011; ranked the # 4 western film in AFI's 10 Top 10 polling in 2008; with the second most Oscar wins (4) and nominations (9) of any western in film history; also one of three westerns that won the Academy Award for Best Picture; the # 4 ranked western in IMDb's top rankings of western genre films, voted upon by site visitors in 2012; ranked # 25 in the Men's Journal's listing of "The 50 Best Guy Movies of All Time" taken in 2003.
Dances With Wolves (1990):
The # 2 western film in ABC-TV's "The Best in Film: The Greatest Movies of Our Time" in 2011; the highest-grossing western of all time, and also with the most Oscar wins (7) and nominations (12) of any western in film history; one of only three westerns to win the Best Picture Academy Award; the # 15 ranked western in IMDb's top rankings of western genre films, voted upon by site visitors in 2012; ranked # 75 in AFI's 100 Years...100 Movies polling in 1998, a list of the 100 greatest English-language movies.
Butch Cassidy and the Sundance Kid (1969):
The # 1 western film in ABC-TV's "The Best in Film: The Greatest Movies of Our Time" in 2011; the # 8 ranked western in IMDb's top rankings of western genre films, voted upon by site visitors in 2012.
The Wild Bunch (1969):
The # 10 ranked western in IMDb's top rankings of western genre films, voted upon by site visitors in 2012; ranked the # 6 western film in AFI's 10 Top 10 polling in 2008; ranked # 23 in the Men's Journal's listing of "The 50 Best Guy Movies of All Time" taken in 2003; ranked # 57 in Entertainment Weekly's "100 Greatest Movies of All Time" book published in 1999; ranked # 79 in AFI's 100 Years...100 Movies (10th Anniversary edition) polling in 2007, a list of the 100 greatest English-language movies; ranked # 80 in AFI's 100 Years...100 Movies polling in 1998, a list of the 100 greatest English-language movies.
Once Upon a Time in the West (1968, It.):
The # 2 ranked western in IMDb's top rankings of western genre films, voted upon by site visitors in 2012.
The Good, the Bad, and the Ugly (1966, It.):
The # 3 western film in ABC-TV's "The Best in Film: The Greatest Movies of Our Time" in 2011; the highest-ranked western in IMDb's top rankings of western genre films, voted upon by site visitors in 2012.
The Magnificent Seven (1960):
The # 5 western film in ABC-TV's "The Best in Film: The Greatest Movies of Our Time" in 2011; the # 21 ranked western in IMDb's top rankings of western genre films, voted upon by site visitors in 2012.
The Searchers (1956):
Ranked # 12 in AFI's 100 Years...100 Movies (10th Anniversary edition) polling in 2007, a list of the 100 greatest English-language movies; ranked the # 1 western film in AFI's 10 Top 10 polling in 2008; the highest ranked western film (# 4) in the Village Voice's listing of the '100 Best Films of 20th Century'; ranked # 13 in Entertainment Weekly's "100 Greatest Movies of All Time" book published in 1999; the # 14 ranked western in IMDb's top rankings of western genre films, voted upon by site visitors in 2012; ranked # 31 in the Men's Journal's listing of "The 50 Best Guy Movies of All Time" taken in 2003; ranked # 96 in AFI's 100 Years...100 Movies polling in 1998, a list of the 100 greatest English-language movies; most often mentioned in a poll of the favorite films of directors by German language Steadycam Magazine.
Shane (1953):
Ranked the # 3 western film in AFI's 10 Top 10 polling in 2008; also ranked # 45 in AFI's 100 Years...100 Movies (10th Anniversary edition) polling in 2007, a list of the 100 greatest English-language movies; the # 30 ranked western in IMDb's top rankings of western genre films, voted upon by site visitors in 2012.
High Noon (1952):
Ranked # 27 in AFI's 100 Years...100 Movies (10th Anniversary edition) polling in 2007, a list of the 100 greatest English-language movies; ranked the # 2 western film in AFI's 10 Top 10 polling in 2008; the highest ranked western film (#33) in AFI's 100 Years...100 Movies polling in 1998, a list of the 100 greatest English-language movies; the # 7 ranked western in IMDb's top rankings of western genre films, voted upon by site visitors in 2012; ranked # 33 in AFI's 100 Years...100 Movies polling in 1998, a list of the 100 greatest English-language movies
---



---