Grand Hotel (1932)
Background
---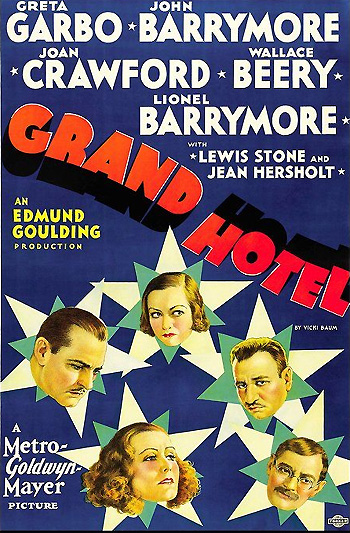 Grand Hotel (1932) is a classic masterpiece and all-star epic with high-powered stars of the early 1930s. The classic MGM film was directed by Edmund Goulding who acquired the nickname "Lion Tamer" for his ability to deal with many temperamental Hollywood stars, as he did in this film. It won the Best Picture Oscar in the year of its release - its only nomination. Only two other times has the film named Best Picture failed to win any other awards: Broadway Melody (1928/9) and Mutiny On the Bounty (1935). It is also the only film to win Best Picture without having any other nominations. With Wings (1927/28) and Driving Miss Daisy (1989), it is among the only Best Picture winners whose director wasn't also nominated.
William A. Drake's screenplay was based on his own play adaptation of Vicki Baum's novel Menschen im Hotel. it was also produced as a Broadway stage play. Its ensemble cast of stars were occupants of a between-wars German hotel, all struggling with either their finances, health, or social standing in multiple storylines.
Basically, the entire cast was from MGM's star-making 'film factory', and the film marked the first major use of a large all-star cast that would later be copied in Dinner at Eight (1933), Airport (1970), The Poseidon Adventure (1972), and The Towering Inferno (1974), among others.
The story was glossily remade as Week-end at the Waldorf (1945), with Ginger Rogers, Lana Turner, Walter Pidgeon, Van Johnson, and Edward Arnold, set at the Waldorf-Astoria Hotel - pre-dating two films with hotel settings by many years: Arthur Hiller's Plaza Suite (1971) and Herbert Ross' California Suite (1978), both from playwright Neil Simon. A West German feature film titled Menschen im Hotel (1959) was also made.
And it was adapted into two Broadway stage musicals:
At the Grand in 1958, with musical diva Joan Deiner as the ballerina
Grand Hotel: The Musical in 1989, starring Liliane Montevecchi - which ran over 1,000 performances on Broadway and won five Tony Awards
The Story
---
The 1932 film, set at Berlin's ritzy, opulent art-deco Grand Hotel, tells the multiple-narrative story of the criss-crossing of the lives of five guests, whose fates intertwine for a two-day period at the hotel:
Grusinskaya (Greta Garbo), an aging, suicidal, isolated, fragile, and lonely-for-love Russian ballerina
Baron Felix von Gaigern (John Barrymore), noble, elegant, and dashing but in reality financially broke and a gentleman jewel thief, who falls in love with Grusinskaya
Flaemmchen (Joan Crawford), an ambitious, young, sparkingly beautiful, on-the-make stenographer who wants to be a movie star and live the good life
Otto Kringelein (Lionel Barrymore), a terminally-ill bookkeeper and factory clerk determined to see how the rich people live in luxury before his death
General Director Preysing (Wallace Beery), a German-accented, ruthless, disagreeable, cold-hearted, industrial magnate and businessman
Dr. Otternschlag (Lewis Stone), a physician, observes the true nature of the hotel:
What do you do in the Grand Hotel? Eat. Sleep. Loaf around. Flirt a little. Dance a little. A hundred doors leading to one hall, and no one knows anything about the person next to them. And when you leave, someone occupies your room, lies in your bed, and that's the end.
The film is well-known for its memorable scene in the lonely and depressed dancer's hotel room, after she finds the Baron hiding in her room (trapped while on a jewel heist). Not willing to leave, the Baron confesses his love for her, during screen closeups of their profiles:
[Note: Garbo delivered her most famous line of dialogue ever during their conversation, causing her to be labeled as a reclusive.]
Baron: You're so beautiful. It tore my heart to see you in despair like that...Please don't cry any more...I'd no idea you were so beautiful. I'd like to take you in my arms, and not let anything happen to you, ever...I've never seen anything in my life as beautiful as you are....
Grusinskaya (getting up): You must go now.
Baron: I'm not going. You know I'm not going. Oh, please let me stay.
Grusinskaya: But I want to be alone.
Baron: That isn't true. You don't want to be alone. You were in despair just now. I can't leave you now. You, you musn't cry any more. You must forget. Let me stay just for a little while. Ah, please let me stay.
Grusinskaya: For just a minute, then.
The lives of all of these guests are changed dramatically in their short stay. The timid, dying factory clerk is suddenly enlivened by luck in a gambling game and later, with plans to go to Paris and live the good life with Flaemmchen, toasting:
To life! To the magnificent, dangerous, brief, brief, wonderful life...and the courage to live it! You know, Baron, I've only lived since last night, but that little while seems longer than all the time that's gone before.
The final well-known lines of the film are delivered in the lobby by the doctor, who never gets messages at the desk, and hasn't noticed the multi-charactered dramas in the hotel and how lives are changed:
The Grand Hotel. Always the same. People come. People go...nothing ever happens.
Outside, the driver of an arriving bus announces: "Grand Hotel!"
---
---