Dinner at Eight (1933)
Background
---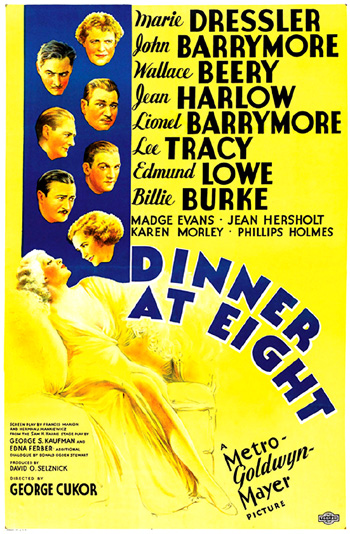 A masterfully-directed, poignant melodramatic comedy by director George Cukor and producer David O. Selznick, Dinner at Eight (1933) was filled with a tremendous cast of stars (inspired by the previous year's Grand Hotel (1932)) - who are all invited to a Manhattan formal dinner party during the height of the Depression. [Note: Three of the stars, John and Lionel Barrymore, and Wallace Beery appeared in both films.] Many of the stars in the film first became known in silent cinema, including John and Lionel Barrymore, and Marie Dressler.
The MGM film was based on the popular, dialogue-rich Broadway hit by George S. Kaufman and Edna Ferber, that was originally produced on the stage by Sam H. Harris. The witty romantic comedy is filled with choice lines of dialogue, and revolves around various relationships between the characters. Suicide, financial ruin, love, infidelity, economic pressures, class conflict, the dawn of the talkies, divorce, aging and fading careers, and alcoholism affect their interactions.
The screenplay for the film was written by Herman Mankiewicz, Frances Marion, and Donald Ogden Stewart. It was poorly remade as a TV movie in 1989 starring Marsha Mason, Lauren Bacall, and Harry Hamlin.
The 1932 film received no Academy Award nominations.
The dinner party (of the film's title) is being hosted by scheming, social-climbing Millicent Jordan (Billie Burke), wife of ailing and soon-to-be-bankrupt shipping magnate Oliver Jordan (Lionel Barrymore). The film looks at the tangled and changed lives of the high society guests, from the time the invitations are given out for "dinner at eight" at the Jordans to the time of the party itself.
The Story
---
Park Avenue snob Millicent wants to play the perfect hostess, but as she prepares for the perfect dinner, she becomes very aggravated about everything going wrong, and is unaware of her husband's impending bankruptcy and serious heart condition, or her 19 year old daughter Paula's (Madge Evans) affair with drunken, washed-up, married ex-matinee idol Larry Renault (John Barrymore) from the silent era, even though she has a fiancee (Phillips Holmes). [John Barrymore's life, including his alcoholism and acting decline, are semi-mirrored in the film.]
One of the invited guests is aging, witty, 1890s celebrated actress Carlotta Vance (Marie Dressler), a one-time stage star who takes to wearing furs. Discussing her dire financial straits with ex-beau Jordan, she wishes to sell back her Jordan stock to restore herself. She also explains why she won't return to the stage: "I'll have my double chins in privacy."
Also invited are a mismatched couple, the brash, amoral, sexy, platinum blonde, socially-ambitious, nouveau-riche ex-hatcheck girl Kitty Packard (the 'blonde bombshell' Jean Harlow) and her self-made, corrupt tycoon husband Dan Packard (Wallace Beery), who is secretly gobbling up Oliver's shipping line. Millicent resists the suggestion of her husband that the Packards come for dinner (to help Jordan out of his financial difficulties), but reluctantly agrees:
You're joking! Ask that common little woman to the house with that noisy, vulgar man? He smells Oklahoma!
Kitty is often propped up in bed, wearing a silky white negligee, eating chocolates that she spits out when finding one she doesn't like. She resorts to both baby talk and brassy insults in one breath, while bickering with her husband. Packard doesn't want to attend the dinner, and tells her:
Aw, go lay an egg.
On the day of the dinner, Kitty and Dan have a particularly violent, shouting argument as they get ready. "I've told you a million times not to talk to me when I'm doing my lashes." They call each other "windbag" and "piece of scum" among other things. She admits to a secret love affair - with Dr. Wayne Talbot (Edmund Lowe). Countering, she threatens to expose his crooked business deals if he doesn't stop his attack on Jordan's business:
When I tell about (your dirty business affairs), I'll raise a pretty stink. Politics? You couldn't get into politics. You couldn't get in anywhere. You couldn't even get into the men's room at the Astor!
She demands that she be escorted to the party, declaring: "I'm going to be a lady if it kills me."
As the guests arrive and go in for dinner, a number of revelations and changes occur, due to a suicide. In deep despair, Renault has killed himelf by gassing himself in his sealed hotel room. But he first rips up Paula's photo, and carefully positions himself under a lamp to show his famous profile to best advantage.
Carlotta tells Paula of Renault's suicide:
That's the unfortunate thing about death. It's so terribly final.
Carlotta counsels Paula about men:
If there's one thing I know, it's men. I ought to. It's been my life's work.
Millicent learns of her husband's heart condition and vows to be a better wife. And Packard ends his business threats toward Jordan.
The well-known closing lines of the film are set up when Kitty makes conversation with Carlotta about reading a book [a reference, presumably, to the popular novel of the day, Aldous Huxley's 1932 Brave New World]. They are on their way into dinner, promptly served at eight:
Kitty: I was reading a book the other day.
Carlotta (staggering at the thought): Reading a book!
Kitty: Yes. It's all about civilization or something, a nutty kind of a book. Do you know that the guy said that machinery is going to take the place of every profession?
Carlotta (eyeing Kitty's costume, breasts and shapely physical charms): Oh, my dear, that's something you need never worry about.
---
---