---
DETECTIVE-MYSTERY
FILMS


Part 2

Detective-Mystery Films


Part 1 | Part 2 | Examples
Classic Private Eyes:
Classic film noir in the 1940s, from detective novel authors Dashiell Hammett and Raymond Chandler, provided a number of private eyes - notably Sam Spade and Philip Marlowe.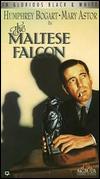 Sam Spade -
None of the detectives was more impressive than writer Dashiell Hammett's classic and definitive hard-boiled, tough sleuth or shamus named Sam Spade, in John Huston's masterpiece

The Maltese Falcon (1941), a story of the frenzied pursuit of a Middle Eastern statuette. The lead was played by astute actor Humphrey Bogart. [Ten years earlier, Ricardo Cortez played the role of Sam Spade in Roy Del Ruth's The Maltese Falcon (1931).]
Philip Marlowe -
Bogey also portrayed novelist Raymond Chandler's gumshoe Philip Marlowe in the tangled intrigue of Howard Hawks' classic detective thriller

The Big Sleep (1946). Tough-guy Bogart also made screen history with his co-star Lauren Bacall in this popular rendition. Other actors have portrayed Raymond Chandler's Marlowe. The following chart helps to differentiate between all the various versions:
Raymond Chandler's Noir Novels -- and Related Films

Film Title (and Director)

Original Source

Main Characters

Setting

The Falcon Takes Over (1942)
d. Irving Reis
based on the 1940 Raymond Chandler novel, Farewell My Lovely
Private eye "Gay Lawrence" (George Sanders) aka The Falcon
"Diana Kenyon" (Helen Gilbert)
Moose Malloy (Ward Bond)


New York

Murder, My Sweet (1944)
d. Edward Dmytryk
based on the 1940 Raymond Chandler novel, Farewell, My Lovely
Philip Marlowe (Dick Powell)
Helen Grayle (Claire Trevor)
Moose Malloy (Mike Mazurki)

Los Angeles

The Big Sleep (1946)
d. Howard Hawks
based on Raymond Chandler's 1939 novel of the same name - the first of his novels to feature Marlowe
Philip Marlowe (Humphrey Bogart)
Vivian Sternwood Rutledge (Lauren Bacall)
Carmen Sternwood (Martha Vickers)
Eddie Mars (John Ridgely)

Los Angeles

The Lady in the Lake (1947)
d. Robert Montgomery
based on Raymond Chandler's 1943 novel
Philip Marlowe (Robert Montgomery)

Mountains outside Los Angeles at a resort called Little Fawn Lake

Marlowe (1969)
d. Paul Bogart
an adaptation by Stirling Silliphant of Raymond Chandler's 1949 novel The Little Sister
Philip Marlowe (James Garner)

Los Angeles

The Long Goodbye (1973)
d. Robert Altman
a revisionist version of Raymond Chandler's 1954 detective novel The Long Goodbye
Philip Marlowe (Elliot Gould)

Los Angeles

Farewell, My Lovely (1975)
d. Dick Richards
the third film adaptation of Chandler's 1940 novel, Farewell, My Lovely
Philip Marlowe (Robert Mitchum)
Helen Grayle (Charlotte Rampling)
Moose Malloy (Jack O'Halloran)

Los Angeles

The Big Sleep (1978)
d. Michael Winner
the second film adaptation of Chandler's 1939 novel
Philip Marlowe (Robert Mitchum)
Charlotte and Carmilla Sternwood ( Sarah Miles and Candy Clark)

London
A Renaissance of Police Detectives: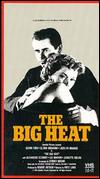 Dana Andrews, an obsessed detective who is assigned to investigate the murder of a beautiful woman (Gene Tierney) and question suspects (Vincent Price and Clifton Webb) in Otto Preminger's classic Laura (1944), falls in love with a painting of the victim. In the second film version of Dashiel Hammett's novel about political corruption, The Glass Key (1942), Alan Ladd in one of his earliest films starred opposite Veronica Lake as a deadpan hero. He was often beat up by sado-masochistic gangster William Bendix during his pursuit of the truth. Glenn Ford portrayed an unrestrained police detective in pursuit of his wife's killers and corrupt cops in Fritz Lang's film noirish The Big Heat (1953). In William Wyler's seminal cop film Detective Story (1951), bitter, tough, and by-the-book NYC detective Kirk Douglas discovered that his wife (Eleanor Parker) had a guilty secret.
New life was infused into the detective film genre in the late 60s and the 70s, in stylish, avant-garde homages to the film noir genre, with various private eye/police thrillers:
Jack Smight's Harper (1966) with Paul Newman as detective Lew Archer
Blake Edwards' Tony Rome (1967) with Frank Sinatra as the private eye
John Boorman's stylistic Point Blank (1967) starring Lee Marvin as a double-crossed criminal on the path of revenge to collect $93,000 due to him ("Somebody's gotta pay")
award-winning In The Heat Of The Night (1967) with Sidney Poitier as Virgil Tibbs - a black Philadelphian detective assisting in a homicide investigation in the South with a white racist chief of police (Rod Steiger); two sequels with Lieut. Detective Virgil Tibbs came later: They Call Me Mister Tibbs! (1970) and The Organization (1971)
director Peter Yates' cop drama Bullitt (1968) with Steve McQueen (in one of his greatest performances) as a stoic police lieutenant assigned the dangerous task of protecting a star mob witness - its San Francisco car chase sequence is still considered one of the best in film history
Eastwood starred as an Arizona deputy brought to NYC to fight crime in Don Siegel's Coogan's Bluff (1968) - featuring an exciting motorcycle chase [this was Siegel's and Eastwood's first pairing]
Frank Sinatra portrayed a tough NY detective involved in the case of the murder of a homosexual in The Detective (1968)
Richard Widmark as a tough Brooklyn cop in Madigan (1968)
Marlowe (1969) (an adaptation of Raymond Chandler's The Little Sister) with James Garner as Philip Marlowe
Alan J. Pakula's thriller Klute (1971) with small-town detective Donald Sutherland investigating the stalking of a high-priced NYC hooker (Jane Fonda) by a killer
Robert Blake as an Arizona motorcycle cop in Electra Glide in Blue (1973)
a group of NYC detectives (including Roy Scheider) pursued criminals in innumerable car chases in The Seven-Ups (1973)
Charles Bronson starred as a NY cop in LA fighting against a criminal group of Vietnam vets in The Stone Killer (1973)
the complex private eye story of cynical J. J. Gittes (Jack Nicholson) in search of corruption (land-grabs and water rights scandals) in 1930s Los Angeles in Roman Polanski's Chinatown (1974)
in director John Sturges' McQ (1974) and Douglas Kickox's Brannigan (1975), John Wayne starred as an aging police officer
Paul Newman as PI Harper in The Drowning Pool (1975) investigating blackmail in Louisiana
Robert Mitchum portrayed a weary ex-GI who returned to Japan to help an army friend locate his Mob-kidnapped daughter in The Yakuza (1975)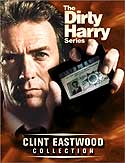 The Dirty Harry Films:
In the early 70s and for almost two decades, Clint Eastwood starred as the magnum-packing Dirty Harry. The original film in the series about the fascist, vigilante-hero cop was the action film Dirty Harry (1971), directed by Eastwood's directorial mentor Don Siegel. It unleashed a flurry of similar, quasi-Mickey Spillane thrillers. In the first of many sequels, Eastwood starred as the intolerant Harry Callahan on the trail of the elusive 'Scorpio killer':
Magnum Force (1973)
The Enforcer (1976)
Sudden Impact (1983)
The Dead Pool (1988)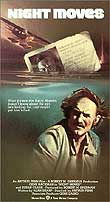 In the same decade, director William Friedkin's crime thriller The French Connection (1971) won the Best Picture Academy Award for its realistic story of the pursuit of drug kingpins and a shipment of heroin by two unorthodox New York City police detectives (Gene Hackman as Popeye Doyle and Roy Scheider). The pursuit of the drug dealers in Marseilles continued in director John Frankenheimer's The French Connection II (1975). Gene Hackman also portrayed a Hollywood detective on the track of a missing, reckless nymphet teenager (a young Melanie Griffith) in the Florida Keys in director Arthur Penn's suspenseful but under-rated Night Moves (1975). In Stephen Frears' satirical British film Gumshoe (1972), Albert Finney as a Liverpool nightclub worker lived out his dream by becoming a detective to solve a murder mystery.
The Lethal Weapon Series:
A popular multi-part, LA cop adventure series featured the partner duo of retiring cop Danny Glover and a suicidally-crazed Mel Gibson:
Recent Mystery Films: Crime Thrillers
In the Coen Brothers' dark Blood Simple (1983), sleazy private eye Emmet Walsh was hired by a jealous husband to kill his adulterous wife (Frances McDormand) and her lover. Their dramatic mystery crime-thriller Fargo (1996) featured Best Actress-winning Frances McDormand as an unconventional, pregnant police investigator named Marge. Anthony Minghella's noirish thriller The Talented Mr. Ripley (1999) set in sun-drenched Italy was a Hitchcock-like study of a psychopath and his victims.
Another Variety of Mystery Film: Detective Spoofs and Comedies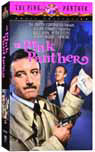 The long-running TV series Dragnet was spoofed by Tom Hanks and Dan Aykroyd in Tom Mankiewicz' Dragnet (1987). And Peter Sellers appeared as clumsy, inept, and accident-prone French Inspector Jacques Clouseau in the popular series of slapstick Pink Panther detective comedies in the 60s and after, with theme music supplied by Henry Mancini:
The Pink Panther (1964), d. Blake Edwards
A Shot in the Dark (1964), d. Blake Edwards (with two new characters: Chief Inspector Dreyfus (Herbert Lom) and houseboy Cato (Burt Kwouk))
Inspector Clouseau (1968), d. Bud Yorkin (with Alan Arkin as Clouseau)
The Return of the Pink Panther (1974), d. Blake Edwards
The Pink Panther Strikes Again (1976), d. Blake Edwards
The Revenge of the Pink Panther (1978), d. Blake Edwards (with Sellers' last appearance in a Pink Panther film, two years before his death)
The Trail of the Pink Panther (1982), d. Blake Edwards, (composed of out-takes and other clips)
Curse of the Pink Panther (1983), d. Blake Edwards, (with Ted Wass as Clifton Sleigh - a Clouseau knock-off)
Son of the Pink Panther (1993), d. Blake Edwards (with Roberto Benigni as Jacques Gambrelli - the illegitimate son of Inspector Clouseau)
---



---